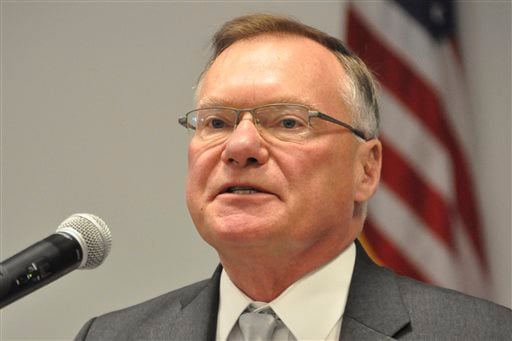 You might be surprised to know that Rick Raemisch recently did a stint in the hole.
Raemisch, former Republican Dane County Sheriff and state corrections secretary under former Democratic Gov. Jim Doyle, didn't break any laws. A dedicated prison reformer, he wanted to know what it's like to spend time in solitary confinement, known as "ad seg" in the Colorado Department of Corrections, which Raemisch now runs.
He wrote up the experience for the New York Times, which ran his op-ed column on Thursday.
"I would spend a total of 20 hours in that cell," he writes. "Which, compared with the typical stay, is practically a blink. On average, inmates who are sent to solitary in Colorado spend an average of 23 months there. Some spend 20 years."
Raemisch wanted to know what it was like living in prison isolation, which is often a last resort for housing problem inmates with mental illness. Needless to say, mentally ill inmates generally come out worse for the wear.
"I kept waiting for the lights to turn off, to signal the end of the day. But the lights did not shut off," Raemisch writes. "I began to count the small holes carved in the walls. Tiny grooves made by inmates who'd chipped away at the cell as the cell chipped away at them."
Raemisch has evolved way beyond the brand of Republicans that dominate the party today. His initiative of releasing inmates early for good behavior — which gave inmates incentives to not cause trouble and save money — was ridiculed by state legislators as "catch and release" before they repealed it. 
Raemisch was hired by Colorado Gov. John Hickenlooper to head the Corrections Department after his predecessor, Tom Clements, was gunned down last March by a former inmate.
"In a tragic irony," Raemisch writes, "he was murdered in his home by a gang member who had been recently released directly from Ad Seg. This former inmate murdered a pizza delivery person, allegedly for the purpose of wearing his uniform to lure Mr. Clements to open his front door. A few days later, the man was killed in a shootout with the Texas police after he had shot an officer during a traffic stop. Whatever solitary confinement did to that former inmate and murderer, it was not for the better."
Raemisch says Hickenlooper gave him three directives: "limiting or eliminating the use of solitary confinement for mentally ill inmates; addressing the needs of those who have been in solitary for long periods; and reducing the number of offenders released directly from solitary back into their communities."
Recounting his experience is a compelling way to advocate for reform.
"When I finally left my cell at 3 p.m., I felt even more urgency for reform," he writes. "If we can't eliminate solitary confinement, at least we can strive to greatly reduce its use. Knowing that 97 percent of inmates are ultimately returned to their communities, doing anything less would be both counterproductive and inhumane."
Be the first to know
Get local news delivered to your inbox!