Last year's "Race to Equity" report set off an impassioned discussion about the vast disparities in the quality of life for African-Americans and whites. But that discussion was restricted to Dane County.
Now the authors have issued a new report that they hope will take the discussion to the rest of Wisconsin. The report, drawing on data from across the country, shows that the state is dead last in providing for the well-being of its African-American kids.
"We've been working exclusively in Dane County on this," said Ken Taylor, executive director of the Wisconsin Council on Children and Families. "So we need to broaden the discussion, because obviously it's not just a Dane County issue."
The WCCF, which issued the "Race to Equity" report last October, this week unveiled a new report, "Race for Results," based on data compiled by the Annie E. Casey Foundation's "Kids Count" report. Now in its 25th year, "Kids Count" has in the past focused on the overall well-being of kids by state, last year ranking Wisconsin 12th overall. But this year, researchers zeroed in on race. White Wisconsin kids tied with California for 10th. But the welfare of the state's African-American kids ranked dead last, finishing behind Mississippi for the dubious distinction.
"What they realized was that particularly in states like ours, with relatively small communities of color, the overall averages were really masking some deep challenges in our state," Taylor said. "Because we're roughly 85 percent white and the well-being of white kids is so much better than the well-being of kids of color overall, when we look at how kids are doing in our state, we tend to rank pretty well."
Wisconsin's last-place ranking for African-American kids came as a surprise to some, Taylor said, because when people think of generational poverty, they typically think of deep-south states like Mississippi, Louisiana and Arkansas, which are listed with Wisconsin among the worst five states for African-American children.
Michigan is also among them. In fact, Midwestern states are well-represented among those with the lowest rankings for African-American kids. Michigan barely edged out Mississippi, and Ohio, Indiana, Illinois, Missouri and Iowa rank below the national average.
"No one is surprised that Mississippi is near the bottom," said Taylor. "They're near the bottom for black kids and they're near the bottom for white kids. In part because they don't invest in kids, and because there's a lot of poverty in the deep South."
What's surprising, he said, it that "black kids here are doing worse than even the black kids in Mississippi."
But those who have been involved with documenting and addressing racial disparities are not surprised.
Last December, the UW Center on Wisconsin Strategy (COWS) released a report detailing Wisconsin's vast racial disparities in a number of key indicators, some of them similar to those included in the "Kids Count" report.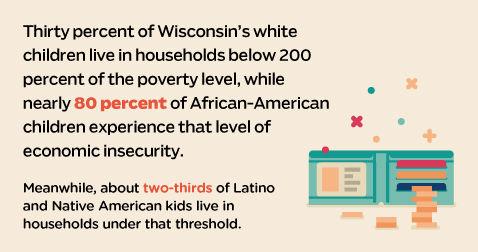 "Anybody who's looked at racial disparity in this state knows that we're off the charts generally," said Laura Dresser, COWS associate director. "We're one of the worst in the nation, and people have documented this over time. I haven't looked specifically and only at kids, but I would have assumed it would be consistent."
But she did note that the COWS study measured disparities — the statistical distance between white and African-Americans experiences — which take into account the fact that whites in Wisconsin tend to fare well relative to other states, while African-Americans do poorly. The "Kids Count" report ranks the well-being of each of the state's ethnic groups compared to peers in other states.
"That's even worse because it's not just the fact that our white folks tend to do a little better," she said.
State Sen. Lena Taylor (no relation), a Democrat who represents Milwaukee's north side, home to some of the poorest neighborhoods in the state, said, "I see it every day in the community."
Taylor said teen pregnancy, illiteracy and wholesale incarceration have wreaked havoc on many of the communities she represents. And jobs that could provide the economic means to turn lives around "are not trickling in at the level to make a difference."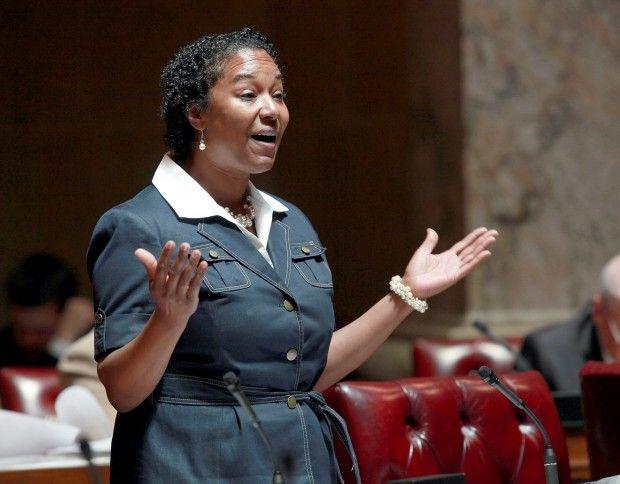 But she's encouraged that the conversation is snowballing into something that could produce real results.
"I believe there is more conversation going on lately than I've experienced in the last 10 years since being elected," she said. "I feel like there are more things being put in place to create change. It feels a little different than before."
And one recommendation of the "Race for Results" report — creating a statewide network of local initiatives that can draw upon each other's experiences and resources — strikes her as a good next step.
"To know that there's an effort to connect between communities is even more encouraging," she said. "It's not where it needs to be, but it's progress."
Last year's "Race to Equity" report was considerably more detailed than the "Kids Count" survey, looking at 40 indicators for children and adults in Dane County, including income, health, mobility and criminal justice.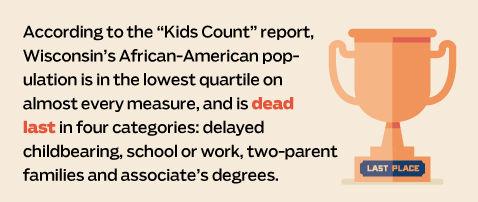 Among the findings were that Dane County African-Americans are more than five times more likely than whites to be unemployed, more than three times more likely to leave school without a high school diploma, and their kids are 15 times more likely to live in poverty.
To compile the Dane County data, the group scoured databases and built relationships with numerous community advocates and government officials representing areas of health, education, child welfare, criminal justice and employment.
"We didn't just drop a report on the county," Ken Taylor said. "We published a report after a year of talking with people all over the county."
He said there's no way Casey Foundation researchers could have replicated such an effort on a national scale. So the "Kids Count" report looked at 12 key indicators to gauge success of various racial groups from birth to adulthood.
In four indicators — females who wait until adulthood to have children, young adults who are in school or working, kids in two-parent families and adults aged 25 to 29 who have an associate's degree or better — Wisconsin African-Americans scored the worst in the nation. Other indicators measured by the report were high school graduation rates (white kids in Wisconsin topped the list), children who live in low-poverty areas, birth weight, math proficiency, reading proficiency, rate of children living below 200 percent of the poverty level, family education and preschool enrollment.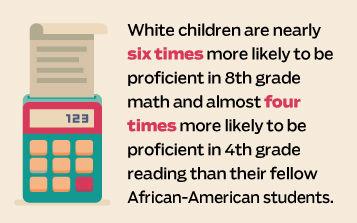 The WCCF plans to take its efforts to other communities in the state, with a priority on Milwaukee, where, because of a much larger African-American population, racial disparities similar to those in Dane County play out on a grand scale.
On a scale of 0 to 1,000, while Wisconsin whites scored 748, African-Americans weighed in with a meager 238, ranking Wisconsin 46th out of 46 states surveyed (data from Utah, Montana, Vermont and Wyoming, which have small African-American populations, were not included).
Researchers in the "Kids Count" report didn't include criminal justice statistics because juvenile court data in many localities is difficult to obtain. But the "Race to Equity" report showed that African-American teens in Dane County were six times as likely to be arrested than white teens. Another report last year ranked Wisconsin first by a long shot in the rate at which it locks up African-American men, which directly impacts the well-being of kids. The report, from the Employment and Training Institute at the UW-Milwaukee, estimated that 12.8 percent of the state's African-American men were behind bars, which Ken Taylor said contributes to the low level of two-parent families, disqualifies families from subsidized housing and reduces prospects for gainful employment.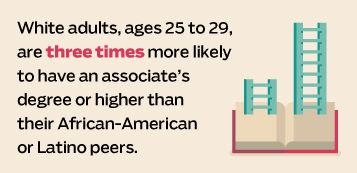 "There's no question that that has had an impact on the economic well-being of African-American families," he said.
In the criminal justice realm, however, he said there is a growing consensus, from both the political left and the right, that the current rate of incarceration of African-American men is not sustainable from a fiscal or a moral standpoint.
Among Evangelical Christians, he said, there is a movement to reform the criminal justice system because it doesn't square with theology. And from a fiscal standpoint, "There are people from all over the political spectrum saying this doesn't really make sense. It's not working, we can't afford it."
Ken Taylor also pointed to economic repercussions if the state fails to address the problem, pointing to research that shows that vast inequities hinder sustained economic growth.
"Are we going to be able to attract and retain a highly functioning, multicultural, multi-ethnic workforce, which is what's required to be successful in the world today?" he said.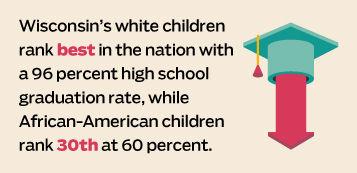 The "Race to Equity" report succeeded in bringing about a long-overdue conversation about race. And a subsequent essay by the Rev. Alex Gee of Fountain of Life Covenant Church in Madison, published by The Capital Times, has become something of a call to arms to tackle the thorny tensions that have contributed to the vast racial divide in Dane County.
In response to the "Race to Equity" report, both Madison Mayor Paul Soglin and Dane County Executive Joe Parisi have made racial disparities a prominent policy priority.
Early this year, Parisi announced a partnership between the county and the Urban League of Greater Madison, Operation Fresh Start and Nehemiah Community Development Corp. for an initiative to hook contractors up with minority job seekers for a spate of local construction projects.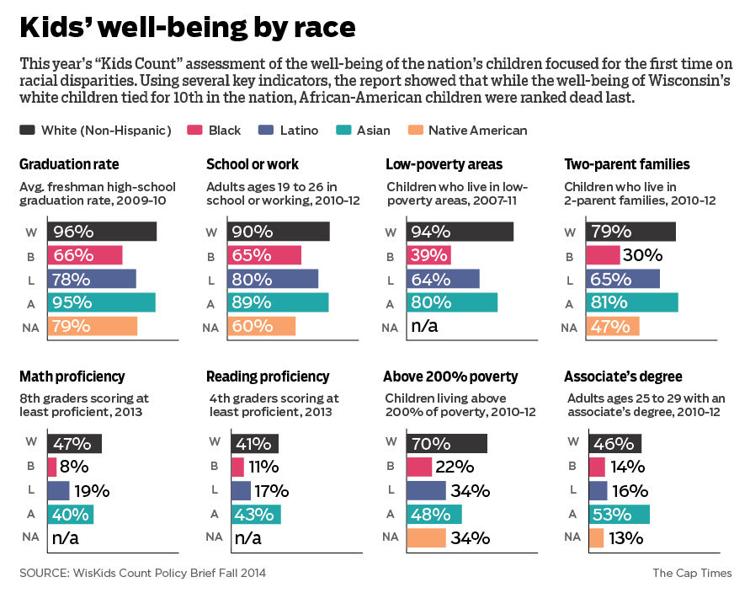 Soglin also has proposed eliminating questions about criminal history from city job applications, part of the national "Ban the Box" movement, which disproportionately affect African-Americans. He plans to propose an ordinance requiring those who do business with the city to follow suit.
Also this year, the United Way of Dane County announced an iniative to coordinate public, private and nonprofit sectors to boost early childhood education, housing and employment, an effort aimed at reducing poverty and racial disparities.
The "Race for Results" report calls for an intensification of such efforts.
"The dialog about racial equity is under way in Dane County and in Wisconsin," the report says. "But dialog will only get us so far. All of us, from elected officials to scholars to neighborhood activists to parents, must act now to promote a better future for every child and family."
Ken Taylor said tackling the issue will involve a concerted, long-term effort.
"We need to be working in neighborhoods and communities," he said. "We need to work in cities and counties across the state and we need to work at the state policy level and the federal policy level. All of these things are interconnected."
"Race for Results" offers some recommendations to start the process, one of which is to take a two-generation approach to the problems, focusing on improving the economic outlook for adults and the educational outlook for children.
And while the greatest focus has been placed on disparities between African-Americans and whites, Latinos, Native Americans and Asians were also found to be lagging in social and economic well-being in Wisconsin. The report calls for a future emphasis on those ethnicities.
The report also calls for a renewed effort to publicize the problem.
"We hope and believe that once these disparities are known, fair-minded and well-meaning Wisconsinites will mobilize and act to decrease them," the report says. "But people cannot address a problem they are not aware of."