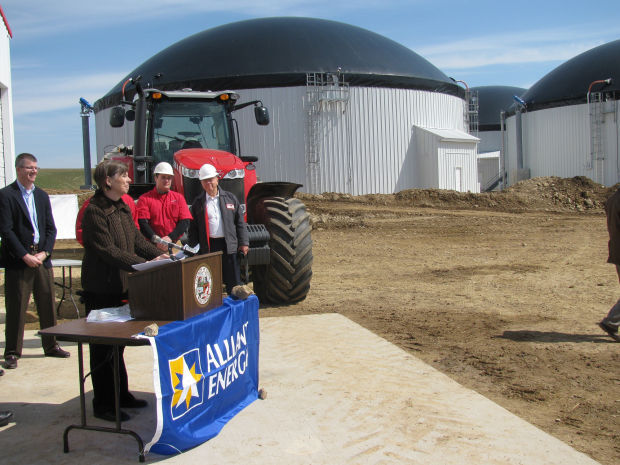 The 300,000-gallon, mile-long river of cow manure that hit Dane County on Nov. 24 is the second such occurrence this year that could impact Madison's lakes.
According to Department of Natural Resources records, a pipeline breach in February at the UW-Madison's Arlington agricultural research station in the town of Leeds in Columbia County also released 300,000 gallons of manure. Like the spill last week near Waunakee, the one in Leeds happened in the Lake Mendota watershed. 
DNR officials say they can't comment on the research station incident because the agency is still in the midst of enforcement proceedings in the case. 
"It's really concerning and emblematic of the way we've seen this industry operate," says Sarah Williams, an attorney with the advocacy group Midwest Environmental Advocates. "The DNR staff, they're really good people, but they're understaffed and underfunded. So we don't see a lot of monitoring or enforcement of these large CAFOs (Concentrated Animal Feeding Operations) by the DNR. And I think this is one of the results."
Last week's spill happened at the Dane County Community Digester just north of Waunakee.
Williams says it's "strange" that the two spills were connected with government agencies, since so much of the waste handling at the state's large animal operations is handled privately.
"I'm not sure if those types of facilities generally have more spills," she says. "One thing that likely would have prevented this from being such a problem is if there was some kind of automatic shut-off or alarms in place. It's all the more reason for the DNR to require that at any of these large facilities."
County officials reportedly have said they will seek assurances from digester operators that adequate safeguards are in place in the future.
"That is a pretty rare occurrence," says DNR spokesman Bob Manwell, of the 300,000-gallon spill.
Manwell says that from 1998 to Nov. 1 of this year, there were only four manure spills that exceeded 250,000 gallons. That's a total of five including last week's incident.
He says some of the manure that flowed from a ruptured pipe near the county's manure digester, operated by Clear Horizons LLC near Waunakee, had gone into Six Mile Creek, which feeds Lake Mendota.
He says no fish kills have been connected with the spill.
"We'll continue to monitor to see if there are environmental impacts down the road from this," he says.
But Williams says the manure is a concern. 
"Any amount of untreated manure that gets into the waterways has the potential to cause fish kills," she says. "It certainly is contributing to the nutrient pollution in Lake Mendota and the whole Madison chain of lakes. That's a serious cause for concern, especially in a situation where we don't really know, and it's unclear what the DNR's done to assess the scale of the pollution."
Williams is also concerned about the length of time — more than a week — it took for the spill to be reported in the press.
"It's surprising that we didn't hear about this sooner and that this is not a bigger deal," she says. "To me, that suggests that this is something that happens more often than a lot of people realize."
DNR records show that there have been anywhere from 30 to 43 manure spills a year in the past five years reported to the agency. While spills of more than 250,000 are rare, smaller spills can still be substantial. For instance, this year alone 80,000 gallons were reportedly spilled in Eaton, 50,000 gallons in Chilton, 70,000 gallons in Kiel and Jefferson and 60,000 gallons in Richland Center.
"I'd say this is one of the bigger spills," Williams says. "But we do hear of incidents where a manure pipeline breaks or spray irrigation equipment is left on and that allows a lot of untreated liquid manure to run off and get into waterways. There were a number of situations with all the precipitation we got earlier this year where large manure lagoons overtopped."
Williams says many large spills see no press coverage at all.
The county opened the community digester in 2011 to great fanfare, and the facility uses the manure to produce 16 million kilowatt hours of electricity a year, enough to power 2,500 homes. A second county digester is expected to open soon in the town of Springfield, west of Middleton.
But Williams says digesters, billed as a solution to managing waste from large animal operations, can be a "mixed bag" which produce their own set of problems like air pollution from hydrogen sulfide, methane and ammonia. And while the digester removes some of the phosphorous, a nutrient that feeds algae and weeds, from area watersheds, it doesn't remove all of it.
"They are an effort to produce green energy and they do provide some benefits for reducing impacts from CAFOs," she says. "But there are a lot of concerns about discharge to surface water, about air pollution that are not really being adequately addressed. We see a lot of these just being kind of pushed forward as the future of CAFOs but really without making sure that they're really going to provide the benefits that they promise."
Editor's note: The original version of this story reported that Sarah Williams is an attorney with Wisconsin Environment. She works for Midwest Environmental Advocates.