Nearly every film is a journey of some kind, with the characters ending up in a different place (even if just emotionally) than where they were when they started.
The road movie, of course, takes this literally. The Wisconsin Film Festival recently screened two movies about characters taking very long — and wildly different — trips: "Road to La Paz" and "Paths to the Soul."
"Road to La Paz," which played Wednesday, is an engaging buddy comedy from Argentina, starring Rodrigo de la Serna as an unemployed man whose phone number gets mistaken for that of a car service. He pranks a couple of the callers, then decides what the heck, and starts earning money driving people around and pretending to work for the car service.
A garlic-munching elderly Muslim (Ernesto Suarez) is one of his regular customers, and one day has a proposition for him — drive him all 1,800 miles to La Paz, Bolivia, to see his brother. Needing the cash, the driver agrees, and what follows is a warm-hearted road trip that includes encounters with Muslim families, highway bandits and a pair of very friendly dogs.
But it's the budding friendship between the two men that sticks with the viewer, buoyed by a terrific instrumental rock soundtrack playing on the car stereo. It's a film guaranteed to put somebody in a good mood.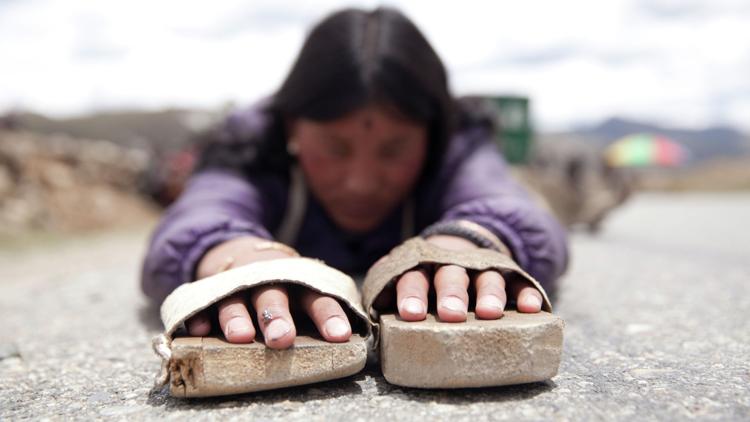 The journey in Zhang Yang's "Paths to the Soul," which also played Wednesday, is a little shorter (1,200 miles) but is almost impossible to wrap your brain around. A group of Chinese Buddhists travel from their village to the Tibetan holy shrines at Lhasa, entirely on foot.
Actually, the idea of taking such a long journey on foot is incredible enough for Western audiences to believe. But the pilgrims also prostrate themselves every few steps — stopping, dropping to the ground, bowing and touch their heads to the concrete highway. Every few steps. For 1,200 miles.
"Paths to the Soul" is not a documentary, but a narrative film using non-professional actors apparently recreating the journey. It is, understandably, slow going for both travelers and audience, with little drama along the way.
As the film goes on, one falls into the meditative rhythms of the journey — stop, bow, touch, repeat — and realize we're watching an expression of devotion that's ancient and powerful. In both the films, the journey is as important as the destination.