This week, the Justified Anger coalition is unveiling a detailed vision for racial progress in Madison. It's the product of more than a year's work by many of the city's most prominent African-American professionals and hundreds of other black citizens.
"Our Madison Plan" features goals developed by five work groups under the headings of education, economic development, incarceration, family and community wellness, and leadership capacity and development.
In interviews, prominent African-Americans described the effort as the most comprehensive black-led local undertaking of its kind.
Many said they recognize how blacks must work effectively with mostly white leaders in business, government, philanthropy and nonprofits, but that it was crucial this work be produced by those most directly affected by the city's gaping black-white disparities.
"What we are describing is a framework," said the Rev. Alex Gee, senior pastor of Fountain of Life Church on Madison's south side and leader of the movement. "It is not a plan until we have effectively collaborated with the entire community."
Gee's first-person essay, published in the Cap Times in December 2013 and headlined "Justified Anger," described racism he and others had encountered in Madison. Massive response to the essay ignited this effort.
The movement also grew from a report earlier that fall titled "Race to Equity" by the Wisconsin Council on Children & Families. That report measured startling differences between whites and blacks in Dane County on issues from academic achievement to incarceration rates.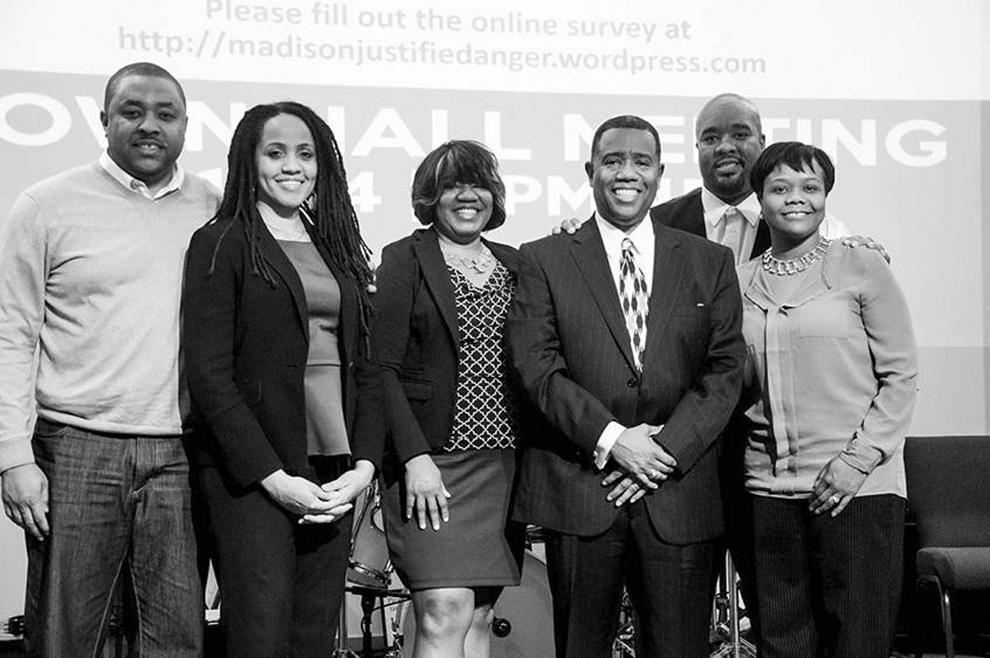 Darrell Bazzell, vice chancellor for Finance and Administration for the University of Wisconsin-Madison, has been a leader in organizing and guiding the Our Madison effort. In an interview, he said: "I always think about the (Martin Luther) King quote: 'The time is always right to do the right thing.' This is the right time for the African-American community to step up and articulate its needs and its vision for how we can create a community where everyone has the opportunity to thrive."
"I feel even stronger about that given recent events in our community and across the country," Bazzell added.
Release of the framework comes amid local and national turmoil around race. Locally it follows the death of Tony Robinson, a 19-year-old black man, and the district attorney's decision not to charge the white Madison police officer who shot him.
Some ideas in the framework are likely to attract special attention, such as a call to return to neighborhood elementary schools — and away from paired schools — even if it makes them less racially diverse. The goal is to reduce distances to schools for black children and parents to encourage parental involvement.
Another idea is to eliminate access by the general public to online criminal records. African-Americans, who studies show are more likely than whites to be prosecuted for similar crimes, say easy access to records by potential employers and landlords is a huge obstacle to getting a second chance.
Beyond long-term goals, the framework has more immediate, small-scale ideas. An example is to recruit and train 50 African-American parents to join parent-teacher organizations or form their own. Another is to create a wellness fair aimed at blacks. A third is to host quarterly multicultural potlucks to encourage more socializing among races.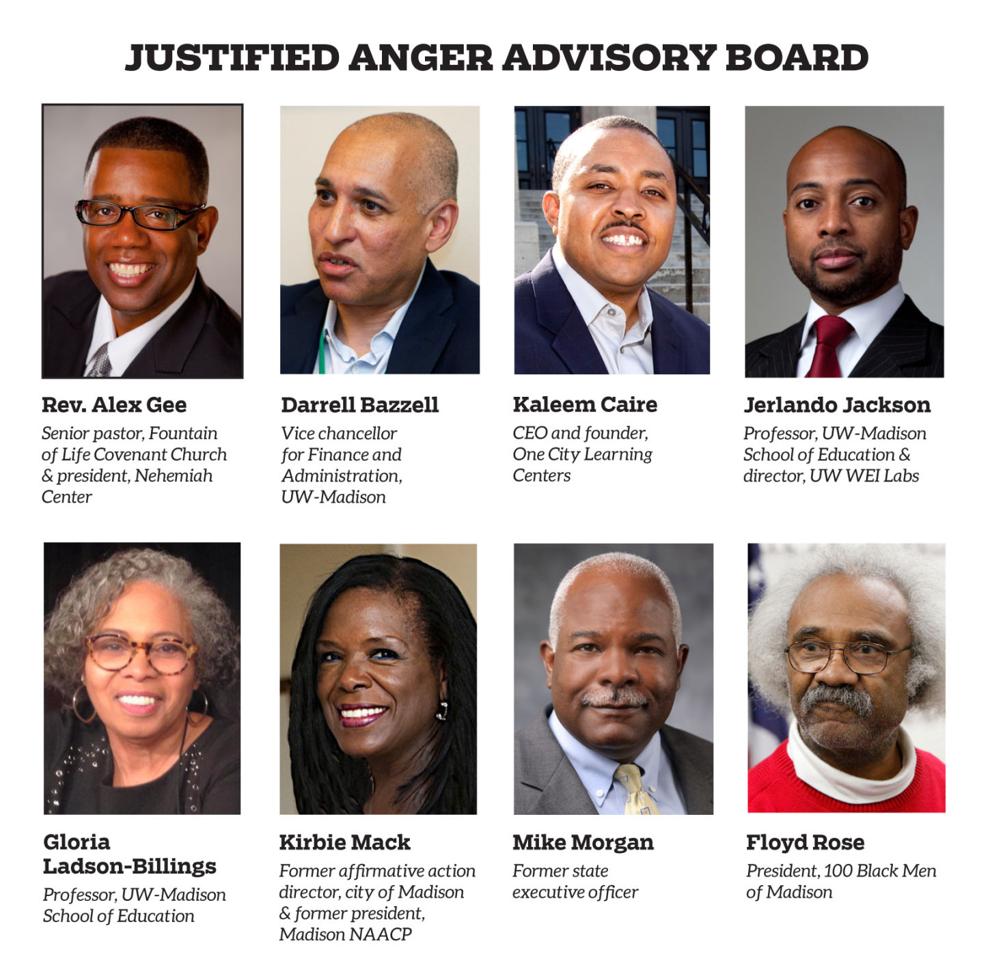 The Our Madison effort confronts a source of tension among blacks surrounding issues of race — a sense that a well-meaning white liberal establishment dominates philanthropic choices as well as public and private institutions, which obstructs leadership by the black community. Prominent blacks said they often feel they are invited onto boards in ones and twos, mostly for appearances.
Over the past year, Gee and others conducted scores of conversations, work sessions and forums that gained momentum at a session at Gee's church in early 2014 that drew 600 people. A key factor fueling the movement, Gee said, is that there are hundreds of volunteers registered, many of them black, to advance the effort.
A kickoff event at the Alliant Energy Center Friday night will bring together coalition members, a diverse gathering of citizens and white community leaders to celebrate the framework and preview fundraising to support Justified Anger as a long-term movement. The framework calls for several paid staff to support the ongoing effort.
Among the disparities, school achievement has been one of the most visible. That work group, co-chaired by Professor Gloria Ladson-Billings, a nationally noted education expert at the UW-Madison, and Dawn Crim, dean of external relations at the UW-Madison School of Education, offers four goals: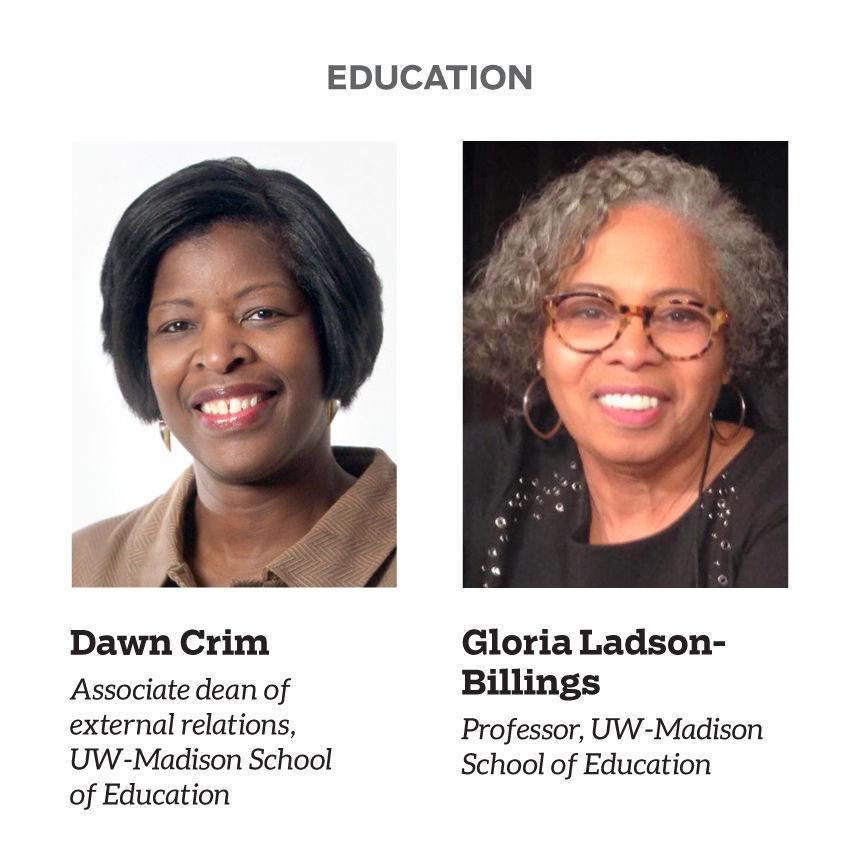 • Ensure black children ages 2 to 5 have access to high-quality learning and care by emphasizing readiness for school.
• Enhance family engagement in schools by returning to neighborhood schools in pre-kindergarten to grade 5, moving away from "paired" schools designed to desegregate but which result in long travel times.
• Create career-path education models in middle and high schools to ensure that African-American students have hands-on experiences in possible careers including science, technology, engineering, mathematics and the building trades, among many others.
• Ensure black children have access to supplemental college and career coaching in part by guaranteeing "growth, stability and efficacy" in existing programs.
In an interview, Ladson-Billings elaborated: "When I agreed to sign on, I really wanted us to focus on manageable goals. So we decided the best thing we could focus on would be transitions" from home to school, to middle school, high school and beyond. "Right now there are no clear transition strategies in place," she said. "There's a lack of articulation between these entities."
As to returning to more segregated neighborhood schools, Ladson-Billings said she is "pretty much assured" it would not violate federal Office for Civil Rights rules. She explained the rationale: "The time to grab parents is when kids are in kindergarten and first grade, and so if the parents don't have transportation and access, their kid's out of the loop."
She pointed to how critical neighborhood schools can be by watching them disappear in big urban areas. "When you close a school, you don't just close the school. Many times, you destroy a community because schools are so central to what communities do."
The economic development group, which focused both on the high unemployment among blacks and scarcity of African-Americans in many professions, was co-chaired by Madison College President Jack Daniels, state Department of Financial Institutions Secretary Ray Allen and Annette Miller, community development director of Madison Gas & Electric. Their goals: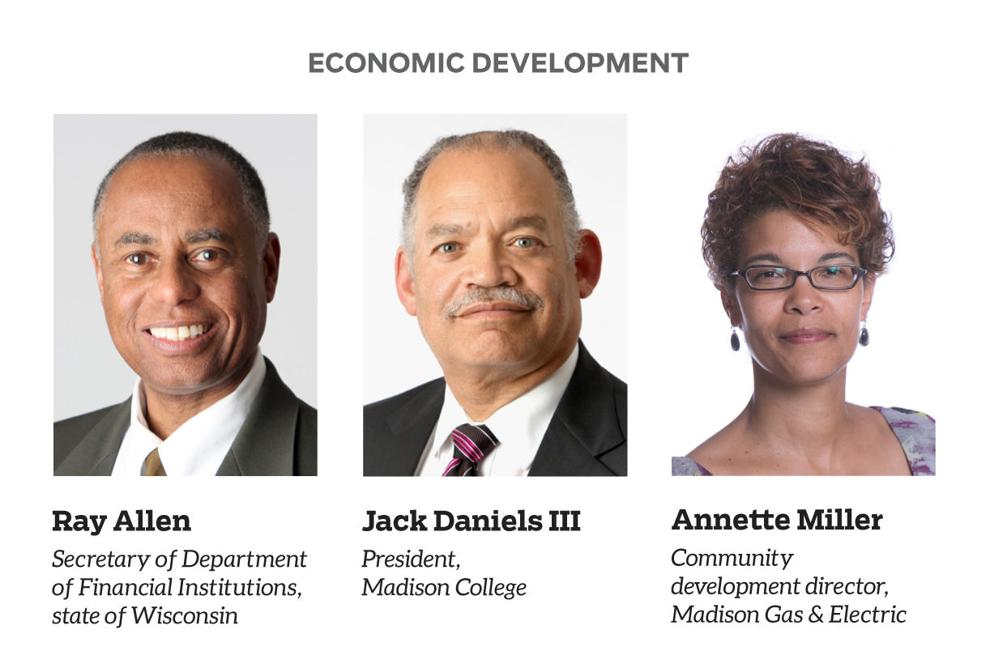 • Create an "asset map" as an inventory of business leaders who are engaged in diversity efforts to help drive an African-American economic development agenda.
• Establish and coordinate partnerships with entities including economic development, education and government, as well as community organizations, to provide career and training opportunities to African-Americans.
• Help create pathways for entrepreneurship by connecting younger blacks with training and employment opportunities within 50 high-demand fields.
Miller talked about her group's economic development effort, but also spoke to the larger movement, admitting she was an early skeptic. "I was slow to warm up because I wasn't really sure what role I should play, could play, wanted to play," she said, fearing it to be "more of the same."
She continued: "It's not more of the same. … I think the process was to bring in some technical expertise around the topic and really try to get that brain trust to focus and identify where work needs to be, identify goals that are relevant, impactful, important and deep. That they really speak to root causes and not to chasing feel-good solutions that, really, in the end, don't work.
"Because it was made up of people who are African-American (it) was very powerful and empowering," she added. "And I think that it was important to offer space for us as African-Americans to really dig and say, 'You know, these are the issues as we see them.'
"I think what happened with 'Race to Equity' (the 2013 report) was that people have really embraced the information," she said. "I would like to see this Our Madison Plan be embraced in that same way. That it is a great North Star for how a collective of African-Americans who have spent a lot of time in this community" see these issues. "This is their lens on what the work is and where the focus needs to be."
The incarceration group was led by Jerome Dillard, director of re-entry for Dane County government; Pia Kinney James, who was the city's first female African-American police officer; and Noble Wray, the recently retired Madison police chief. Its goals: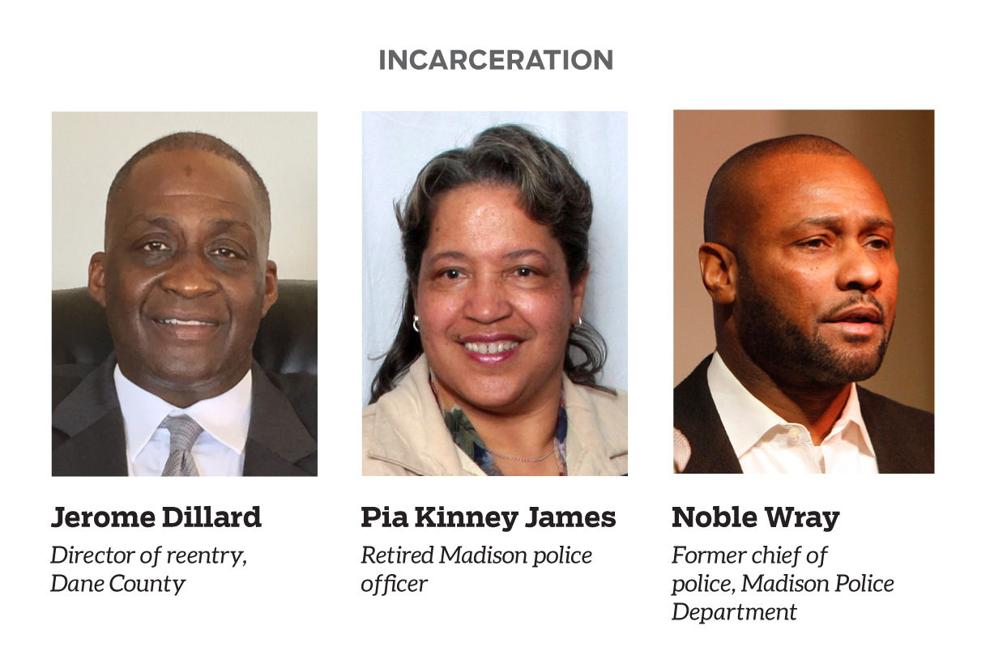 • Limit access to the online criminal record database to public officials who need it for their jobs. Given disproportionate arrest rates between blacks and whites, African-American leaders say the database access leads to unfair denial of job and rental applications.
• Work for passage of a statewide "justice reinvestment act" to ensure comprehensive action on recidivism, re-entry, probation and parole to prevent a cycle of imprisonment.
• Work toward equity for African-Americans in the court system by encouraging diversity and "cultural competence" among judges, administrators, court employees and especially correctional officers in rural settings.
In an interview, Dillard said he understood that limiting access to computer crime records would be controversial. "You know, I'm formerly incarcerated myself, but that was prior to the days of (online computer records). I think that has been a real hindrance for African-Americans. It haunts in many different ways."
Dillard also pointed to the sharp racial divide between mostly black prisoners and mostly white justice and correctional employees, which he and others believe increases recidivism. "It's very seldom that you see a person of color who's working within that system," he said. "That's where we have a huge 'us-and-them' divide. African-Americans in the criminal justice system use the term 'those people,' because in the courtroom no one in there looks like you, from the bailiffs to the prison guards."
Dillard said the black-led Our Madison Plan is overdue. "Oftentimes, individuals who are asked to deal with issues, especially issues that affect the African-American community, have not lived in those communities or grown up in those communities or lived what these individuals have lived. So I think that it's a long time coming."
The family and community wellness effort of the coalition was led by William Greer, CEO of Journey Mental Health, a nonprofit mental health and substance abuse center, and Lisa Peyton-Caire, founder and chair of the Foundation for Black Women's Wellness and an assistant vice president at Summit Credit Union. In their goals, they refer to work by other groups: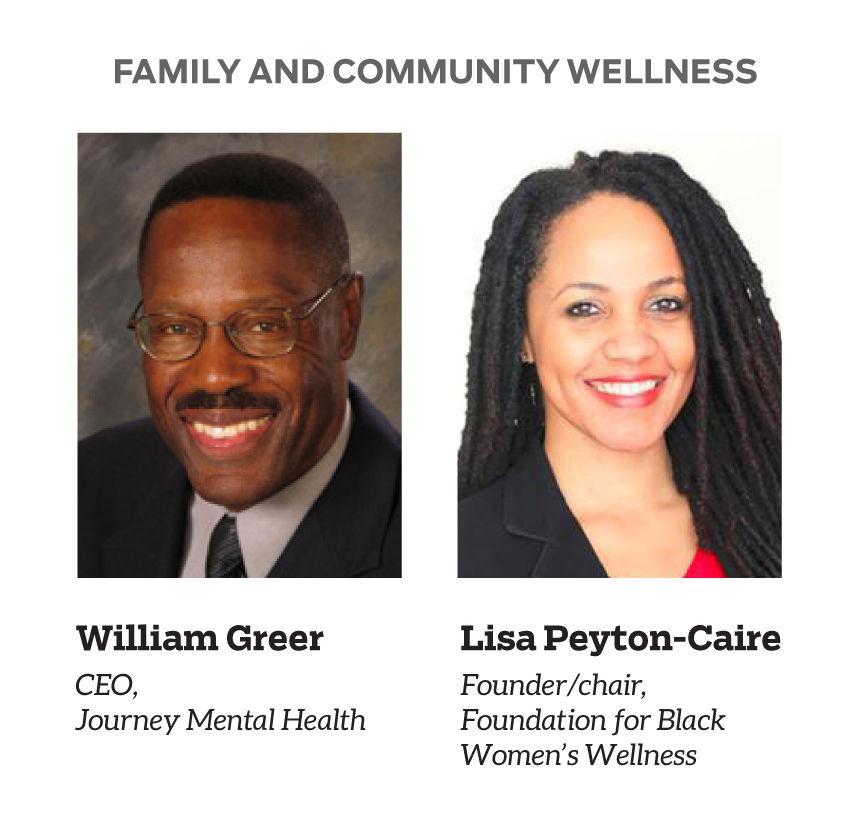 • Implement the priorities under education, economic development and incarceration in ways that create economic and social stability for black children and families.
• Develop culturally competent and accessible health-care services and providers.
• Pursue a multi-front effort toward family "preservation and restoration," helping "build family capacity to weather crises while leaving families intact." This would include decreasing the number of black children in foster care and increasing placement in other programs that "prioritize reunification" of families.
Greer said black wellness is built on all of these pieces: "I think what is unique (about the Our Madison Plan) is that we're combining and pooling our efforts and our resources here in what we see collectively as the big picture and realize that it's not just a matter of economics or health and wellness or education or law enforcement disparities.
"All of those things come together and affect the disparity problem. So the really exciting thing for me is working with African-American professionals who are determined to eliminate this problem, however long it takes."
Greer added that, for blacks, health care is frequently inaccessible, geographically and financially. "Often, our own habits have not been conducive to long-term good physical and mental health. Now, both of those things have to change."
He said it is important for health care to be available and provided by people who understand black culture. But, he added: "I think it has to start, obviously, with education of our families about what comprises good health-care habits. That includes nutrition, which is often a problem when many of the folks are living in deserts (as in 'food deserts' lacking adequate grocery choices). We need to begin talking about what kind of fuel we're putting in our bodies every day.
"It includes things like exercise. It includes things like good mental health. It also involves making those resources accessible, not just in the clinic, but in the schools, in the barber shops, the beauty salons, so that the message of health care is being delivered from a variety of different places where our family members go and they're used to getting good information, good advice," Greer said.
The final work group focuses on leadership and capacity development aimed especially at younger African-Americans in Madison, an effort co-chaired by Greg Banks, a regional account manager at First Data, a technology company, and Jessica Strong, a staff member for U.S. Rep. Mark Pocan, the Madison area's congressman.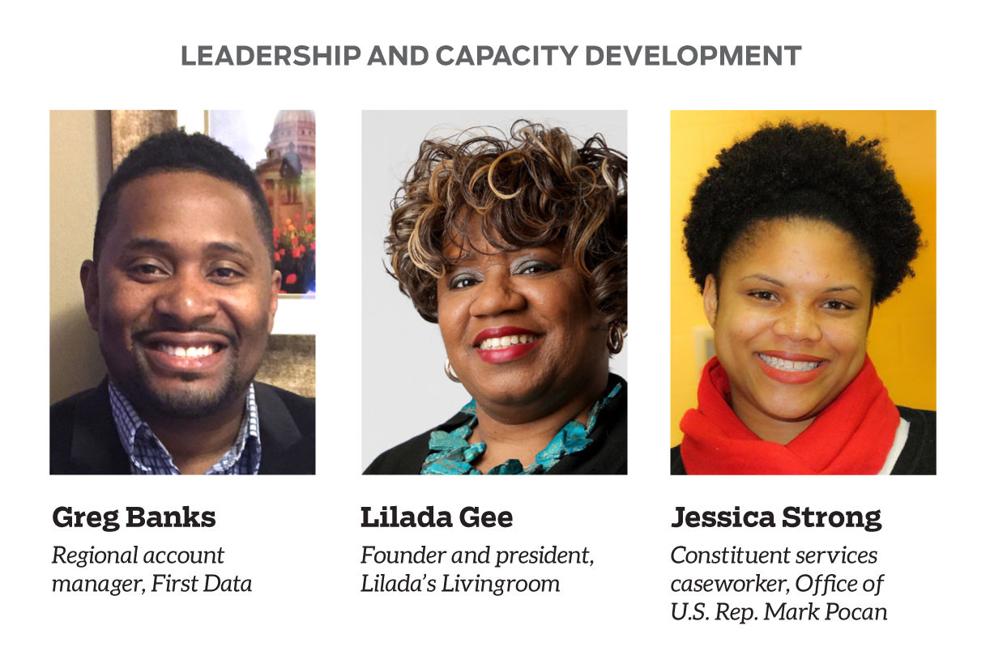 Lilada Gee, sister of Alex Gee, was also involved. She helped create the Nehemiah Community Development Center, which her brother runs, and also founded and runs Lilada's Livingroom, a nonprofit that helps women and girls escape sexual abuse.
In an interview, she said broad-based development of black leaders would help yield "black leadership and black solutions to black problems. We are wanting to come up with our own solutions."
She said the community has many accomplished African-American leaders who are now stepping forward as well as younger leaders "who are kind of chomping at the bit to do something meaningful in their community" and need training.
Goals of the leadership group include:
• Increase the number of blacks in executive and management positions among employers of all kinds.
• Find ways to increase black success in traditional and non-traditional youth leadership and service programs.
• Have every employer with 50 or more employees develop a talent management strategy with defined systems for fostering advancement of African-American employees.
• Build the capacity of black-led organizations to drive change and operate successful initiatives.
Overall, elements of the framework will likely prompt questions about whether some ideas are already being pursued or shown to be unsuccessful. Black leaders say they anticipate those discussions and collaborations.
Alex Gee reiterated that the framework reflects unprecedented input: "We have key university leaders working with us; we have government, nonprofit and retired individuals, ex-offenders and police officers. I think it's making it very clear that this is a broad swath of African-American leaders who bring influence and thought."
He paused, then added: "Do you have any idea how affirming it is to black people that this is happening?"