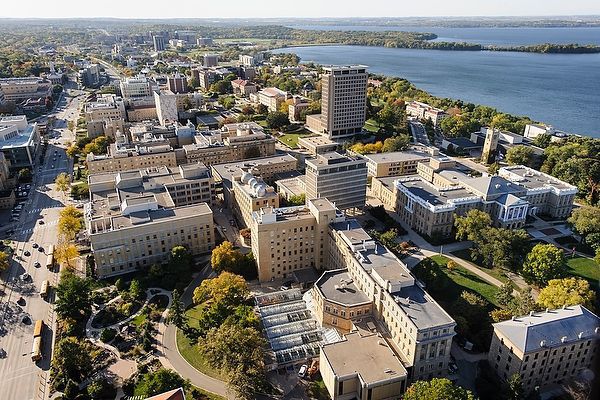 University of Wisconsin-Madison administrators swiftly dismissed a call from the Associated Students of Madison student council to divest from corporations involved in private prisons, fossil fuels, border walls or arms manufacture.
Late Wednesday, the council adopted a controversial resolution calling for divestment from those industries and 10 banks that support them or allegedly engage in discriminatory lending practices.
The ASM Student Council "does not control UW-Madison policies or practices and its actions tonight will not result in a change in our approach, or that of the WFAA, which is driven by its obligation to maximize the impact of a donor's gift on the intended program in the university," read a statement released by university officials on Wednesday night.
The WFAA is the Wisconsin Foundation and Alumni Association, formed in a merger of the University of Wisconsin Foundation and Alumni Association in 2014. It is a private nonprofit organization separate from the university.
The divestment resolution was unanimously adopted after nearly five hours of debate and testimony by 50 people, the Badger Herald reported. It begins with the statement that systems of oppression that target black, brown and indigenous people are "enabled through corporations engaged in human rights abuses."
The proposal was a shortened and simplified version of a divestment resolution that was tabled on March 29, following a long and highly contentious hearing that led to cross-accusations before the student government judicial body of discrimination and procedural violations.
The earlier resolution made many references to the Israel-Palestine conflict, prompting outraged testimony from Jewish students who felt it attacked their heritage and Palestinian students calling for denunciation of Israeli military tactics.
ASM chair Carmen Goséy and representatives Tyriek Mack and Katrina Morrison hastily drafted a shorter resolution for consideration Wednesday, before the close of the current student government session, the Daily Cardinal reported.
"I'm glad that communities of color and marginalized students had their voices heard," Morrison told the Cardinal after the vote. "They didn't allow themselves to be silenced. This was a really needed resolution and it said a lot of important things, and it raised awareness to a lot of devastating issues."
An amendment offered Wednesday night referring to Israel, however, caused Reps. Ariela Rivkin and Diego Villegas to walk out in protest.
"I felt like my Jewish identity didn't count — for anything," Rivkin told the Cardinal. "I definitely felt targeted as a Jew in that room, and that's pretty shameful."
UW officials echoed Rivkin's objections in their statement.
 "UW-Madison values and welcomes members of all faiths and identities. We have heard clearly from the Jewish community how targeted they feel by the actions of the last month," they said.
Most speakers at an open forum Wednesday said they support divestment, but were frustrated by this "watered-down legislation," the Cardinal reported.
Shared Governance chair Omer Arain, co-sponsor of a resolution tabled on March 29, said the new measure did not "accurately acknowledge ... the affected communities that are actually suffering as a result of this."
UW officials expressed concern about whether organizational rules were violated in adoption of the divestment legislation.
"Like any elected representatives, the students who serve in student government have an obligation to follow the bylaws of their organization to ensure its integrity and to uphold the trust placed in them by those who elected them," they said.
A comment from an WFAA spokesman Thursday echoed UW's remarks about investments.
"Investment policies at WFAA are established and reviewed regularly by our Board of Directors, which includes some of our largest donors," Vince Sweeney, vice president for communications, wrote in an email. "Our guiding principle is our fiduciary obligation to maximize the impact of a donor's gift on the intended program in the university. We believe this policy is in the best interests of the donors and the university they support."
Chancellor Rebecca Blank plans to meet with the incoming ASM leadership for the next academic year to emphasize the need to act with integrity and in ways that promote involvement by all students, officials said.
Some members of the Student Council and UW-Madison student organizations Wunk Sheek, Wisconsin Black Student Union, Movimiento Estudiantil Chicanx de Aztlan, Students for Justice in Palestine and UW Blackout on Thursday released a blistering open letter demanding that Blank step down because of "lackluster" responses to racial incidents on campus.
 "These vague and inadequate responses to dangerous racist incidents foster a hostile environment for minorities," the letter reads.
The students also criticized university officials' response to the divestment resolution adopted by the Student Council. The official line that the university is obligated to maximize the impact of donors's gifts "values profits over people,"  the students wrote. "Deliberately ignoring the connected between maximizing profits and the oppression of students of color is active racism."
Blank said through a campus spokeswoman that she does not plan to resign.
This post was updated to add comment from WFAA spokesman Vince Sweeney and excerpts from students' open letter to Chanceller Blank and the campus community.