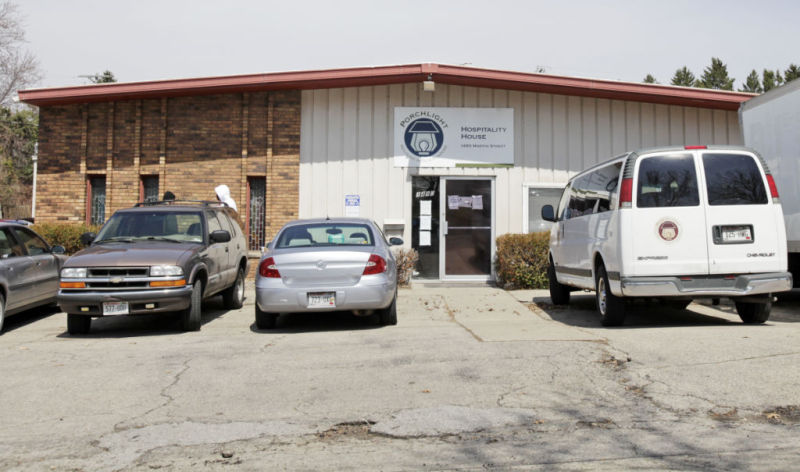 A plan for a long-sought day shelter and resource center for homeless people hit an unexpected bump this week when a town of Madison committee voted down Dane County's plan to expand an existing shelter there.
The town planning committee voted Monday not to approve a plan to expand Porchlight Inc.'s facility at 1490 Martin St., WKOW.com reports. The vote, four against with one abstention, came after a handful of town of Madison residents complained about Hospitality House, the day center now operated on the site by Porchlight Inc.
"There's a neighborhood park right across the street from the center and we've already had considerable problems from Hospitality House," WKOW quoted resident Guy Davis. "From broken glass to trash and urination in the park, people sleeping overnight, scaring away the neighborhood residents."
The Dane County Board last month approved purchase of the property from Porchlight for $330,000 and planned to contract with another service provider to manage the center. Board members approved the purchase despite protests from homeless people and services advocates that the site was too far from the downtown Madison area where night shelters are located and there were not adequate plans in place to help people get to and from the south Madison facility.
One reason in favor of the Martin Street location, despite its distance from downtown, was that it was currently zoned and used for the proposed purpose, Lynn Green, director of the county Department of Human Services, has said.
Given that, Dane County Sup. Kyle Richmond, who represents the area where the day center is located, said he was surprised a town committee opposed the plan.
"I had assumed the County Executive talked this through with the town board and checked out all the legalities and possibilities," Richmond said Thursday. "We were told as county board members that this could go through."
But Richmond said he doesn't think the county needs to switch gears yet. 
"The town board can ignore the planning committee if it wants to," he said.
County Executive Joe Parisi championed the Martin Street site and dismissed concerns over the location and attempts to slow down the property purchase as ill-conceived obstacles to getting the center operating this fall.
No one from Parisi's office was available Thursday morning to comment on the future of the day center plan. Town officials also were unavailable for comment.
Dane County Sup. Heidi Wegleitner, a leading advocate for a permanent day center for the homeless, said Thursday that the county needs to look in a different direction now.
Wegleitner admitted she is too unfamiliar with town politics to interpret what rejection of the plan by a planning committee — whose members include the fire chief and director of public works — portends for the ultimate fate of the proposal before the three-member town board on June 23.
"We're all very concerned that we have something by Nov. 1, whether or not it is a permanent day resource center," she said. "And we need to make arrangements make sure we have services for people this summer."
Wegleitner had asked fellow county supervisors to delay buying the Martin Street site and introduced a resolution calling for an increase in day center funding from $600,000 to $4 million, to enable the county to buy a site in the more expensive downtown real estate market.
"I still favor spending more money," she said. "We need to spend whatever takes to do it right and put the center downtown where it needs to be to help the most people."