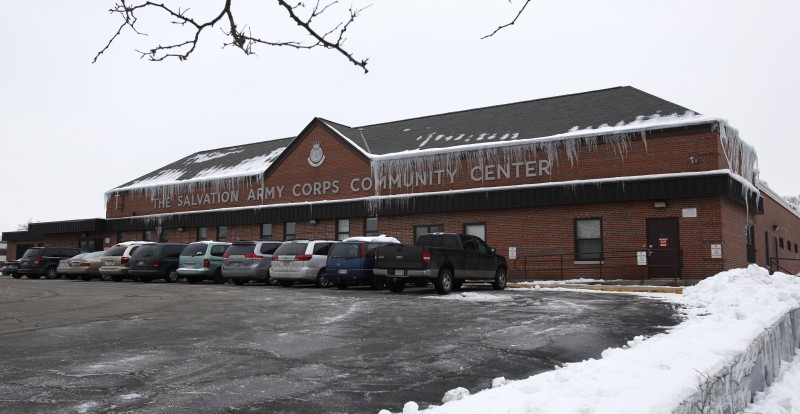 Announce that you're planning to open a facility for homeless people, and you're likely to be greeted with a chorus of objections over what that's going to do to the surrounding neighborhood.
That's been the response in Madison neighborhoods in recent months as proposals were floated for day shelters, shelters and supported housing. At public meetings and on electronic message boards, neighbors of the proposed facilities worried about what they would mean for the stability of their neighborhoods.
Fears about the impact of a proposed supported housing project, to be managed by Occupy Madison in a Fordem Avenue office building, prompted a flyer calling for a protest demonstration at a community meeting on the proposal at 1 p.m. Saturday, Jan. 12 at James Reeb Unitarian Universalist Congregation, 2146 E. Johnson St.
And proposals to relocate the Salvation Army of Dane County's women's shelter and to develop a new youth shelter in the Worthington Park neighborhood are stirring concern there.
It all got me wondering what the impact is of a homeless services facility on a neighborhood's, say, property values.
That's not been studied in Madison, city Director of Community Development Jim O'Keefe tells me. But research elsewhere on the "spillover" impact of transitional housing for the homeless has found that well-run facilities may actually increase the values of surrounding properties.
A study of the impact of 15 transitional housing sites for the homeless run by Project H.O.M.E. in Philadelphia found that properties near those facilities appreciated 1.8 percent more than did comparable properties in other areas of the city.
"That's a very big number," Kevin Gillen, one of the authors of the study, told me recently in a phone interview. The study, released in 2008, compared home sale prices before and after the development of Project H.O.M.E. housing facilities and controlled for many other factors that could affect home values, said Gillen, an economist and senior research consultant at the Fels Institute of Government at the University of Pennsylvania.
The facilities studied were developed on what had been vacant and abandoned properties, Gillen said. "There were homeless people on these sites, they were just camping out," he said.
Project H.O.M.E. fixed up the properties and began programs that required homeless people living there to get addiction or mental health services as needed, to get a GED, and to seek employment. "They run a tight ship," Gillen said.
"These properties were overwhelmingly in distressed neighborhoods. If you were to do the same thing in affluent neighborhoods, it may not bring the same result. But given the choice living next door to a well-maintained homeless facility and a vacant abandoned building, you'll take the homeless facility," he said.
Some neighboring properties also were improved after Project H.O.M.E. moved in, but it's hard to say if that was a direct result of the homeless services facility or general appreciation of property values in the neighborhood, Gillen said.
A more recent study that Gillen authored studied the impact of all types of assisted multi-family rental housing on surrounding neighborhoods throughout the state of Delaware. That study, released in October, found that in two-thirds of the cases, the impact of subsidized housing was neutral or positive, Gillen said.
What determined the impact, he said, was the design of the housing, its management and the neighborhood context.
"This implies that it's within the power of public officials to get rid of negative effects," he said.
It boils down to developing a facility that is the right size and type for the neighborhood, and managing it well.
That might mean that the affluent, strictly single-family neighborhoods that some Madison residents protest are not called on to take on their share of special-needs facilities might, in fact, not be the best place for them. Siting a facility there might hurt property values, Gillen said.
And those neighborhoods probably can't offer what people in transitional housing are likely to need, Gillen said.
"Most homeless people don't have advanced skill sets — at least initially — so while they're getting a GED and working a low-skill job, wealthy neighborhoods don't have the jobs and social services that these clients in transitional housing need."
In terms of good management of subsidized housing, the Delaware study found that the standard is likely to depend on the kind of manager: nonprofit organization, private company or public body.
"We found that in terms of improving the quality of life of the occupants, nonprofit managers are best. They're not just landlords — they get you in the GED class and the rehab program, they stop by and ask how you are," Gillen said.
But nonprofit managers are not necessarily the best at preserving the value of neighboring properties. "The ones best at minimizing any negative spillover are the private owners — it's their money at stake and they want to make sure the property is maintained. If you're not a good tenant, they replace you," Gillen said.
"The worst landlords are the public ones — presumably they don't have the resources to properly manage these places and bureaucrats don't have their money at stake the way the nonprofits or private developers do."