Discipline in Madison's public schools is harsh for African-American kids, many of their parents say. They insist the system targets black children, setting them up to be exiled from class, written up, suspended, even expelled. Schools push out the very students who are falling behind their white classmates, according to test scores and graduation rates.
And the unequal treatment starts in the early grades when their children are very young, African-American parents say.
"They start with your child when they first get them, to take away whatever self-pride they walk into that school system with," says one African-American mother, leafing through pages of behavior reports on her son. "You have a child who will grab their book bag, grab their sister's book bag, want to go start the car they are so ready and eager to go to school. But when they get there, things start happening."
The mother, whose name is being withheld to protect the identity of her child, says the behavior reports started when her high school-age son was in elementary school. The reports cite repeated incidents that she says are attempts by a child with special needs to cope. They include incidents labeled "repeated physical aggression" that she reads as horseplay among kids rather than an attack by one child on another.
"They are seeing my child all day. They are affecting my child," she says. "They are the ones who can boost them, or bring them down."
Jennifer Cheatham, superintendent of the Madison Metropolitan School District, says she has heard similar accounts from African-American parents who believe their kids have been unfairly marked as trouble makers.
"I can't tell you how many African-American parents I've talked with who have told me those stories," Cheatham says. "I've heard enough of them to believe there is real truth there. I think the work we're doing really is about addressing head-on our racial bias and the assumptions we may make of students who are in the classroom."
Madison school officials are currently working to revamp the district's code of conduct. One significant goal is to emphasize the recognition and support of good behavior over punishing misconduct. Another is to reduce rates of student suspension and expulsion overall and whittle down a racial disparity that made black students eight times more likely than white students to get an out-of-school suspension last year.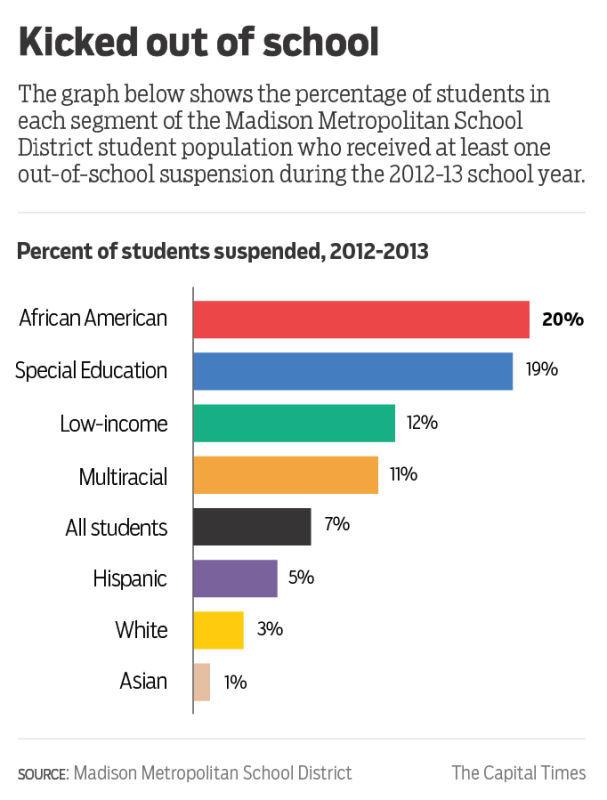 The challenge is finding a balance between helping struggling students control their behavior and retaining a safe environment conducive to learning for all.
"Safety is always first," says Nancy Yoder, executive director of student services. "But now we will also be focusing on intervention and teaching around behavior. Kids don't come to us knowing all that, at any age."
Under the new code, behavior that warrants punitive action will also lead to intervention that helps motivate behavior change, Yoder says. And Cheatham emphasizes that violent students putting others in danger won't be allowed to stay in the classroom.
"We'll still be very strict about making sure school is a safe environment while giving us an opportunity to better understand why these behaviors happen and get at the root cause," she says.
Chad Wiese is principal of La Follette High School on Madison's east side, where programs to help kids learn to control their behavior have been operating for several years.
"We're interested in keeping students engaged," Wiese says. "But when young adults make bad decisions that put themselves and others at risk, I want to make sure there are enough punitive measures in code to make sure there's a safe environment.
"We need to do whatever we can to hit that sweet spot."
Meanwhile, teachers speak with varying enthusiasm about the need to find the root causes of student misbehavior. Some say students whose behavior disrupts class simply need to be removed. One teacher of color worries that a whole generation of African-Americans is at risk.
And while some parents echo the district's expressed goal of responding to the underlying cause of obstructive behavior, one parent says low-income minority kids already get away with things white children never would.
Along with concerns over budget cuts, arguments about academic standards and scrutiny of efforts to close the racial achievement gap, the Madison schools' discipline policy is a complex issue. And officials have been moving quickly to realign discipline practices to a goal of keeping students in the classroom and learning. A proposed new code is slated to go to the board of education for approval on March 31.
Madison schools impose thousands of out-of-school suspensions each school year, resulting in thousands of days of instruction lost. In the 2012-2013 school year, for example, there were 3,863 out-of-school suspensions, resulting in 6,075 lost days of instruction.
Students of color, disabled students and students living in poverty are suspended from school at much higher rates than others. For example, 20 percent of African-American students and 11 percent of multi-racial students received at least one out-of-school suspension last year, compared to 5 percent of Hispanic students and 3 percent of white students.
Among special education students, 19 percent were suspended at least once last year, compared to 4 percent of students who are not in special education programs. And 12 percent of low-income students were suspended at least once, compared to 2 percent of students not from low-income families.
Among 112 students expelled in the last four school years, 62 percent were African-American, 19 percent were white and 12 percent were Hispanic.
Cheatham and other school officials are convinced that the current code's deficiencies lead to disparities in rates of suspension and expulsion.
"Our current code is based on a zero tolerance approach to some behaviors that doesn't give students the opportunity to learn from their misbehavior," Cheatham says. "And it doesn't provide sufficient opportunity for adults to understand where the behavior is coming from and respond to it in a supportive way to help the child address the underlying issues."
The proposed new code of conduct – renamed the Behavioral Education Plan – reduces the violations that can result in suspension and expulsion. School officials calculate that if the proposed code had been in effect last school year, nearly one-third of out-of-school suspensions would not have occurred and lost days of instruction would have been reduced by nearly 20 percent. The percentage share of high school suspension for African-American students would have dropped from 64 percent to, at most, 60 percent, they say.
The Madison district is undertaking its revision of discipline policy as school systems across the country are jettisoning get-tough approaches that push students out of school in favor of models that keep kids in the classroom and work to help them change their behavior. Responding to research reporting that disparately high suspension and expulsion rates among African-American students feed the school-to-prison pipeline, large school districts are pulling back from "zero tolerance" in Chicago, Denver, Los Angeles, Baltimore and Broward County, Fla., where more than 1,000 students were arrested in 2011.
A landmark study that year in Texas analyzed millions of school discipline and juvenile justice records, finding that African-American students and those with learning disabilities were disproportionately removed from the classroom for disciplinary reasons. The study also tracked links between suspension and expulsion and dropping out of school and entering the juvenile justice system.
And a multi-disciplinary review of recent research released March 13 by a collaborative based at Indiana University concluded that high suspension and expulsion rates are driven by ineffective school policies and practices, not "bad kids."
Releasing guidelines for reducing punitive practices in the nation's school districts in January, U.S. Education Secretary Arne Duncan said that racial discrimination in school discipline is "a real problem today — it's not just an issue from 30 or 40 or 50 years ago."
To inform their efforts, Madison school officials are spending up to $10,000 for the guidance of consultant David Osher, a nationally known expert on school improvement and safety and vice president of the American Institutes for Research, based in Washington, D.C. Osher told school board members at a work session in January that their new approach to school behavior should be about motivating students to learn how to manage themselves in the classroom.
That approach, Osher says, addresses both ends of the political issue – the parents who worry their kids are not allowed to be more productive because of disruptive behavior by others and parents who think their kids are being set up.
Teachers may need to be trained to create a more productive learning environment and become aware of their own bias.
"We want to have people who are more in tune with themselves and their emotions and perceptions," Osher says. "So if they see implicit bias, they don't become defensive but say 'It's happening' and do something about it."
School staff may also need guidance in how to help families overcome factors like their own bad experiences in school, so they can work more productively with parents to help their children.
Research has shown positive behavior support models reduce school suspensions overall, but the evidence is not in yet on reducing racial disparities in suspensions. Madison school board member James Howard has pressed Osher for suggestions on how accomplish that.
"How do we deal with those disproportionalities? There are a lot of conversations going on in our community today around those issues," says Howard, currently the school board's sole African-American member.
Osher encourages school officials to also pay attention to positives for students. Encouragement and enrichment opportunities help young people thrive at school.
"People are right to be outraged at disparities. But if you get stuck in preventing negatives, you're not dealing with the positive piece," Osher says. "Negative is related to the school pipeline to prison. Positive is related to graduating from University of Wisconsin-Madison summa cum laude."
The idea of using empathy and support instead of punishment to model student behavior is not new in the Madison school district.
La Follette High School has been working to develop more positive approaches to discipline over the past five years, including restorative justice circles and youth court (see page 20). These alternatives mean that school officials no longer turn immediately to punitive measures, as they might have in years past, says principal Chad Wiese.
"We come up with proactive ways," he says, starting in the classroom.
"We have worked really hard in the last few years on knowing that all 200 staff members come to this building every day, all in, for the success of all our 1,500 kids," says Wiese, who became principal in 2012 after having been assistant principal since 2007.
"Having zero tolerance for certain things — when there is a chance that on any day the hours they spend with us will be the very best times they have in their week – is just not the way to go," he says. "It sends the message you are not welcome here because you are having a hard time."
"Common sense tells you they'll bring their issues back with them when they come back to school," says Weise, who was head football coach at the school before joining the administration. He says those coaching instincts guide his work today.
La Follette has had its challenges with discipline, including some high profile incidents involving gangs in the mid-2000s.
"We're in a different spot than we were, although at times there is still challenging behavior and we need to draw a line if behavior is getting in the way of learning," Wiese says.
La Follette assistant principal Terry Meissen recalls that while students received in-school suspensions for excessive tardiness as recently as 2008, gang-involved students attending the high school today have a support group to help them stay in school and succeed.
"They know they have to leave it all – the gang colors, graffiti – at the door. But this is a safe place where they can learn and get help finding jobs," Meissen says. "Most of them will graduate."
John Bauman, Dane County Juvenile Court administrator, says he too often encounters young people entering the juvenile justice system when a confrontation at school spins out of control.
"A kid is noncompliant for whatever reason – a bad day, mental health issues, feeling he's not being listened to," Bauman says. "He's sent out of class to the office, but continues to be unruly – loud and boisterous – and security staff or the school police officer gets involved. The kid resists, fights back, knocks something over, and you've got a disorderly conduct or a criminal battery charge."
"I've seen it so many times – kids not being able to stop," he says. "I'd like to think if there were adults with good connections to the kids, they might be able to reach them and stop the escalating behavior."
Once they are involved, police officers often feel they don't have any option but to bring a student who is out of control to the juvenile court system, Bauman says. And even if the child is not placed in taken into custody, the incident begins the process of establishing a record, Bauman says.
Having a "record" in the juvenile justice system – or at school – sets up a kid for more scrutiny and unfair punishment, says a 19-year-old man now finishing his high school education in an alternative program after dropping out of Madison schools following multiple suspensions and a near expulsion after almost fistfighting with a staff member.
"Because I had a history, every time something went wrong, they were looking for me," the young man says. "I'd be in a group, maybe the only black person, and the first person they come to when something happens is me," he says. "Other people could say 'he didn't do it' – they'd still blame me."
"African-American kids don't come to school, because they treat us different," he says.
And he says many white teachers are afraid of African-American students.
"Every school I went to, all my teachers were scared of me," he says. "I don't know why, but I got away with a lot of stuff."
Now living on his own and working, the young man is pleasant and polite in conversation, but admits that when someone "pushes my buttons," he goes off.
He recalls a couple of teachers he felt were trying to connect, by making class so interesting he couldn't wait to get there or being flexible in responding to minor rule infractions like tardiness. But most teachers didn't care, he says.
"Most teachers were there to do their job and leave," he says. "They didn't care what they were teaching or what kids were doing." At one point, he just stopped going to school.
He ended up getting into legal trouble, convicted in adult court in three separate criminal cases on charges that included a couple of low level felonies. He has spent some time in jail.
"That's a part of my life I don't like to go back to," he says. "It was a bad time for me."
Asked how he would advise a kid who was starting to get in trouble at school, he says he would recommend a quick change in direction.
"I'd tell him that's not where it's at. School is important if you want to do something with yourself," he says, then pauses. "But everyone learns their own lesson. They have to go through it before they understand."
Anna Mueller Moffit is a parent with three special needs children in Madison schools who also works helping families with kids who have social, emotional or behavior disorders through a statewide nonprofit organization. She calls the number of disciplinary actions against school children with those diagnoses "stunning."
Those children tend to be highly reactive, with poor impulse control and lagging social skills, Moffit says in a recent interview. They may hit other kids, become verbally aggressive, or run out of a classroom when uncomfortable, she says.
Students with these disorders tend to rack up a lot of suspensions. A benefit of that is that it can bring them the special services they need, Moffit says. But the connection sometimes isn't made between erratic behavior and its underlying cause, she says.
Moffit hopes the new conduct code brings greater consistency and accountability in the services available to children with special needs.
Several other parents who have commented on the proposed change in discipline policy through local parent email networks express a variety of views.
One calls the district's plan to emphasize supportive learning opportunities over punishment "a noble and romantic ideal that doesn't always work out."
That parent, who is a physician, describes violent incidents she has seen at her child's elementary school where out-of-control students strike others or yell obscenities. She attributes it to mental illness.
"I think there's a great deal of denial in dealing with these children with mental illness or families that are so severely dysfunctional that the children have no control over their behavior," she says
The school district is currently reviewing both its services to special education students and how it identifies and responds to children with mental health issues.
Not everyone believes that having the same rate of disciplinary actions for different racial or socio-economic groups should be a priority. One parent says the same consequence should be consistently applied to all students and low-income minority students now get away with stealing from other children or destroying their things because school officials are cowed by discipline disparities.
Another parent says student behavior is affected by poverty unstable living conditions that go along with it. Different racial and ethnic groups have significantly different rates of poverty, so "it would be absurd to insist on the same outcomes for different groups of students," the parent says.
Mika Oriedo is a teacher at Sennett Middle School, adjacent to La Follette High School, and attended the school as a child. He says he chose to teach at Sennett because of the multi-age model, which mixes sixth through eighth grade kids for all classes except math, and the opportunity it brings to build relationships with students over three years.
And while the school has for years emphasized a positive approach to discipline, including restorative justice practices, the racial disparities in discipline that have been grabbing headlines persist at Sennett, too.
When Oriedo, an African-American, walks past the alternative learning center, where kids whose behavior got them kicked out of a classroom go, "there's a higher percentage of African-American males," he says.
"It's an epidemic, along with the achievement gap," he says. "Something needs to be done."
Oriedo says that more and more kids – not just African-Americans – are acting out from increasingly complex problems that are beyond the capacity of schools alone to address.
"If you're hungry or if you experienced something the night before so you could not sleep, the social and emotional stuff has to be dealt with before you can be expected to be a learner," he says.
He encounters students who are homeless, living in families struggling with domestic violence or joblessness or even dealing with an incarcerated parent, all of which can lead to behavior which requires intervention beyond a teacher's capabilities.
"With more time and experience, we can do more. But we can't do it all," Oriedo says. "I've been on the phone to the social worker more this year than ever."
And when it gets to the point where a student is so disruptive that others can't learn, that student needs to leave the classroom temporarily, he says.
Madison was much less diverse when he attended Sennett as a student in the early 1980s, Oriedo recalls, and he doesn't remember unequal treatment of African-American students. But he also admits to being a "goody two shoes."
"No one was sending me to the office," he says.
While school officials are revising recruiting and hiring practices to raise the proportion of African-American teachers in the schools from the current 2.7 percent, Oriedo is not certain more black teachers would ease the racial inequality in disciplinary actions. His white colleagues aren't racist, he says. "It's something bigger."
What the district needs is more resources, he says, more social workers to work with kids on serious issues and get them the additional help they may need, more teachers for smaller classes and teachers aides, so teachers can take time to work one-on-one with students and hear what is bothering them.
Not addressing these issues will have dire consequences, Oriedo says.
"The school to prison pipeline, it's a real thing," he says.
"Something drastic needs to be done. We are losing a whole generation of kids to this," Oriedo says. "When kids are not in the classroom, they are not learning. But beyond lower test scores, there is the idea of thinking. School is the place you go to gain some knowledge and learn how to think. That lack of thinking is getting us African-Americans into trouble."