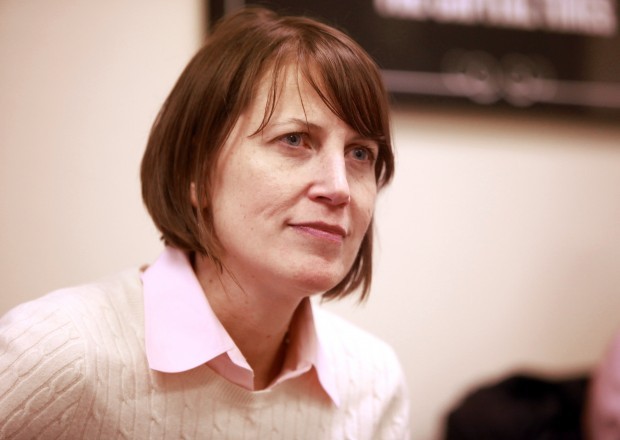 A high school honors student with no history of disciplinary problems pours a couple of shots of bourbon into a water bottle and brings it to school to take on a field trip. She gives a similarly spiked bottle to a friend. An anonymous tip leads school officials to confront the girl before she gets on the bus for the trip and the alcohol is confiscated.
What's the appropriate punishment for this 14-year-old girl?
That's the decision members of the Madison School Board are scheduled to make Monday, right before they vote on a comprehensive rewrite of the school district's discipline code. Superintendent Jennifer Cheatham says the new code will move away from "zero tolerance" to methods that allow students to learn from their mistakes and stay in school.
Under the district's current code of conduct, Maia, a Madison East High School student, must be automatically suspended for five days for her offense and is recommended for expulsion. The recommendation triggers a review of the case and the student's record, including whether she has any mental or physical disability, to determine if expulsion is the right penalty.
After school officials found no evidence of disability, Mikki Smith, assistant principal at East, recommended Maia be expelled until the end of the current school year, according to the report of independent hearing officer Alicia Connolly-Lohr, who heard the case.
But Cheatham recommended an additional year of expulsion, through the 2014-15 school year, for conduct "which endangered the property, health or safety of others," she wrote in an affidavit.
School district spokesperson Rachel Strauch-Nelson stressed that she could not talk about specific expulsion cases. But she did say there are standard guidelines used to determine the length of the expulsion recommendation.
The baseline recommendation is three semesters with early readmission after certain criteria are met, Strauch-Nelson said. Cheatham's recommendation was that Maia be eligible for readmission this June if she undergoes a drug and alcohol assessment and is determined to no longer pose a threat to herself or others at school.
The family had Maia evaluated for alcohol and drug problems and the finding was that she had none, said Maia's mother, Melissa Meyer.
Cheatham offered this written comment by email: "We do believe that we need to shift our thinking and our day to day practices away from exclusionary practices and toward a model that gives students the opportunity and support to learn to develop positive behavior skills. Our current experience and our data show that we need to make that shift, and that's why we are rewriting our code of conduct — so that we can ensure more students are in class learning."
Cheatham did not attend the expulsion hearing on March 14. But Smith, East High principal Mary Kelley, and district expulsion coordinator Joseph Hill spent hours convincing the hearing examiner that Maia should be expelled, according to an article published by Isthmus. Maia attended the hearing, along with her attorney, Jeffrey Spitzer-Resnick, and Meyer, Isthmus reported.
Spitzer-Resnick asked the hearing officer to suspend his client for three weeks, then allow her to return to school, he said.
But Connolly-Lohr found Maia had endangered others by bringing alcohol to school and adopted Cheatham's recommendation that she be expelled until June 2015.
The School Board can accept, reject or amend the recommendation of the hearing officer, Spitzer-Resnick says.
According to Maia's testimony, she was pressured by other kids to bring money to buy marijuana along on a show choir field trip to Chicago for a "Phantom of the Opera" performance. She decided instead to bring some alcohol. The hearing officer found that testimony not relevant.
School officials were not interested in the circumstances surrounding the incident, Spitzer-Resnick and Meyer said Wednesday.
Spitzer-Resnick described the process as a mechanical, zero-tolerance policy-based exercise, without concern for the student, her background or her regrets over the behavior. It is ironic that while Cheatham and school officials are touting a move away from "zero tolerance" discipline, they are implementing it full-bore in the interim, he said.
"My client is getting the best possible legal representation money can buy and she is still being railroaded through this process," Spitzer-Resnick said. "I don't even like to think about the kids who have no representation."
"You're a box on a spreadsheet, so this is what we do," Meyer said, describing the school district discipline policy.
At a youth court hearing last week, three high school seniors acting as the "jury" asked Maia "smart questions around what happened, what she was thinking, what she had learned, what she would do differently," Meyer said. After deliberating, the jurors dismissed the case because they believed her five weeks out of school since the incident was already disproportionate to the offense, Meyer added.
Youth courts in Madison high schools are part of "restorative justice" practices that allow students to own up to and make amends for their mistakes. Students can opt to go to youth court after violations like underage possession of alcohol, for which they also could receive a ticket from the Madison Police Department.
"The kids asked the right questions and processed it as adults should," Spitzer-Resnick said.
Three teachers submitted letters asking that Maia be allowed to return to school, citing her contrition for what she had done and her potential as a student. One teacher said he had never witnessed "such austere" treatment of a student in many years in the classroom.
Meyer said the ordeal has been very stressful for her daughter and family.
"As a family, with a support system of her friends and their parents, our objective is to make sure we come out of this learning what we need to learn, and are stronger on the other side," she said.
"This is a girl who craves learning, who loves to be with friends, who wants to play her sports, who wants to sing in the choir — they pulled all that out from under her. It has been very hard on her. She did not get out of bed for a week. We were very concerned," Meyer said.
Meyer said her daughter wondered how her situation would be different if her family didn't have access to an attorney or other resources.
"Her insight was 'How does a kid without the support I have ever come out of this anything less than devastated?'" Meyer said. "She said one reason we need to fight this is for all the kids who don't have the ability to fight."
The family explored sending Maia to the Phoenix expulsion diversion program offered by the school district, despite lesser educational opportunities offered through it. But Spitzer-Resnick said that the district's rule is that the Phoenix option is pulled off the table if a student decides to take the case to an expulsion hearing, and would not negotiate about keeping the option open.
"It's take it or leave it," he said.
"At no point did anyone talk about what is right for the child," Meyer said.
The school district doesn't talk much about expulsions, citing its legal responsibility to protect the confidentiality of students. A total of 112 students have been expelled in the last four school years out of 650 recommendations, according to a Behavior Report issued by the district. But the cases are not broken down by school. Earlier this month, Strauch-Nelson reported that five expulsion recommendations had gone to the Board of Education so far this school year: two for code violations involving weapons, two for use of force against staff and one for distribution of drugs.
Why go public with Maia's story?
"My clients want to expose how poorly this is being handled by the school district in the hope not only the School Board do the right thing and reverse what the administration has done so far, but also so they realize they can't keep doing this to their own students. They're acting like a disciplinary institution that doesn't care about their students," Spitzer-Resnick said.
Meyer compared the secrecy of the process to a military court and insists her daughter's academic career not be defined by a single, admittedly serious, mistake.
"We acknowledge that Maia made a mistake," Meyer said. "No one wants her to skate, but these consequences are totally out of proportion."