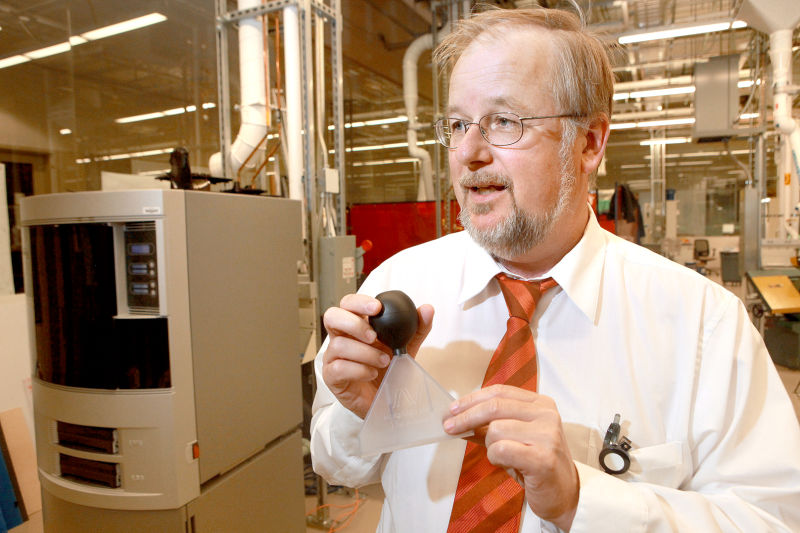 But Madisonians, from scientists to businesses to hobbyists, are right up there in the eye-opening world of 3-D printer creations.
Researchers at the University of Wisconsin-Madison are advancing research and new technology with 3-D printing, including taking preliminary steps toward human organ repair. Area businesses routinely use the process to design new products. And your neighbor might be using a desktop 3-D printer to make doodads or parts for household repair projects.
And while several 3-D printer users I spoke with cautioned that the hype around 3-D technology might be overblown, the process is clearly no longer just the preserve of big-ticket business users or well-funded researchers.
And that's a good thing for the development of the technology, current users say.
Eliceiri's lab develops tools and techniques to allow researchers to observe biological processes, and uses 3-D printing to design and produce parts for instruments. The process builds a three-dimensional object by depositing layer on layer of material – plastic, ceramic or metal – from instructions in a computer-assisted design program.
"As many times as I've seen this happen, it still kind of blows me away that you can take something from your head, and the same day hold the physical object," Eliceiri said.
Not unlike the Internet — which was used by researchers for decades before coming into common use at the end of the last century – 3-D printers have been around for some 30 years. The technology has moved into the spotlight recently as people have figured out how to use them, researchers have announced projects that ring of science fiction, and printers for home use have dropped in price to as low as $1,000.
Even those involved in developing 3-D printing technology say it is not cost-effective for every use.
3-D printing may be the way to go when "you want to hold a product in your hands and make iteration after iteration until it's perfect. Then if you want 10 of them, you can 3-D print them. If you want 1,000 of them, you make them by other methods," said Ben Cox, a graduate student in medical physics at UW-Madison, during a recent tour of the Advanced Fabrication Lab, nicknamed the "Fab Lab," at the Morgridge Institute for Research.
The process, also called rapid prototyping, allows designers to skip the expensive and time-consuming practice of designing and making a mold to produce a prototype of a new device.
Three 3-D printers at the Fab Lab are used to design and make tools to assist university researchers, Thomas "Rock" Mackie, director of medical devices at the Morgridge Institute, tells me. For example, a plastic device that looks like a windshield ice scraper was made for the botany department to allow for more efficient planting of the tiny seeds of the Arabidopsis plant, widely used in genetics research.
"They need to grow millions of these plants and have to plant the seeds with a tweezers in a Petri dish," Mackie said. The new device sucks up the tiny seeds and forces them out through rows of infinitesimal holes into the growth medium.
An instrument with such tiny openings would be difficult to manufacture by traditional methods, Mackie said, and 3-D printing also allows easy experimentation with changing the size of the openings to accommodate other types of seeds.
The simple device – developed by Cox and former student Nate Schumacher — is such an advance in laboratory techniques that they are writing a scientific paper about it.
Students also developed a 3-D printer design resembling a phonograph turntable, for which the university has applied for a patent, Mackie said. While existing 3-D printers have large carriages that move up and down and left and right to build up an item, the turntable printer would spin past one or more stationary print heads that would deposit plastic, meaning that 3-D printers could be much smaller and portable, he said.
The turntable printer was designed with an eye to selling the technology to the U.S. military, which might install it on a Humvee to produce vehicle repair parts, allowing the military to need to move only the printing material through its complicated supply chain. The technology also might work for farmers to mount in a tractor to make repair parts in the field, said Mackie, who is one of the inventors and founders of TomoTherapy Inc.
Mackie sees potential for 3-D printers to solve inventory issues in other settings. For example, local hardware stores could stop stocking thousands of items, and print a certain widget or screw when someone wants to buy it.
3-D printer-assisted inventions are proliferating at the Advanced Fabrication Lab. Undergraduate Eric Ronning took second place in the National Collegiate Inventors Competition last year for the ReHand, a functioning replica of an amputee's hand made in a 3-D printer. Researcher Robert Swader produced a 3-D model of a human head to aid in testing for a device designed to improve the impact-absorbing capacity of football helmets.
The lab uses 3-D printing to make model ears for Greg Gion of Medical Art Prosthetics in Madison. Gion says the models, from which he casts prosthetic ears, are a "big shortcut and improve accuracy" over the models hand-sketched from clay or wax he otherwise would use.
While the Cardiovascular Innovation Institute in Kentucky has announced its program will produce a human heart using 3-D printing within a decade, and Princeton researchers produced a bionic ear that "hears" better than a natural one, there haven't been big headlines yet about biologic uses of 3-D printing at UW-Madison. But research is under way.
Professor Lih-Sheng "Tom" Turng and fellow researchers are using 3-D printing to make a prototype of a blood vessel from a bio-compatible polymer, Turng told me. The plan is to print a network of vessels into which stem cells will attach. Developing a vascular system is critical to any eventual production of complex organs, like kidneys or hearts, Turng said.
But what is more practical for the near future, he said, is a "patch" that would attract stem cells to an injured area of an organ and promote its healing.
Turng said nonscientists to whom he describes his work are "always excited and hope we move forward as soon as possible. As the population ages, we will all have a need for something," he said.
Entrepreneur Nathan Patterson, who did postdoctoral work at UW-Madison, has founded Radiant Fabrication in Fitchburg with former UW student Kevin Harris. The company aims to provide a one-stop 3-D printing shop for small business users who may have shied away from the technology. "We're trying to make the process more reliable and easy to use," Patterson said. "We're developing hardware and software to address problems of accessibility, speed and reliability."
Steve Gundahl, president of Midwest Prototyping in Blue Mounds, has been providing 3-D printing services for businesses since 2001. "It's now a mainstream part of the product development process. Ninety percent of the consumer products you buy on a typical shopping trip are developed this way," Gundahl said.
3-D printing is used for product development by such area businesses as kitchen appliance manufacturer Sub-Zero of Madison, Trek Bicycle of Waterloo, bike rack maker Saris of Madison and Spring Window Fashions of Middleton, he said.
3-D printing of product parts allows manufacturers to efficiently perfect prototypes, bring products to market more quickly, and avoid defects. "They can prevent going to market and then finding out they have a warehouse full of 500,000 products that don't fit, don't work or overheat," Gundahl said.
For all its utility, he fears the 3-D printing process is being overhyped by media coverage implying that it's now possible to print just about anything. Not only is that not true, he said, but it just isn't economically feasible to use a 3-D printer to make some things.
Yet Gundahl is excited about the growing availability of 3-D printers to consumers. "It will get that many more minds engaged in moving the technology forward," he said.
"And I like the fact that I can talk about 3-D printing now without people's eyes glazing over. Ten years ago it was a nightmare to try to explain what we did. It's an exciting time to be in the business," Gundahl said.
AnTu Xie of Madison became intrigued by the possibilities of 3D printing for consumers, but couldn't find anyone to talk with about it, so he started a group on Meetup, a website that lets people with common interests arrange to meet in person. Madison 3D Printing Enthusiasts has met several times since January at Sector 67, a hacker space on the city's east side with prototyping equipment available for use, including 3-D printers.
Xie, a technical services engineer at Epic Systems Corp. in Verona, says the group draws a mix of professionals and hobbyists who may be considering buying a 3-D printer of their own, or who have purchased one and don't quite know what to do with it.
"For me, it's a way of having a hobby," Xie says of 3-D printing, adding he made the "unfortunate decision" to build his own printer by hand and it took awhile to get it working. He started off printing small items, "just toys for now," from designs widely available online.
Xie sees great promise for printing in specialized medical fields, where exact and unique forms are required and the time and cost to produce them is not as important as in production of consumer items.
"I don't see this as the beginning of Star Trek replicators. Any field where it doesn't matter to get the exact same shape, 3-D printing is not going to matter as much," he said.
Maybe the fact that Xie wasn't the only hobbyist I spoke with about 3-D printing who made his own printer says something about the kind of people who are early adopters.
Brian Vesperman, who was having trouble finding parts for a kit-style printer he purchased in 2011, found an open-source printer model online and adapted it. He's printed a variety of objects – a whistle, a doll, a tiny grandfather clock with moving parts — as well as practical household items.
During last summer's heat wave, for example, he was missing a piece needed to brace a window air-conditioner. He designed and printed the small plastic part himself. "That really shows the promise of it," says Vesperman, a software engineer.
He envisions a future when household 3-D printers (think of a device like a microwave oven) are linked to the Internet and homeowners can program in the part number for their model of dishwasher, say, and print out the piece they need to make a repair.
Erik Jensen turned to 3-D printing to make a set of brakes for one of the radio-controlled hobby cars he has built and raced for years. Jensen, a custodian at the UW-Madison, had planned to machine the parts from plastic, but was convinced at Sector 67 to try using a 3-D printer to make a prototype to test his design. He ended up using the printed parts in the brake system. He could have machined the parts, "but the printer was way faster," Jensen said. One of his larger pieces took 12 minutes to print, he recalled, noting "to machine it would have taken hours." He already is working on another project – a cable system for a camera to allow overhead filming of radio-controlled car races.
Jensen says he has shown his printed pieces to friends who have heard about 3-D printing but never seen anything produced that way. "They were all pretty amazed. Seeing how useable a 3-D printer was, I was pretty amazed too," he said.