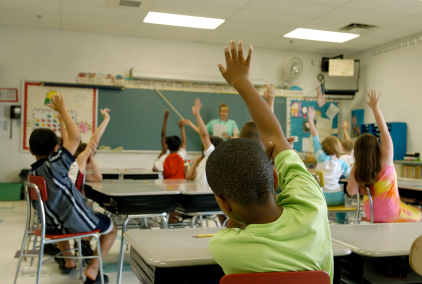 Although Common Core state standards for public schools were adopted in Wisconsin back in 2010, they by no means have been readily accepted by groups with an interest in education.
That was vividly apparent Wednesday when voices from the right joined teachers unions in questioning the "reform" standards and how they are being implemented.
It's not surprising that questions about Common Core are emerging now, Daniel Thatcher, a policy specialist at the National Conference of State Legislatures, told a joint session of the committees on Education, which held an informational hearing at the Capitol.
"Now that the standards are being implemented on the ground, people are hearing about them for the first time," Thatcher said. "There are a lot of questions about what they are and where they came from."
One reason Wisconsin legislators have a lot of questions about Common Core is that they didn't have a hand in developing the standards, which were an initiative of the National Governors Association and the Council of Chief State School Officers, and were adopted in Wisconsin by state Superintendent of Public Instruction Tony Evers.
Critics of the standards packed the hearing chamber Wednesday; deliberations on funding for implementation of Common Core, which had been scheduled for Tuesday before the Joint Finance Committee, were delayed to allow for the informational hearing.
The lineup of conservatives on the issue was a bit perplexing to some. "I'm still trying to get my head around the different bedfellows you find with this issue," said Rep. Leah Vukmir, R-Wauwatosa.
If Common Core standards had been vetted by the Legislature, "would we be where we are today, and our constituents would have had a say in whether they are implemented or not," grumbled state Sen. Rick Gudex, R-Fond du Lac, going on to ask Thatcher if other states had found a way to back out of Common Core.
Madison School District teachers are being asked to prepare to incorporate into their classrooms a state mandate they haven't yet been given a chance to get a handle on, say union leaders. "So many of these mandates get tied up downtown and by the time teachers see them, we're struggling to catch up," Sara Bringman, a former teacher who is now an executive assistant at Madison Teachers Inc., told me in a phone interview.
And the district has just now set up a committee to look at grading under the new guidelines.
One questioned raised repeatedly at the legislative hearing was whether the federal government was really behind Common Core.
In response to questions from several committee members, Thatcher said he knew of no entanglement in the initiative by the federal government. Federal authorities are pressing states to adopt Common Core, though, by making adoption of the standards one criterion to receive Race to the Top funds that reward successful education reform, he said.
Karen Schroeder, founder of Advocates for Academic Freedom, an organization based in Rice Lake that promotes conservatism in education, wasn't buying it.
Common Core is a "de facto national curriculum" that will be controlled by the U.S. Department of Education, Schroeder told legislators. "Why would our legislators willingly relinquish or even limit their autonomy over public education?"
Common Core is an "illegal federal involvement" in education, that is "entirely experimental," argued Joy Pullman of the Chicago-based Heartland Institute, a conservative and libertarian think tank.
Common Core focuses on fundamental skills in language arts and mathematics that several researchers and educators testified Wednesday are superior to Wisconsin's current standards. "The standards in Wisconsin and other states are now too low. Common Core is a state-led effort to improve the quality and rigor of K-12 standards," said Kathleen Porter-Magee of the right-leaning Fordham Institute in Washington, D.C.
Bringman told me that to the extent the Common Core standards are more rigorous, "that's fabulous. But teachers are not at this point buying in because they don't know what it is," she said.
It's not that teachers haven't heard about the new standards; rumors about their effect on high school electives has raised concern among not only teachers, but parents as well.
But discussions about the nitty-gritty of incorporating the standards into curriculum and grading students accordingly have not as yet adequately included classroom teachers, Bringman said.
For example, a committee just named by the Madison School District to look at grading under the new standards has some 30 members, only six of whom are classroom teachers who will actually be grading students, Bringman said.
MTI will ask the district to name more classroom teachers to the panel, she said. "We're hoping we can give some authority to the people who will be affected by it."
Common Core focuses on critical thinking, not only introducing concepts, but also supporting students in becoming more independent in using them, she said. "That's a different place for us" that will require significant changes in the classroom.
Give teachers information about new approaches, and "we play with it, delve into it, and say, 'Okay this is different, but I can do this,''' Bringman says. "But the district hasn't invested enough time to make sure teachers are where they need to be."
MTI is not the only teachers union calling for changes in the implementation of Common Core; the American Federation of Teachers is asking for a moratorium on testing based on the standards.
Ted Neitzke, superintendent of the West Bend School District, told legislators Wednesday that his district began preparing for Common Core as soon as it became clear from the Department of Public Instruction that it would be the new standard.
The new benchmarks will replace antiquated and inadequate standards, he said.
For example, students in the past were expected to know that the Constitution is the founding document of the United States, he said. With Common Core and its influence on assessment tools of all kinds, students will be expected to analyze, discuss and explain the Bill of Rights and how the Second Amendment affects daily life in Wisconsin, Neitzke said.
"It's forced us to review our standards, change our curriculum and our methods. And that's a big shift," he said.
Neitzke wryly acknowledged that some teachers in his district — given the chance — would be wearing one of the "Stop Common Core" T-shirts he spotted in the gallery.
"Because it's major change, it's 21st century change," he said.