On a warm July afternoon, children at the Hmong Language and Culture Enrichment program map out significant events in Hmong history on a timeline. They decorate their papers with bright colors and designs to illustrate the rich history of Hmong culture.
"Right now we have the kids working on an assignment about Hmong history," said teacher Plia Xiong. "We told them to ask their parents last night about important occurrences in Hmong history so right now they're making a timeline of events."
The kids are part of a Hmong summer enrichment program held at the Badger Rock Neighborhood Center, where for six weeks they immerse themselves in Hmong language, culture and history. Peng Her, co-director of the program, organized it when Hmong parents said they wanted to preserve their culture and teach it to their kids. Her decided to be an activist for the Hmong community after noticing disadvantages they faced with no way to voice their feelings.
The Hmong population in the United States are a group of refugees from Laos, Thailand and Vietnam that fled political unrest in Southeast Asia, including the Vietnam War.
"I began to realize that if people like me who are Western-educated, who aren't afraid to speak their minds are able to advocate but don't, these kids won't have anyone to advocate for them," Her said. "When I got here I realized there are a lot of disadvantages the Hmong community was having because no one advocated for them. I began to be that voice for the community and that's how I got my foot in the door by advocating and being a community organizer for the community."
Her is also assistant director of the Center for Resilient Cities, a nonprofit that practices sustainable community development to help build safe, economically thriving neighborhoods.
At the camp, each morning generally consists of reading in the Hmong language and cultural activities while the afternoons focus on core subjects like math and science. The kids learn to pronounce numbers in Hmong and do science experiments with instructions in the language. Her says the camp is similar to what kids learn during the school year but condensed into six weeks with Hmong being the focal point.
The kids are split into three groups: beginner, intermediate and advanced. The children this summer range in age from 5 to 14 years old. The program runs through the end of July.
Each week has a theme relating to history, music, arts or culture. Guest speakers are also invited to talk about their career options and teach students how to get into the field they're in.
Local musicians sometimes come in to teach the kids how to play traditional Hmong instruments.
"It's amazing how in just one week they can pick up on playing these instruments, and then hopefully the idea is to inspire them to want to learn more about traditional Hmong instruments or traditional Hmong singing," Her said.
"It's great to see these kids make the connection that 'This is my culture' and 'This is someone I've seen but didn't know had that skill set and now they're sharing it with me,'" he added.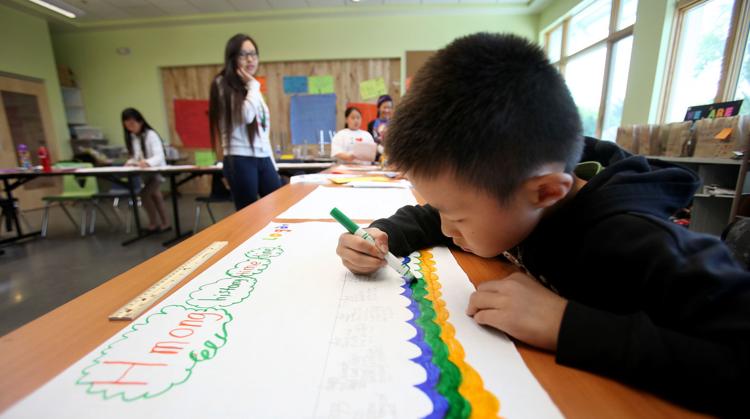 The camp is in its third summer and Her said it has been a success. The kids leave the program with higher self-esteem, pride and perform better in school than before. Her noted the difficulty minority kids face in all-white schools where they don't have role models that resemble them, which often results in low confidence. The summer program has boosted the Hmong students' school performance and increased their overall sense of self, he said.
The cost is $75 a week per child. Scholarship opportunities are available for parents who may not be able to afford the cost. They can volunteer by being a cook or teacher to help offset the expenses.
The Badger Rock Center, which is home to Badger Rock Middle School on its second floor, runs three camps in the summer — the Hmong program, a soccer club, and a fun, food and fitness camp. The center has 5 acres of land for gardening in its back lot; students during the school year and summer plant and harvest crops. They learn sustainable growing practices and get hands-on learning with food production and preparation. Everything planted in the garden is edible.
Ten-year-old Lashia Thao is outside with her classmates pulling weeds from the garden where they will learn about effective gardening tips. Thao is at camp for the first time and laughs as she explains what she likes best about it.
"We have really good food. We also like to study, do homework and do activities," Thao said. "After lunch, we have sports and do a lot of fun games like tag."
Thao, who is part of the advanced language group, said she would rate herself a 5 out of 10 in proficiency with the Hmong language.
With Hmong customs being the focal point, the lunches served are what the kids would typically eat at home such as Pho, a Vietnamese soup. They also plant crops that are culturally appropriate like lemongrass, Thai chili peppers, mustard greens, Thai eggplant and bell peppers.
A completion ceremony in the form on a talent show takes place on the last day of camp where the students show what they learned through dancing, singing, playing instruments and more.
"It's pretty cool because parents are surprised by how much the kids have learned, both speaking Hmong and Hmong culture," Her said. "Parents would often tell us I never imagined my kids learning Hmong."