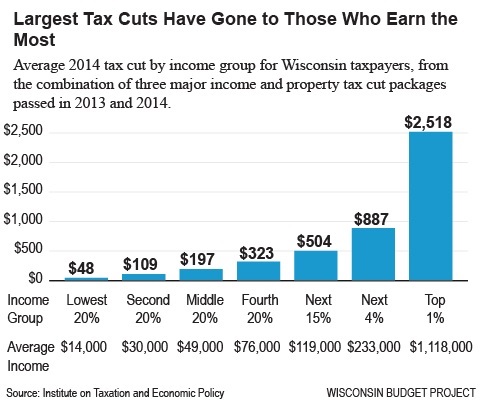 The income and property tax cuts passed by the Wisconsin Legislature over the past two years are doing little to help those who could most use a few more dollars to spend on groceries, rent or utility bills, says a new report.
By comparison, the upper 1 percent in Wisconsin — those with average incomes of $1.1 million — received $2,518 in savings.
In fact, the wealthiest 20 percent of Wisconsin taxpayers are grabbing more than half of the tax cuts being touted by Gov. Scott Walker as part of his reelection campaign.
"Low-income people didn't get much out of this round of tax cuts," Tamarine Cornelius, an analyst with the Wisconsin Budget Project, said in a statement released with the report. "These cuts won't do much to promote job growth and they won't do much to put money in the pockets of people who need it the most."
By their very nature, across the board tax cuts benefit those with more income or higher valued property since those individuals pay more in taxes to begin with.
But Cornelius says it's important to target tax cuts to those with the lowest incomes because they already pay a larger share of their income in state and local taxes.
For example, the bottom 20 percent of earners in Wisconsin spent on average 9.3 percent of their income on state and local taxes in 2014, taking the new tax cuts into account. The next 20 percent — those with average incomes of $30,000 — spent 9.9 percent of their income on taxes, the highest burden of any group of state taxpayers.
Meanwhile, the top 1 percent of taxpayers in Wisconsin are paying an average of 6.6 percent of their income in state and local taxes.
The Legislature did attempt to direct some tax relief to lower income earners in the state. It cut the bottom income tax rate from 4.6 percent to 4 percent, the largest reduction of the state's five tax brackets. Meanwhile, the top rate was reduced from 7.75 percent to 7.65 percent.
Still, over half of the benefit will go to the wealthiest 20 percent. The bottom 40 percent are getting just 12 cents of every $1 in tax cuts.
Dale Knapp of the Wisconsin Taxpayers Alliance says it's difficult to target tax relief to lower income earners, especially when it comes to property taxes. By law, property must be taxed at the same rate regardless of the income of the taxpayer.
Moreover, since many lower income people are renters, they likely won't see much help from the $400 million in property tax cuts that are coming from a shift in technical college funding in Wisconsin.
 "Renters ultimately do pay property taxes through their rent but whether these cuts are going to be reflected in lower rents isn't clear," says Knapp.
Rather than cutting taxes across the board, Cornelius said the Legislature should increase the Homestead Tax Credit and Earned Income Tax Credit which directly benefit lower income earners. The Legislature cut both credits in 2011, resulting in low-income individuals and families paying $170 million more in taxes.
"If the Legislature wants to keep taxes low for people with modest incomes, the best way to do that is to strengthen tax credits that keep taxes affordable for low-income people and individuals, not hand out untargeted tax cuts," she said.
Be the first to know
Get local news delivered to your inbox!