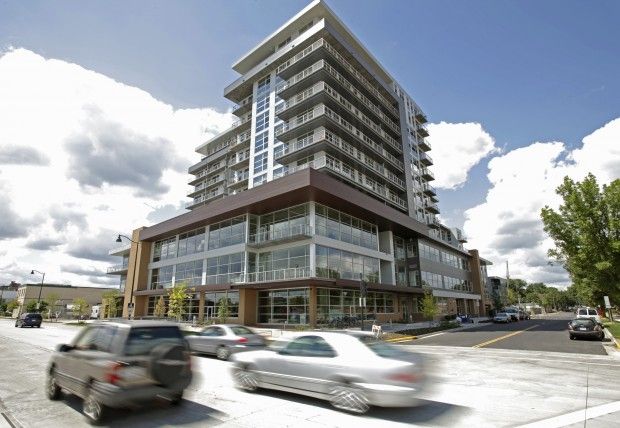 But the MSN prediction that Madison "will turn into a big skyscraper-filled city" is not completely accurate.
For one thing, the city has a long-standing ordinance prohibiting any buildings taller than the base of the Capitol dome. The FAA also has rules against tall buildings within three miles of an airport, which basically means no skyscrapers east of downtown.
So the chances of Madison seeing any buildings taller than, say, the new 12-story Constellation apartments on East Wash are somewhere between slim and none.
Still, MSN has plenty of good things to say about Madison, which is on the list of the "15 Hottest American Cities for 2015."
"With barely a quarter million people, Madison is undergoing a restructuring of its skyline," MSN says, linking to a Cap Times story noting that of the $337 million worth of real estate development last year almost two-third was for large apartment buildings.
MNS says this "massive facelift" is helping to make room for "a host of 20- and 30-somethings" who are flocking into the downtown."
"Madison was named the best place to live in 2014 by Livability, and a big reason for that is the plethora of new jobs luring in young professionals," MSN says -- although it fails to name the company producing almost a third of the new jobs here.
MSN does get it right when it notes that some people in Madison worry the city could be setting itself up for a letdown. It quotes city Urban Design Commission member Tom DeChant who says "you wonder if Madison could slip from under-built to over-built if the apartment boom continues."
The MSN list includes the usual "hot town" suspects like Atlanta, Austin and Burlington, Vermont. But it also names Detroit, Oakland and Queens -- in large part for their housing affordability.
Washington D.C. and Denver also make the list: Washington for its mass transit system and Denver for its 300+ weed shops, noting that violent crimes are down 6 percent since marijuana was legalized.
Be the first to know
Get local news delivered to your inbox!