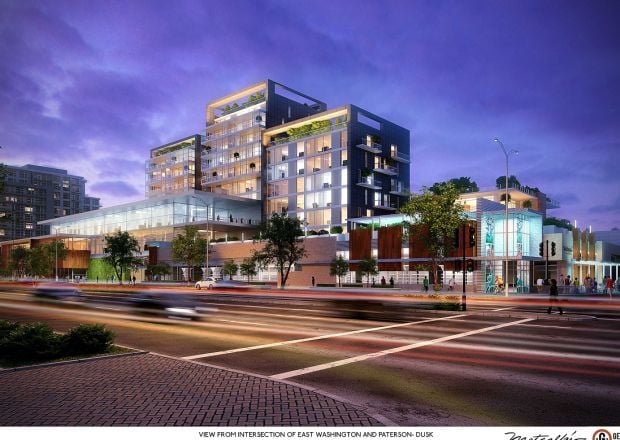 Politics have now found their way into Madison's grocery aisles.
The announcement that Festival Foods would be opening on the 800 block of East Washington Avenue had some partisans in a tizzy over the company's non-union status and the owner's campaign contributions to Gov. Scott Walker.
"Let's all line up at the grand opening and hand over our money just in time for them to pay off all their 2014 Walker re-election donations," writes Solidarity Pete in a post on the Wisconsin State Journal website.
A Capital Times commenter vowed to boycott the new Festival Foods, adding it to the list of state businesses the reader avoids for political reasons.
"Haven't had a Palermo's or a Johnsonville in ages, both of which, I loved," writes River.
During the heat of the Capitol protests in 2011 some state businesses were boycotted because their owners or employees had donated money or otherwise supported the Republican governor.
But the Skogens are certainly not the only grocers to offer up some campaign cash along with fresh fruits and vegetables.
Employees of Roundy's have contributed $33,800 to statewide campaigns since 1991, with donations largely split between the two parties. 
No records were found of Woodman's employees or owner Phil Woodman contributing to any political candidates.
Donations aside, Festival Foods also got plenty of support on the comment boards from readers, who gave the grocer good marks for the quality of its products and service.
"Watch out Metcalfe's and Woodman's, the Skogens know how to run a grocery store," writes thatsallshewrote.
A Festival Foods employee from Oshkosh also weighed in, saying the owners keep the unions at bay by paying competitive wages and offering excellent fringe benefits.
"Festy is a great grocer to work for without having to pay union dues," writes meatcutter. "All in all, Festival has many happy employees and many happy customers."
Gebhardt Development announced Tuesday that a Skogen's Festival Foods grocery store would be built on the north side of the 800 block of East Washington Avenue as part of a long-awaited $65 million mixed-use project of the parcel.
The land, which sits directly across from Breese Stevens Field, was formerly home to a Don Miller auto dealership but has been vacant for years. Gebhardt earlier developed the Constellation apartments on the 700 block of East Wash, the first significant building project in decades on the high-profile but largely underutilized corridor.
Metcalfe's Market was originally slated to anchor the commercial piece of the $65 million redevelopment on the 800 block but pulled out in October, prompting the developers to look for another grocer. It's unclear if other local grocers, including the Willy Street Co-op or Madison Fresh Market, were interested in the site.
Chris Gosch of Bark Design, who has been working with Gebhardt, says that critics might well have found fault with whatever grocer took the space.
"If we would have selected Whole Foods, we would be having the same comments, as John Mackey is anti-union, anti-ACA or anti-climate change," Gosch wrote in an email.
One reader summed up the frustration of living in a divided Wisconsin, where another bruising election for Governor is just 10 months away.
"It's too bad that comments about Walker have to be posted along with every new business coming into this town. No wonder Madison is labeled as not being business friendly," writes happydays.