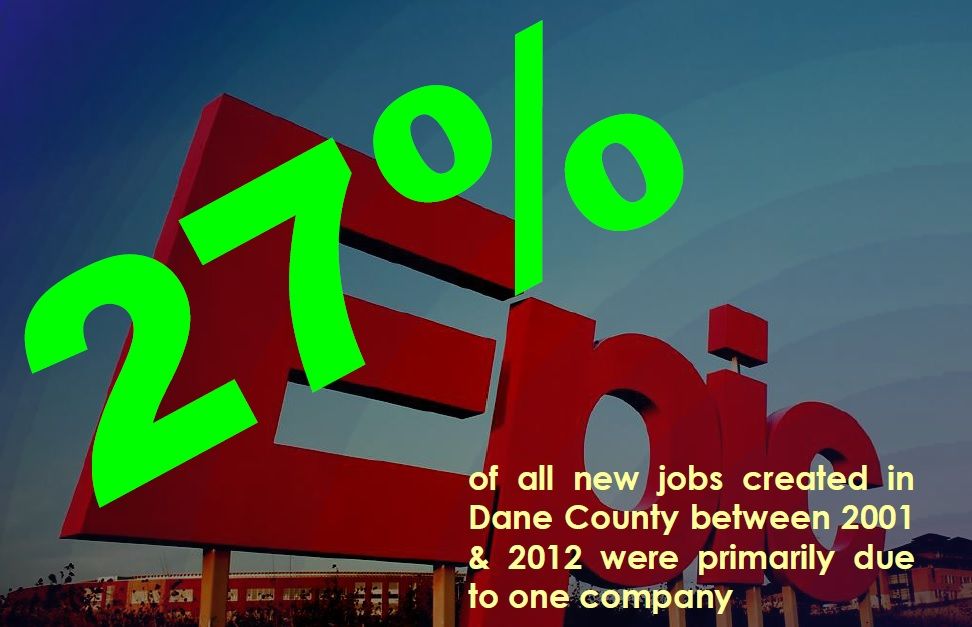 And like most people who get an inside look at the massive Verona headquarters, Blatchford was blown away by the size and scope of the campus, which spills over nearly 1,000 acres of Dane County farm country.
"You see all this other development going on and wonder how much of that is because of Epic?" says Blatchford, one of some 10,000 attendees at the annual Epic Systems Users Group Meeting which concluded Thursday.
Consider this fact: Of the new jobs created in the Madison area between 2001 and 2012, 27 percent were due to Epic Systems, according to figures presented during an economic development conference at Monona Terrace last week.
The company now counts 8,100 employees, up from 4,100 in the past three years alone. Those jobs have helped drive an apartment building boom both in downtown Madison and beyond. The city of Verona itself has seen two new hotels developed based largely on visitors to Epic.
The campus itself includes 12 completed office buildings with another five under construction as part of Campus 4, which will bring another 1,580 offices to the site north of U.S. 18-151. Those buildings are dubbed the "Wizards Academy Campus" and are inspired by the Hogwarts' School of Witchcraft and Wizardry from the Harry Potter series. They include a large cafeteria and a 1,500-space underground parking ramp with completion scheduled by the end of 2015.
Verona officials have estimated the value of the Farm Campus 3 and the 11,400 seat Deep Space Auditorium, both completed in 2013, at about $400 million. That is in addition to $384 million worth of land and buildings, according to a 2012 valuation by the city. The latest published figure shows Epic owns 950 acres, up from the 340 acres originally purchased.
One reason for the number of buildings is Epic's longstanding contention that workers are more productive if they have their own separate offices rather than working in open cubicles. The health records company and its design consultant, the Minneapolis-based Cuninghan Group, remain committed to having no more than 300 workers in any one facility and capping building heights at three stories.
During her executive address kicking off UGM 2014, Epic CEO and founder Judy Faulkner defended Epic's approach to a self-contained campus built around a strange combination of rural life and science fiction.
"We are competing for talent with Apple, Microsoft and Facebook," Faulkner told the crowd."We need to give these people a reason to come to Wisconsin."
Faulkner also maintains Epic is saving money by owning its own real estate in Verona versus renting space in downtown Madison.
"The cost of building the campus is two years of the cost to rent … with increased productivity," she contends.
At the same time, the rural location has forced Epic to include thousands of parking spaces on its campus for both visitors and commuting staff. The firm would not release details on the number of vehicle spaces but it clearly numbers in the thousands.
The cavernous multi-level underground ramp serving visitors to the UGM left more than one attendee searching for lost vehicles, this reporter included.
But Epic staffers — including those who took to the stage for a song and dance routine — appear a largely happy bunch and more than willing to serve as ushers, parking attendees and waiters during UGM.
Among those dressed in farm garb this week were Vanessa Vesperman and Nile Spooner-Harvey, who helped customers find their way into the Deep Space Auditorium.
"This might be my first time in a cowboy hat," admitted Spooner-Harvey, a native Brit now working in Wisconsin.