On any given weekday, Pinney Library on Madison's east side bustles with activity, hosting craft workshops, yoga, reading groups and play performances.
With some 340,000 visits annually, Pinney jostles for position with downtown's Central Library as the second most popular location in Madison Public Library's nine-branch citywide system. Sequoya Library on Tokay Boulevard, which opened its newly expanded location in December 2008, gets the most traffic.
"If you look at what Pinney does in 11,000 square feet, it's closer to what Sequoya does in 20,000 square feet," said Jenni Collins, executive director of the Madison Public Library Foundation.
"That library is heavily used ... (look) how full those computers are. That community room is constantly used for meetings. It's just underserved for the amount of use it gets."
Plans for the library's new 20,000 square feet include larger, more flexible community rooms, new study spaces and updated technology, as well as expanded early literacy facilities and outdoor event space.
The new Pinney could host food carts and tents in its parking lot, and there are plans for a drive-thru book drop, the city's first. 
The entire project, planned for the future Royster Corners development on Cottage Grove Road at Dempsey Road, is estimated to cost $10.2 million. Of that, $2.5 million is budgeted as private money, including approximately $1.3 million from the developer, Ruedebusch Development and Construction.
Collins said the foundation has about $600,000 in hand from the quiet portion of the capital campaign, with an equal amount left to raise. The foundation has secured a $50,000 challenge (matching) grant from Lau and Bea Christensen and Madison Gas and Electric.
The library is working with Metro Market at 6010 Cottage Grove to do a "donate at the register" campaign from Dec. 1-15. All of those donations will be matched as well.
The city briefly considered removing the funding for library design from its 2016 budget, but Collins and others protested the impact that could have on fundraising.
In a story earlier this year by Cap Times city reporter Bryna Godar, library administrative services manager Mark Benno told city officials that Pinney's old strip mall location is "falling apart" and floods if it gets more than two inches of rain in an hour.  
The branch, which serves much of the east side, has been located on Cottage Grove Road since 1966. It moved to its current location at 204 Cottage Grove Road in 1996.
Designs for the new library are set to begin in 2016, with construction to take place during the first half of 2017. Library staff hopes to have the new space open by summer of that year.  
"The goal will be to leave the space open as long as possible until we can move into the new Pinney," said Collins.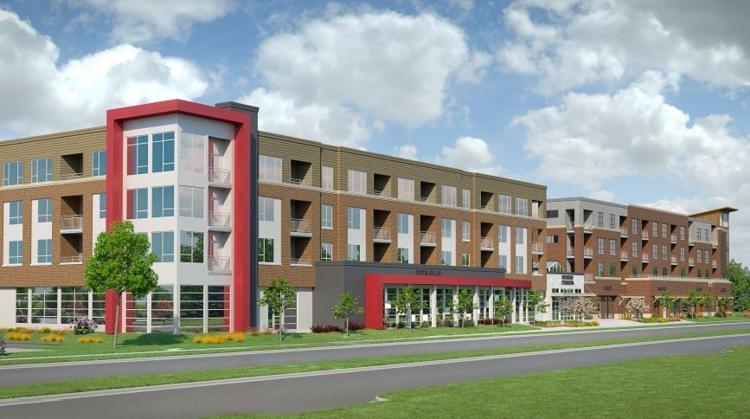 Over the past year, administrators like Sarah Lawton, supervisor of both the Monroe Street and Pinney libraries, have been reaching out to the community in a deliberate and focused way. Lawton's team has met with youth groups and seniors, neighborhood organizations and nonprofits, in order to find out what the new Pinney should look like.
"Sequoya has become the hub for west side services. We haven't a hub before for east side library services," Lawton said. "On the east side, there aren't that many social spaces that are public, where people, especially children and families, can come and be exposed to people who aren't exactly like them.
"That's one of the most important pieces of the public library as an institution."
Lawton said Pinney will connect to its new neighbors in the future Royster Corners development, which includes apartments and single family homes, as well as those within a five-mile radius of the library, where usage studies have been focused.
"We want to make sure we're connecting, not only to those who come into the space," Lawton said. Her goal is to have a library "where people can get top-notch service and wonderful materials, an environment where people's ideas can take root. It's flexible and nimble."
As for Pinney's new neighbors, Lawton would love to see something similar to what Sequoya Commons has nearby: a coffee shop, a pizza place, a toy store and a gym, among other things.
Kyle Adams, a real estate analyst with Ruedebusch Development, confirmed that developers are looking at "a mix of local and national" businesses for the 16,750 square feet of retail space on the first floor of the building connected to Pinney. Market rents, when building is done, could be $20-$30/square foot.
"We're open to anything right now," Adams said. "The neighborhood designed the plan for this area, what they would like to see.
"The library that you and I had growing up has changed dramatically," he added. "It's more of a community center. You can go read books and check them out, but it's so much more than that. We're trying to work with this library. They have plans ... we get together and try to incorporate them as much as we can."