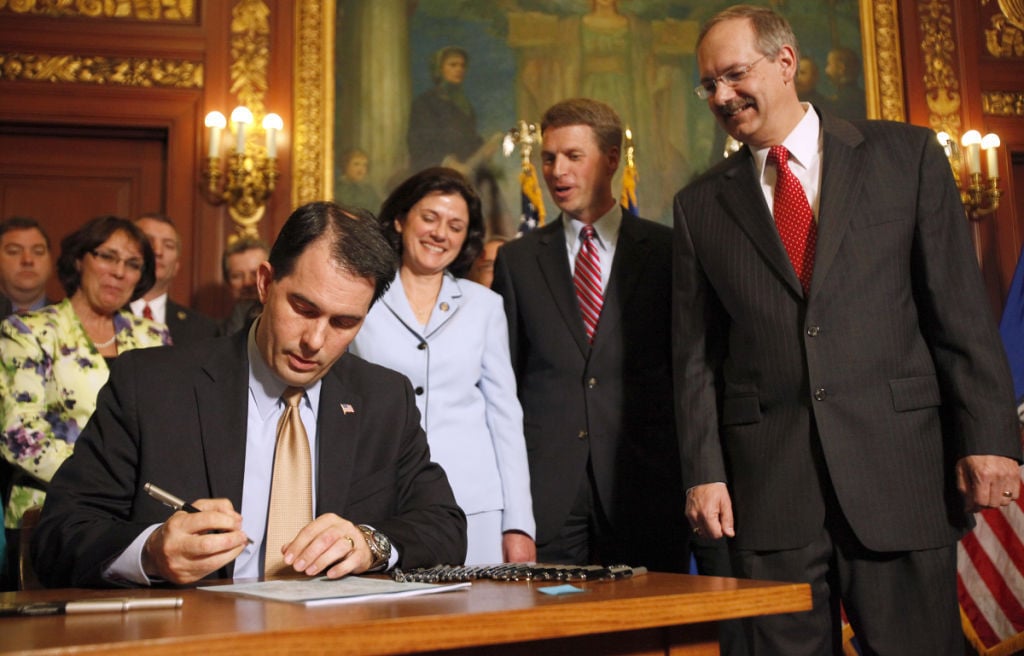 A federal appeals panel reinstated Wisconsin's Voter ID law Friday afternoon, hours after oral arguments were delivered in the case.
Gov. Scott Walker approved the law, which requires certain forms of photo identification to be shown at the polls in order to vote, in 2011. The measure was in place for the February 2012 primary, but was then blocked by orders from judges in state and federal court.
State officials this week announced a new system for issuing IDs, in response to a provision from a state Supreme Court ruling requiring the state to provide a process for people without birth certificates or key government documents to obtain IDs.
"This reduces the likelihood of irreparable injury, and it also changes the balance of equities and thus the propriety of federal injunctive relief. The panel has concluded that the state's probability of success on the merits of this appeal is sufficiently great that the state should be allowed to implement its law, pending further order of this court," the ruling read.
The ruling lifted Adelman's injunction and will allow the law to take effect for the Nov. 4 election.
In a statement, Walker said he was pleased by the ruling.
"This ruling is a win for the electoral process and voters of Wisconsin. Voter ID is a common sense reform that protects the integrity of our voting process.  It's important that voters have confidence in the system.  Today's ruling makes it easier to vote and harder to cheat."
Mike Tate, chair of the Wisconsin Democratic Party, said he thought the ruling would fire up Burke supporters in November to vote Walker out of office.
"Over the next 53 days we will continue our work to make sure that every eligible voter who wants to cast a ballot will be able to do so in November. This ruling is certain to further fire up students, veterans, seniors and every other community across Wisconsin hungry for new leadership."
Andrea Kaminski, executive director of the League of Women Voters of Wisconsin, said the organization is "disappointed and shocked" that the court would allow the law to change procedures so close to Election Day.
"It's hard to imagine that the court would do this seven weeks before an election when, according to the (Government Accountability Board), more than 11,000 absentee ballots have already been mailed out without instructions for ID," Kaminski said. "To think that that many ballots have already gone out, and the local clerks who have to suddenly change everything that they're doing and retrain at this late date, is just stunning."
Kaminski said it's especially troubling for overseas and military voters, for whom the absentee voting process starts earlier.
Rick Hasen, professor of law and political science at the University of California-Irvine, wrote about the potential effects of the ruling before it was handed down on his election law blog. Hasen wrote that putting the law into effect this close to the election is likely to cause "a great deal of confusion and uncertainty."
"It is hard enough to administer an election with set rules — much less to change the rules midstream," Hasen wrote.
Kaminski said the LWV is concerned that the change in law will negatively affect voter turnout.
"I'm just shocked," she said. "In terms of election administration, this is really bad."
Wisconsin Attorney General J.B. Van Hollen issued a statement shortly after the ruling.
"Today's decision is a victory for common sense, fair elections, and the right of every eligible voter to cast a vote that will count," Van Hollen said in the statement. "This ruling vindicates the law and our efforts to ensure the policy of this state will be in effect for November's election.
"My staff and I will work with the Government Accountability Board to ensure every eligible voter will be able to cast a ballot."
Kevin Kennedy, director and general counsel for the Government Accountability Board, said in a statement, "We are taking every step to fully implement the voter photo ID law for the November General Election. We are now focused on communicating with local election officials and voters, and will have more information about the details next week."
The state has 1,852 municipal clerks who administer elections, Kaminski said, adding that those clerks train thousands of poll workers. The LWV will be "busy" during the next several weeks, working on educating voters and helping people get IDs, she said. The organization will also observe at the polls on Election Day to watch for "any signs" of disenfranchisement, she said.