Five years ago, Glenn Grothman was fed up with Madison's slick streets after a particularly grisly December snowstorm. On the grounds that city officials were hampering citizens' access to their state government and university, the Republican state senator from West Bend drafted a bill that would strip the city's ability to set policies for salting and plowing its main roads and give that authority to the state Department of Transportation.
At the time, Democrats held a majority in the state Legislature and Grothman never introduced the proposal to override Madison's control of its own street clearing efforts. But his proposal generated debate over political philosophy.
Republicans have long heralded "local control" as a conservative principle worth protecting and preserving. But in Wisconsin, officials at the county and municipal levels say local control — the authority for cities, towns and counties to regulate what happens in their communities — has been eroding for decades. The pace has quickened since 2011, they say, in tandem with Republican control of the governor's office and the Legislature.
"I remember back in the day when Democrats had control of the Legislature, the clarion call for the Republican Party was 'Local control, local control,'" Dane County executive and former Democratic state Rep. Joe Parisi said. "It used to be virtually part of their platform. But as soon as they got into power, they began moving very quickly on a number of fronts to take local control away."
Some say it's a myth that local control was ever a priority for the Grand Old Party. Others believe the policies that run counter to a perceived party tenet illustrate the tug-of-war between business pressures and local interests.
Officials have noticed a two-tiered approach from legislators, with proposals to usurp local control inserted into the state budget or introduced as stand-alone legislation. Budgetary items, like a provision severely restricting local communities' ability to reject the installation of broadcast towers, tend to see much swifter approval than the standalone proposals. Some of the most contentious bills debated in the current legislative session include a bill ending living wage restrictions and one limiting local governments' authority to regulate nonmetallic mining.
As the current session comes to an end, several of these proposals have stalled after being criticized for undermining local authorities' ability to make decisions.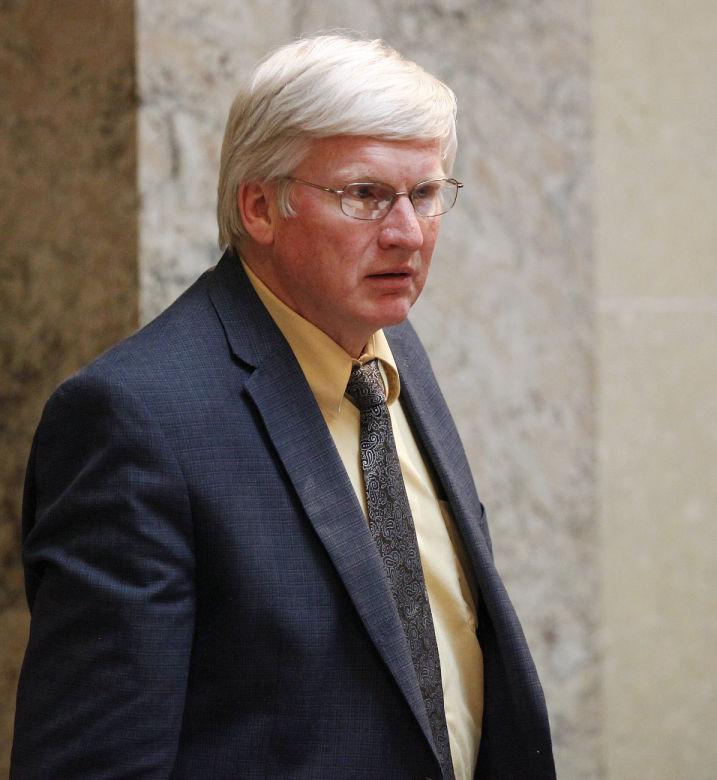 Grothman has watched with frustration as Senate leadership decided not to take up a bill he and Rep. Chris Kapenga, R-Delafield, sponsored that would no longer require businesses under contract with local governments to pay their employees living wages if any federal or state money was used in the contract.
"I think in general, local control is best," Grothman said. "But when you have a program that's in essence state-funded, and the locals are saying 'Give us more,' we have an interest in sticking our nose in there."
But UW-Madison political science professor emeritus Dennis Dresang argued that Republicans prioritizing local control is a fallacy dating back to "day two" of the party — that is, the iteration following the abolition of slavery. From that point in the party's history, Dresang said, it has been dominated by moneyed interests as opposed to those espousing small government philosophy.
"I think that it is a longstanding myth that the Republican Party has been in favor of local government exercising the fullest amount of democracy," Dresang said.
Grothman said "local control goes out the window" when the state picks up the tab for a program and provides services through it. He points to the case of Family Care, a program he said will be harmed in Milwaukee County if his bill ending living wage restrictions doesn't pass.
The more than $1 billion-a-year program operates in 57 of the state's 72 counties, providing long-term care to more than 40,000 frail elderly or disabled recipients. Grothman said if salary increases were imposed on Family Care contractors, they would hire fewer people. The Family Care issue is "the guts" of the measure, from Grothman's perspective. While he is skeptical of the program itself, he said the state is obligated to ensure it is well-run.
"You only have so much money to go around," Grothman said. "I think you like to keep good staffing levels. If you tell these guys hands down what they have to pay people, you're going to have to hire less people. It's not rocket science."
The impetus for the proposal was the impact of a living wage ordinance on Family Care in Milwaukee County, Grothman said, though he added that it would have affected others. The bill was introduced less than a week after a living wage ordinance was approved by the Milwaukee County Board. The ordinance was then vetoed by Milwaukee County Executive Chris Abele and brought back to life with a veto override from the County Board.
Joe Parisi said Grothman's bill would have been "fairly devastating" to Dane County, which has had its own living wage ordinance since 1999. The living wage, an amount adjusted annually, is $11.33 for employees who work for Dane County contractors. An employee earning the county's current living wage earns just above the federal poverty level for a family of four.
"Most of the people who have been impacted by Dane County's living wage ordinance are personal caregivers, for people with developmental disabilities, physical disabilities, the frail elderly," Parisi said. "These folks are doing some of the most important work in our community and helping some of the most vulnerable residents in our community."
The bill would apply to nearly one-third of Dane County's human services contracts, and could result in an immediate $4-per-hour pay cut for people making just enough to put food on the table and pay their rent, Parisi said.
He added that the cost of living varies greatly by locale. It's difficult to find an affordable apartment in Dane County with a salary based on the state's minimum wage of $7.25 per hour.
"This was a classic example of someone taking a one-size-fits-all approach when one size does not fit all," Parisi said.
Grothman believes the bill didn't make it to a vote because it was misconstrued by his Democratic colleagues and unfairly portrayed in media accounts.
"It stalled because I think it's clear in an election year, people don't like division," Grothman said. "It became a divisive issue. It was just too divisive to take up in an election year."
Grothman said he doesn't think the bill was contentious within the Republican Party, but that it was "just a lot of people screaming and carrying on."
Grothman's living wage bill is only the most recent instance of what Parisi feels is legislation that would usurp the county's decision-making authority. He was also a critic of a bill authored by Sen. Tom Tiffany, R-Hazelhurst, and Rep. Joan Ballweg, R-Markesan, that would limit local governments' ability to regulate nonmetallic mining.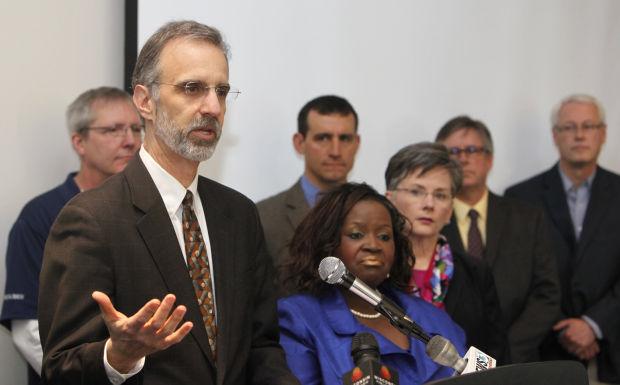 The lawmakers introduced two versions of the bill. The first would have prevented local municipalities and counties from imposing any regulations on air and water for any industry, including mines already in operation. A narrower version was then introduced, which would still limit local governments' authority to regulate existing mines, but not mines sited in the future.
While the bill's focus was communities affected by frac sand mining in western Wisconsin, it would have resulted in a loss of oversight of about 100 unregulated, or non-conforming, mines within Dane County, Parisi said.
The county executive said it's another "one-size-fits-all" bill and that local residents deserve to have input into the decision-making process of if and how a mine will operate. Shortly after a Dane County ordinance was introduced to regulate dormant mines, the state mining bill was introduced that would take away the county's authority to enforce such a measure.
State Sen. Kathleen Vinehout, D-Alma, has been one of the bill's most outspoken opponents. She allowed that the reworked version was "different" from the original, but said it would have the same effect in preventing locals from being able to oppose an industrial sand mine in their community if the mine is registered with the county.
"Regardless of people's political stripes, they want a say in what happens in their neighborhood, and this bill would take away their ability to say, 'No, this industrial sand mine does not belong in this neighborhood,'" Vinehout said.
The Wisconsin Towns Association opposed the original bill, then expressed neutrality toward the revised version. It ultimately opposed the revised version as well, citing concerns about what might happen in the future with a relatively new industry.
The League of Wisconsin Municipalities also registered in opposition to both versions of the bill. Assistant director Curt Witynski said he was happy to see that the first version didn't advance, adding that the narrower version was less troubling for the league.
That's often the case when it comes to bills viewed as problematic by league members. Most of the measures that have caused municipalities the most frustration have been buried in budget bills, Witynski said, adding that individual bills are often amended to become less onerous, or dying after meeting significant opposition.
One such item was a provision in last year's state budget that substantially restricts local communities' ability to reject the installation of broadcast towers. Denials must now be based only on public health or safety concerns, and local governments can no longer have a say in the height or visual appearance of a tower, or how close it is to someone's property.
When an item appears in a budget, there is generally less opportunity for local citizens and elected officials to weigh in on it before it becomes law than there is with a piece of individual legislation, Witynski said.
He said that when a legislator hears from the mayor or city manager from his or her hometown, the legislator often speaks in support of local control. In many cases, state legislators started their careers in local government. But, he added, when legislators face requests from other interest groups, particularly businesses and private entities affected by local regulation and taxation, then the tendency is to acquiesce.
"It's an interesting dilemma that legislators face," Witynski said. "They want to help businesses and other entities that are subject to regulation and taxation, but at the same time, they consider themselves in support of local control. But when push comes to shove, if a really powerful interest wants to be treated uniformly, so that each locality can't make their own decision on how to regulate — or they want some tight controls on property tax, or tax exemption, or something like that — the support for local control falls by the wayside."
Witynski pointed out that from his organization's perspective, attacks on local control have come from both sides of the aisle, depending on which party holds power. The policies that have vexed the league's members the most have been those that tie cities' and villages' hands on decisions related to taxation and finance. Those began with levy limits created in 2005, when Democratic Gov. Jim Doyle was in office, he said.
"It eliminates flexibility and options," Witynski said. "We have to come up with efficiencies and pay for the services that both businesses and citizens want and expect municipalities to provide. Whether it's libraries open every day including the weekends, streets plowed right away or parks kept in great condition, everyone wants all those things. It's tough to agree on how to pay for them."
Regardless of which party holds the majority, Witynski said he doesn't anticipate any regranting of local authority on property tax levies anytime in the near future. He doesn't think the political will exists. On other issues, he thinks it will depend more on the party in power.
He noted that had the Democrats been in power, they likely would have prevented the state's new landlord-tenant bill from becoming law. While supporters said the measure gives landlords more leverage in dealing with tenants, opponents criticized it for curbing tenants' rights and local control. However, Witynski was quick to add that a Democratic majority wouldn't be a magic bullet for local authority.
"We're consistent," Witynski said of his organization. "Our consistency is we support maintaining any local powers we have right now that we want to maintain. Since about the 1920s when current law was established as far as what authority a city has —and the legislature granted as broad as you could almost grant — ever since then, it's like we're pushing back any eroding or tearing away from that authority. In the 1920s we had the broadest (powers). Ever since then it's been fighting against chipping away that local authority."
The landlord-tenant bill is one that Vinehout also found to be particularly egregious, both because of the law's substance and its effect on local control. She noted that renters in college towns like Madison deal with different issues than those in towns with mostly single-family dwellings.
"Usually, when you scratch a bill that takes away local control, you come up with an industry that wants to standardize things around the state," Vinehout said.
She said she thinks there are a lot of legislators, regardless of party, who struggle with balancing their belief in local control with the requests they receive from interest groups.
Since 2011, she said, she's seen a change in the number of bills targeting local control and the breadth of what they encompass.
The Republican Party's aversion to "big government" suggests that it places importance on states and localities, and favors their authority over that of the federal government. But at the state level, political scientist Dennis Dresang said the party hasn't supported options for local governments to exercise authority.
"If you listen to the Republican platform and their philosophy on a national level, it's states' rights," Parisi said. "They don't want the federal government telling them what to do; they say states know better. But in their own backyard, when local governments want the same type of independence, it doesn't cut both ways."
Dresang said more and more, what voters see playing out within the Republican Party is not a focus on local control or democracy, but on how elected officials can shape public policy to reflect their agenda as it relates to social issues and the business community.
Both Dresang and Parisi pointed to gun control as an example. Dresang noted that it was under Republican leadership that local gun control laws were preempted. Prior to that, he said, local communities could fashion regulations that fit their unique needs and constituencies. Urban areas face different gun control issues than rural areas where hunting is prevalent, Parisi said.
As long as the Republicans run state government, Dresang said voters will continue to see legislators exercising power in a way that values the needs of business over the needs of local communities.
"I think for the near future, we're going to see continued efforts to homogenize the state in terms of public policy, and we're going to continue to see an erosion of local options, local control, government meeting regional and community kinds of need," Dresang said.
But if the most recent legislative session is any indication, those proposals might encounter some bumps in the road. Even with a Republican majority, the state Legislature has dropped several bills that have been viewed as encroaching on local control.
Sen. Scott Fitzgerald, R-Juneau, said he thinks that's a reflection of the Legislature's sensitivity to local concerns.
"I think that the vast majority of the members of the Legislature, regardless of party, have a close working relationship with the local elected officials in their districts and the decision not to move forward with these bills was a reflection of this relationship," the Senate majority leader said in an email. "We are very sensitive to local responses to actions taken at the state level and in many cases, ultimate decisions on the viability of pieces of legislation hinge on this feedback."
Dresang said he thinks it's an indication of the power wielded by the Senate's few moderate Republicans.
"That's where we see most of the reluctance to go along with this kind of agenda," Dresang said. "Dale Schultz is the one who's identified most frequently as a moderate, but he's not the only one. You don't need to have very many in the state Senate to go slow, or to just not go at all."
Vinehout said she plans to spend much of the summer looking over her votes from the last session and trying to cobble together the "big picture" of how people have lost protections and decision-making abilities at the local level. She said she's voted against so many measures she feels infringe on local control that it's hard to keep track.
"When you think about it, local government is the most responsive type of government," Vinehout said. "The local people are always there, and they're responsive. And that's the way democracy's supposed to work. That's why we have democracy — so the local elected officials respond to the people's concerns."