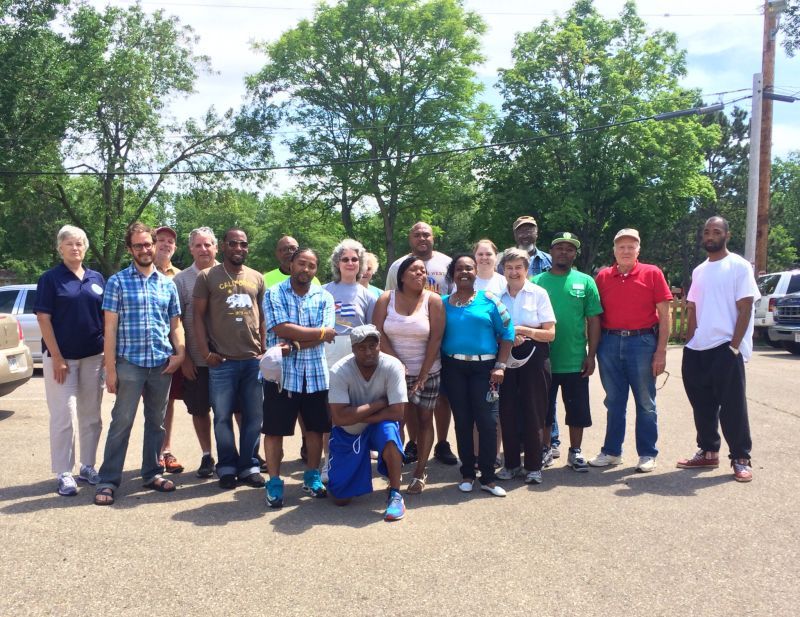 Tutankhamun "Coach" Assad ambled over the lawn of his Meadowood home on Saturday afternoon while the scent of burgers, marinated chicken skewers and rice and beans wafted in the breeze. Neighbors sat in chairs, watching children bounce basketballs, ride tricycles and play together.
It was a neighborhood barbecue, but one with a purpose.
Assad, a basketball coach at Madison West High School, is what his neighbors call a leader. But he shies away from that term, and is quick to pull people into a conversation to highlight what they've done to help — from the woman who cooked 10 pounds of rice that morning to the one who knocked on doors to make sure people were coming over.
What they're helping with is his vision for the community, which has taken shape through the Mellowhood Foundation. It was born from a flag football league Assad established in 2011 to keep children in the neighborhood busy and out of trouble over the summer. From there, the foundation was formed. It's currently in the process of becoming legally recognized.
"We don't even like the term 'black leader' or 'community leader,' we are just assets in our community and we work in our community, that's all," Assad said. "Sometimes there's bumps and sometimes there's pitfalls, but building up the community and giving a voice to those that already know how to roar — recognizing and validating. That's what changes neighborhoods."
Assad invited community members — parents especially — to his home on Saturday to discuss the neighborhood, to invite them to sign their children up for the flag football league and to discuss co-parenting. With summer approaching, he said, it's important to be intentional about what they expect from themselves and their community.
"People don't understand how incredible the presence of moms and dads, or moms or dads, in the community is," Assad said. "When a child comes out, turns around left or right and sees a mom or dad, their whole world changes."
The cause is personal for Assad, who has two sons. He feels a civic responsibility to address the high dropout rates among black students and is driven to help children understand their value in society. His flag football league is unique in that it puts academics above athletics. Its participants are held to high personal conduct standards — no fighting, no profanity, no littering, no disrespect toward adults, women or themselves — and they learn to give back to their community.
Maria Maldonado, who cooked the food for the barbecue, has two sons who play in the league. She decided recently to take a more active role with the Mellowhood Foundation.
"It's not just his responsibility as a coach, it's not the school's responsibility, it's our responsibility as parents being there," Maldonado said. "Just being there for them and supporting them, just backing them up in everything they're going to do in life."
Kay Stevens, executive director of the Wisconsin Youth Company, said participating in the Mellowhood flag football league was one of the best things she's seen for the boys in the company's program.
The focus on values rather than competition was unique, and the boys on the team coalesced as a group more than in other activities they've participated in, she said.
Jeffrey Lewis, outreach specialist for UW-Extension, said Assad is working with kids that often aren't reached by anyone else. Part of his job is to work with Assad to further develop his programming and its impact on the neighborhoods it serves.
The programs Lewis works with — like Assad's — are "under the radar, under-resourced, but remarkably effective," he said.
"He does a good job of creating a sense of solidarity among the kids, a sense of mutual support among the kids, a sense of commitment," Lewis said. "Higher expectations for how they live in the neighborhood and how they work together."
Like everything Assad does, "Mellowhood" was named very intentionally. He talks a lot about being mellow with the kids he works with — and he decided he wanted to take ownership of the word "hood" instead of letting it be used negatively.
"(It's) a community building itself up by working together," he said.