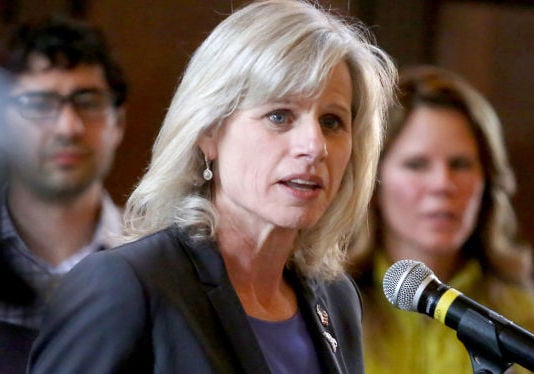 Denise DeMarb, president pro tem of the Madison city council, worked at Trek for nearly 20 years, the last half of which were spent as director of finance. She retired about three years ago.
DeMarb said Thursday that Burke, the Democratic candidate for governor, worked for Trek twice while she was there.
Trek was founded by Burke's father, Richard, who died in 2008. Burke's brother, John, now serves as president and CEO.
Ellerman currently serves as chairman of the Jefferson County Republican Party and ran in 2012 as a fake Democrat during the recall elections. His Facebook page, since locked down, previously included a number of crude public posts, including one that referred to First Lady Michelle Obama as "a man" and President Barack Obama as "a homo." Trek has said he was fired from the company in 2004.
Wisconsin Reporter received $190,000 from the Bradley Foundation in 2012. The foundation is led by Michael Grebe, co-chairman of Gov. Scott Walker's campaign.
Thomas Albers, who joined the company in 1982 and served as chief operating officer and president from 1993 until 1997, backed up some of Ellerman's claims. He told the Wisconsin State Journal that Burke "handled herself well," but said it was his understanding she was fired.
In the same story, Steve Lindenau, head of Trek's German operations from 1989 to 2001, commended Burke's leadership.
Both Burke's campaign and Trek CEO John Burke dismissed the allegations as politically-motivated and untrue.
DeMarb took to Facebook to share her knowledge of the situation.
In a post published Thursday afternoon, DeMarb said Burke was charged with a big task — taking a small-to-mid-size company international — at a young age. 
"As Mary does everything, she put her heart and soul into the task," DeMarb wrote. "Did she make mistakes, probably. Was she under pressure, certainly. Did she perform a huge feat — yes she did."
DeMarb wrote that in one of her "many talks" with Richard Burke, he told her he "couldn't be prouder of Mary and it was because of her efforts Trek is today a global company."
When Burke left Trek in 1993, she took a sabbatical that included snowboarding trips to Colorado and Argentina. DeMarb praised that decision, saying if she hadn't taken the break, she might not have been ready to return to Trek for "phase two."
Burke was brought back two years later to lead the company's global forecasting department.
"She came back and dug in and completely modernized supply chain management for the company," DeMarb wrote. "Not sexy work. Long, difficult, painstaking work. And yes, she did this too."
The original story, published by Wisconsin Reporter, quoted several anonymous sources in addition to Ellerman. One said European managers called Burke a "pit bull on crack." Ellerman said Burke was "bulletproof" and "could do anything she wanted," and implied that the strategic planning role was created for Burke by her family.
"Mary worked hard and long, in difficult circumstances," DeMarb wrote. "She didn't have a cushy job at her dad's company. That wasn't Dick Burke and it isn't his daughter."
DeMarb, reached by phone on Thursday, said most people have "starts and stops" in their careers, and most people make some mistakes.
She said she was disappointed someone would try to discredit Burke's work so close to the election, adding that she didn't know how it could be "anything but meant to hurt."
"The company would not be where it is today without those efforts," DeMarb said of Burke's seven years leading strategic planning.
Be the first to know
Get local news delivered to your inbox!