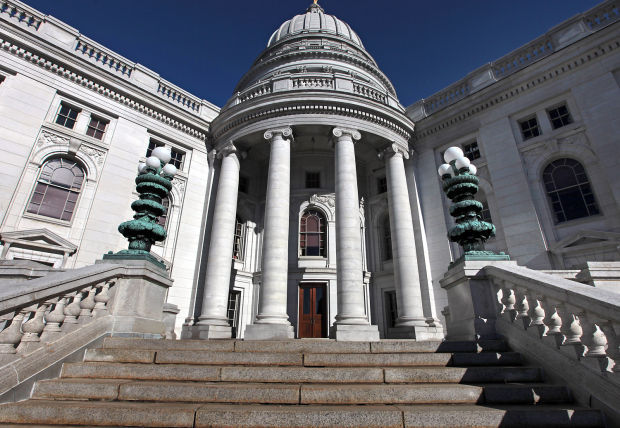 In right-to-work states, employees in the private sector cannot be required to pay union dues as a condition of employment.
Gov. Scott Walker's signature legislation, Act 10, prohibited that practice for most public-sector employees. The policies sought by Wisconsin Right to Work would go a step further, affecting the private sector.
The group will "aggressively promote" its agenda, it said in a news release.
"Wisconsin's public employees have already demonstrated their strong desire for their right to choose as evidenced by the sharp decline in enrollment in the teacher's unions since the passage of Gov. Walker's Budget Repair Bill," said WRTW executive director Lorri Pickens in a statement.
About half of the public school teachers unions affiliated with the Wisconsin Education Association Council voted to recertify for another year, according to election results released last week. Recertification votes are required under Act 10.
Pickens and supporters of right-to-work say the policies give employees more freedom and strengthen the economy. Opponents argue they are an attack on workers' rights made by weakening the influence of unions.
"The impact of giving Wisconsin workers the freedom of choice extends far beyond the freedom itself as demonstrated by the key economic measures in Right to Work states such as faster job growth, lower unemployment rates and higher per capita income than non-Right to Work States," Pickens said.
Wisconsin Right to Work's website was registered on Nov. 24 by the Prosper Group, an Indiana-based digital consulting firm.
The Prosper Group touts its work providing successful digital strategies for a who's who of conservative politicians. The landing page for the firm's website is titled "Christie to Walker" and features a timeline starting with Nov. 5, 2013: "New Jersey Governor Chris Christie wins re-election" and ending with Nov. 4, 2014: "The Prosper Group surpasses $700,000 raised from new online donors for Scott Walker. The Wisconsin Governor wins the hard-fought re-election."
Walker and Republican leaders in the Legislature have signaled that they would support right-to-work policies but that the legislation is not a priority in the upcoming legislative session.
The governor said in September that he's not pushing for such a provision and he wouldn't support one in the Legislature — but he wouldn't say at the time whether he would veto the law if it were to pass both houses.
Assembly Speaker Robin Vos, R-Rochester, supports right-to-work legislation, but has said he has no plans to pursue it next year.
"As he has said previously, Gov. Walker's focus is on growing Wisconsin's economy and creating jobs," Walker spokeswoman Laurel Patrick said in an email. "Anything that distracts from that is not a priority for him."
Assembly Assistant Minority Leader Katrina Shankland, D-Stevens Point, told the Cap Times last week she is concerned there will be a push in the legislature to bring right-to-work to Wisconsin.
"We've heard the conversations about things like right-to-work," Shankland said. "That's obviously a red flag — if you look at what happened with Act 10, that was quiet, it felt like it just happened out of nowhere … I think right-to-work could be a possibility. I know the Speaker has said, even though he sponsored it, it may not be. And I sure hope that's the case, because that goes way too far for Wisconsin and Wisconsin will not tolerate it. There will definitely be an issue there."
Several liberal organizations criticized the newly-formed group and its agenda following the announcement of WRTW's launch.
"It's the same playbook from four years ago that tore Wisconsin apart: Gov. Walker says anything to get re-elected and now he and his Republican front groups are ready to launch a frontal assault on Wisconsin's middle class working women and men," said Scot Ross, executive director of the liberal group One Wisconsin Now.
Wisconsin AFL-CIO president Phil Neuenfeldt said right-to-work legislation would result in fewer jobs, not more, calling it an "an attempt by corporate special interests to drive down wages and erode the middle class." The policy would harm the state's employees, wages and job safety, he said.
"The formation of this group is just another way for CEOs and multinational corporations to weaken unions and stack the deck even more in their favor, all at the expense of our middle class," Neuenfeldt said in a statement. "It's a power grab by the same people who ship our jobs overseas and offshore their profits to avoid paying taxes, shifting the burden to the rest of us — the same people who oppose raising the minimum wage and support privatizing Social Security.
"Right to Work would roll back the clock on workers' rights and take Wisconsin in the wrong direction," he continued. "We expect the Legislature to focus on critical issues like creating good-paying jobs and reviving our sluggish economy."
Currently, 24 states have right-to-work laws, including Iowa, Michigan and Indiana.