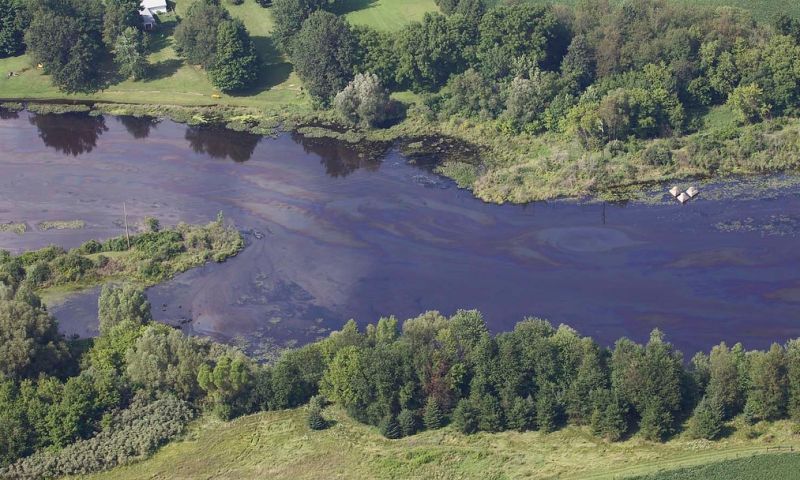 Madison 350, a local chapter of an international climate action group, is calling on Dane County and other counties located along a pipeline that runs the length of Wisconsin to address potential oil spills by requiring bonds be issued on the project, an unprecedented move toward the industry.
"There is nothing in state or federal law that protects communities against a spill," said Peter Anderson, an environmental activist with Madison 350, a local chapter of 350.org. "The oil spill laws that the federal government has do not apply to tar sand oil spills."
Steve Roalstad, an Enbridge Energy spokesman, said that is not true.
"There is a host of federal, state and local regulatory agencies that have the authority to establish standards and enforce not only the protection of the environment but also any remediation necessary in the unlikely event of a spill," Roalstad said.
The project that concerns Anderson and environmental groups, the Enbridge pipeline, originates in Canada and enters Wisconsin near Superior. The pipeline carries tar sand oil, a thick type of oil that is more dense than water. It exits the state east of Delavan on the Illinois border.
When pumping capacities are expanded through additional stations that have yet to be built, including one in Dane County in the town of Medina, the pipeline will ship more oil from Canada and North Dakota through Wisconsin than the controversial Keystone XL pipeline.
The pipeline's size is the reason Anderson and others want the state or individual counties to require bonds be issued on the project.
Bonding works by requiring a company, in this case Enbridge, to have a third party assess the risk associated with their business. Bonds are typically issued on companies completing road and other construction projects. The bonds build in costs for damages or assess financial penalties if the project isn't completed on time.
Some states have issued bonds on mining projects, Anderson said. But a bond has never been issued on a pipeline project.
Anderson said if the assessment comes back at a cost too high for Enbridge to afford, the pipeline expansion shouldn't occur. If not, communities will be financially safeguarded against potential spills, as the bonding will provide assurances that cleanup costs will be covered.
"That way, local taxpayers don't have to pay for spills or suffer the environmental consequences," Anderson said. "If Enbridge is correct, and the pipeline is perfectly safe, then the market will reflect that and the premium won't be high."
There was a spill from an Enbridge pipeline near Kalamazoo, Mich., four years ago that is still being cleaned up, said Elizabeth Ward, conservation programs coordinator with the Wisconsin John Muir Chapter of the Sierra Club.
"Tar sand oil is denser than water," Ward said. "They can't figure out how to clean it up."
Assessing the potential for spills or leaks is a reason environmental groups, including the Sierra Club and now counties up and down the pipeline are calling for the DNR to again conduct an environmental study that goes beyond the air emission study.
To move an additional 800,000 barrels of oil each day requires higher heat in the pipeline at a higher pressure, Ward said. She emphasized the functionality of the pipe is different than it was when the DNR first conducted the environmental assessment.
But Enbridge spokeswoman Lorraine Little said in a Milwaukee Journal Sentinel article the pipeline had been engineered to carry up to 1.2 million barrels a day. Tar sand oil from Canada and North Dakota is no more corrosive than other oil, she said.
"It's a lubricant," she told the Journal Sentinel.
On June 12 – coincidentally the same day the DNR issued Enbridge the air permit – Dane County rescinded a permit it had issued to Enbridge to build a new pump station in Medina. Two days later, the county board passed a resolution in support of the state conducting an environmental assessment of the pipeline.
Roger Lane, Dane County zoning administrator, said Enbridge was instead asked to apply for a conditional use permit to build the pumping station because it is a private company, not a utility company.
"We initially looked at it and did not think there was an issue," Lane said. "We thought Enbridge was just another utility, but it's not."
He said while some would like to think the county's move to require a conditional permit is a sign the pump station may not be approved, it's "not a big deal."
"They are willing to cooperate with us," Lane said. "It's my understanding they are putting the application together."
Roalstad said Enbridge is still assessing the county's conditional use permit process and has not timeline on if or when it will apply for the permit.
Ward said despite the growing concern among counties, there is little that can be done to assess potential environmental impacts unless the DNR changes its mind and conducts the Environmental Impact Statement.
"The county resolutions don't have teeth," she said. "They can't require the DNR to do anything. For now, it does not look like anything will change."
Be the first to know
Get local news delivered to your inbox!