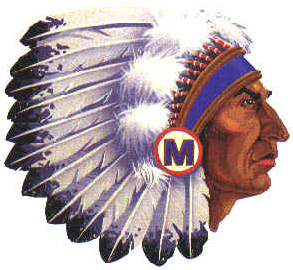 Wisconsin Gov. Scott Walker signed the controversial Indian mascot bill into law Thursday, but not before informing state tribal leaders in a letter earlier in the day of his impending action.
In the letter, Walker stated "I share many of your concerns about some of the mascots and nicknames used in Wisconsin and across America. If it were up to me personally, I would seek viable alternatives that were not offensive to Native Americans."
But the governor detailed his concerns that the previous law, whose provisions are largely rolled back by the new law, infringed on free speech rights.
"If the state bans speech that is offensive to some, where does it stop?" Walker stated. "A person or persons' right to speak does not end just because what they say or how they say it is offensive."
Barbara Munson, a spokeswoman with the Wisconsin Indian Education Association "Indian" Logo and Mascot task force, called his decision to sign the bill into law "egregious."
"This is a poke in the eye with a sharp stick to all of the tribes and all of our children," Munson said Thursday afternoon.
She added, "Attorneys are discussing this as we speak."
On Wednesday, Chris Ahmuty, the executive director of the American Civil Liberties Union of Wisconsin, called Walker's use of the First Amendment to protect the use of race-based mascots "bogus."
Like Ahmuty, Munson again pointed out that the First Amendment does not allow government programs or government bodies to offend or discriminate through their policies and school districts count as government bodies.
"Why are they teaching our children to participate in and tolerate race-based stereotyping?" Munson asked. "Learning environments should not put up barriers that harm an entire race of people. The bill goes way beyond repeal of Act 250. It is an example of institutionalized racism."
Act 250 was signed into law by Gov. Jim Doyle, a Democrat, and took effect in 2010. The new law will largely repeal the current law, the first of its kind in the country.
Act 250 allowed the Department of Public Instruction to begin a review process if one complaint is received that a school nickname, logo or mascot is offensive.
The new law shifts the hearing to the state Department of Administration and away from DPI, essentially giving more control to the administration in power and less to the nonpartisan state superintendent's office.
Under the previous law, a school district must prove that its mascot or nickname is not offensive if someone files a complaint.
The new law stipulates any complaints will have to include a petition signed by members of the community equivalent to 10 percent of the district's student population saying the logo or mascot is offensive, shifting the burden of proof to those filing the complaint.
Those who sign the petition must by 18 or older.
"While I would prefer no restrictions on free speech, I understand the attempt to put the decision before a civil servant (with DOA) who is trained to hear disputes and decide them," Walker wrote to the tribal leaders. "With this in mind, I will sign the bill into law."
State Rep. Steve Nass, R-Whitewater, the lead sponsor of the mascot bill said Walker's decision to sign the bill "reformed a flawed law by replacing it with a better process to address any potential inappropriate use of Indian logos, mascots, and team names. "
"No longer will the mere existence of an Indian logo, mascot or team name automatically be construed as a violation of state law," said Nass in a statement.
Four school districts received complaints under Act 250 that their mascots or logos were offensive. Three voluntarily changed. The Mukwonago Area School District did not.
The district is now in a legal battle with DPI over its Indians nickname and use of a Native American in traditional headdress as its mascot and school logo. The high school's teams mainly use the word "Indians" as their logo, but Native American image still appears on a large sign in front of the high school.
Nass said in the statement that Walker's action would "help preserve Mukwonago Indians and other communities' team names."
"Gov. Walker showed great leadership by indicating his personal preferences on this matter would not supersede the input from all interested parties," Nass said. "Even though he will sign AB 297 into law, he is providing moral direction to all sides to achieve greater understanding and more dialogue in a less confrontational manner."
Michael Allen is the executive director of the Great Lakes Inter-tribal Council, a nonprofit organization of 12 federally recognized Indian tribes located in Wisconsin and Upper Michigan.
After reading Walker's letter Thursday, Allen the governor "has relieved Mukwanago and other recalcitrant school districts of the governmental responsibility to consider the rights and sensibility of an ethic minority."
"No other ethnic group would or should tolerate such discriminatory 'free speech' that is governmentally approved first at a school district level, and now at the state level," Allen said. "Free speech is an individual's right, not a government right. The governor has merely attempted to rationalize a politically expedient and bad decision."