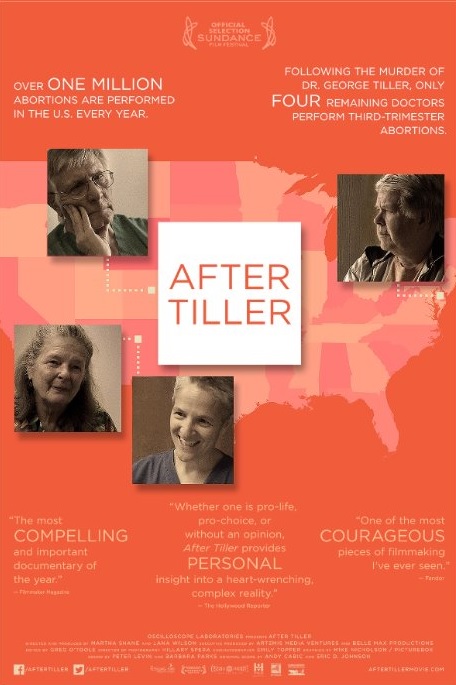 About 100 people gathered at the Majestic Theater on Tuesday night to watch the Madison debut of "After Tiller," a documentary profiling the last four doctors in the United States who perform late-term abortions.
Wendi Kent, president of the National Organization for Women's Madison chapter, introduced the film, calling it "moving and intense."
The film follows the personal and professional struggles the four faced after friend and colleague Dr. George Tiller was assassinated in May 2009 while serving as an usher during a church service in Wichita, Kansas. 
The movie screened at the 2013 Sundance Film Festival and has played at other film festivals around the country. It's available for viewing through iTunes and Google Play. The Los Angeles Times named it one of the 10 best documentaries of 2013.
Tiller's death has left women with limited options and many miles to travel if they are in need of a late-term abortion, defined as 25 weeks or later. Drs. Shelley Sella and Susan Robinson run a clinic in Albuquerque, N.M.; Dr. Warren Hern in Boulder, Colo., and Dr. LeRoy Carhart in Maryland.
In the United States, three out of 10 women will have an abortion by age 45, with less than 1 percent of the abortions performed during the final trimester, according to the Guttmacher Institute, a national research and advocacy organization for safe reproductive health care worldwide.
The film doesn't set out to answer whether the decision to have an abortion is wrong or right. Instead, it shows the internal angst of the doctors and offers testimony from mothers and fathers who have decided it is best to terminate a pregnancy.
In one scene, the nervous hands of a mother rhythmically fold and unfold a Kleenex as she tells Dr. Sella that a recent test shows her baby has a disease that will prevent its joints from bending.
Another mother sits beside her husband who steadily taps his foot as he details the sense of loss they feel over learning their baby, if born, will only have half a brain. They had already bought the baby furniture.
One mother says she finds some peace in her decision knowing her baby is "an angel" and will go straight to heaven instead of suffering on earth from fetal abnormalities.
"I think about what I do all the time. I recognize what I do. And at times I struggle, and at times I don't," Sella says at one point in the film. "But I always come back to the women and what she's going through. And often, what life will this baby have? What will it mean to be alive with horrific fetal abnormalities? It is not just about being alive. It's about life and what does it mean?"
The late-term abortions performed by the four require the woman to be induced and go through labor. The women are given the option of holding their stillborn babies.
One woman does. She names him and has a funeral.
Sella describes her own internal struggle over delivering stillborn babies "because these are babies," she says in the film, not just unrecognizable masses of tissue.
"What I believe is that women are able to struggle with complex, ethical issues and make a decision about it," she says.
Then there's a 16-year-old who a social worker at the Albuquerque clinic says she can no longer counsel. She tells Robinson that she doesn't think she should perform the abortion.
After meeting with the teen, Robinson returns to the nursing station and describes her conversation with the teen and her decision to perform the abortion.
"I told her, 'Of course you don't want an abortion. Nobody wants an abortion,'" says Robinson during a scene from the film. "But you have three choices: you can have a kid you say you can't take good care of. You can have a kid and give it to somebody else who you do or don't know. Or you can have an abortion which you think is the wrong thing to do. Those are your three choices. And they all suck. But you have to pick one of them."
Robinson tells the social worker the teen told her "I am committed."
"Maybe she just couldn't bring herself to say, 'Yes, I want an abortion,'" Robinson says.
In another case, Robinson denies a French woman's request to travel to the clinic for an abortion after learning there is nothing wrong with the baby. While a nurse is explaining Robinson's decision to the woman over the phone, a camera shot of the woman's file reveals she is 35 weeks pregnant.
The political fervor that accompanies the abortion debate is most prevalent during the film's portrayal of the life and work of Dr. Carhart.
Carhart, who occasionally worked with Tillman in Kansas, decided after Tillman's death that he would continue his work by performing late-term abortions in Nebraska. Nebraska lawmakers quickly responded by passing the first ban on most abortions 20 weeks after conception in 2010.
Protesters set Carhart's barn on fire, killing four horses and justified their actions by saying he killed babies. He was unable to overcome community objections to open a clinic in Iowa and now has a clinic in Maryland.
The film ends with a peaceful scene of Hern, the Colorado abortion doctor, with his second wife and son taking photos in the Colorado wilderness.
Throughout the film Hern talks about the strain his decision to perform abortions has had on his relationships with friends and family, including his former wife.
Now in his 70s, he, like the others, remains committed to providing late-term abortions.
"This is not a subject that is easy," Hern says. "And people can disagree."