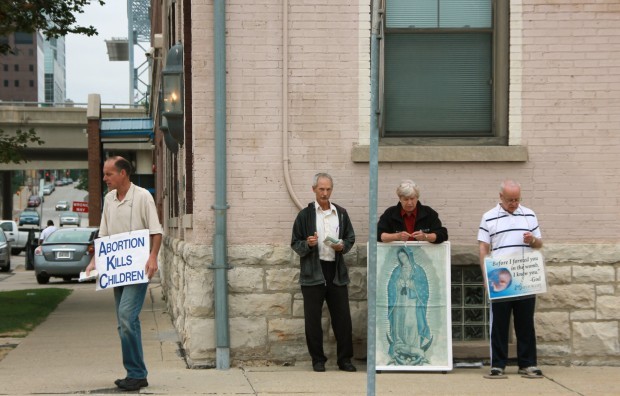 Wisconsin will join three other states next week in battling abortion providers in court over laws that mandate doctors have admitting privileges at nearby hospitals. A women's health care advocate labeled the law a clever tactic meant to close down abortion clinics.
The federal trial, set to begin May 27 in Madison, will be the latest step in a legal challenge brought against the state by Planned Parenthood and the American Civil Liberties Union, on behalf of Affiliated Medical Services in Milwaukee, shortly after Gov. Scott Walker signed the bill into law July 5, 2013.
Court cases are pending in Alabama, Mississippi and Texas.
The bill requires abortion providers to have admitting privileges to a hospital within 30 miles of their clinic or discontinue performing the procedure.
Those who support the idea say admitting privileges are needed for the safety of women seeking abortions.
Those opposed, including the American Medical Association and the American College of Obstetricians and Gynecologists, say there is no medical basis for the laws.
"When we start talking about admitting privileges, we aren't talking about quality of care for women anymore. We are talking about a business relationship between a provider and a hospital that is often based on the number of patients a provider can bring in," said Elizabeth Nash, states issues manager with the Guttmacher Institute, a nonprofit that advocates for reproductive rights. "It is deceptive."
Nash said an abortion provider is not an attractive candidate for most hospitals to grant privileges to because they don't bring in enough patients, as 99 percent of the abortions performed result in no complications that would require a trip to a hospital, according to the federal Center for Disease Control and Prevention.
"Abortions are very safe and privileges are not routinely given to providers, regardless of their medical practice, not just abortion providers," Nash said.
Yet, Republican-controlled state legislatures have been passing the laws in a coordinated effort led by anti-abortion groups since 2010 and courts, in some instances, are upholding them.
In addition to Affiliated Medical Services' Milwaukee clinic, Planned Parenthood operates abortion clinics in Appleton, Milwaukee and Madison. If the law was upheld, the Affiliated Medical clinic would close.
Mississippi has one abortion clinic. If its law is upheld in court, women will have to go to another state to have an abortion. A federal trial began in Alabama, Mississippi's neighbor to the east, on Wednesday. If the law is upheld in Alabama, three of its five clinics would close.
In Louisiana, Mississippi's neighbor to the west, the Legislature is about to pass an admitting privileges bill.
Next to Louisiana is Texas, where a case is pending but the law has already taken effect until a final ruling is made by the court. Texas had around 50 abortion clinics but roughly two dozen remain, Nash said.
She said quantifying the Texas clinic closures is a bit of a moving target. In Dallas, for example, two providers were able to obtain admitting privileges, only to have the hospitals then rescind them. The case is now in court.
With clinics closing down in Texas, women may have to head out of that state as well to have an abortion. North of Texas is Oklahoma, where the Legislature is about to pass a bill and north of Oklahoma is Kansas. When the law passed in Kansas, all four of its clinics were able to obtain admitting privileges.
Further north in North Dakota, a legal challenge to the law was settled earlier this year when the only clinic in the state was able to obtain admitting privileges at a local hospital.
"There is a large section of the country were access to abortions could be substantially reduced," Nash said. "This is not a theoretical argument. This is a real threat."
Other states with hospital admitting laws in place include Tennessee and Utah. Those laws have not yet been legally challenged, according to Nash.
The federal case in Wisconsin will be before Judge William Conley. Conley granted an injunction in August of 2013 to stop the enforcement of Wisconsin's admitting privileges requirement.
In that decision Conley wrote: "On this record, the admitting privileges requirement is a solution in search of a problem."
"Even if there were some evidence that the admitting privileges requirement would actually further women's health, any benefit is greatly outweighed by the burdens caused by increased travel, decreased access, and, at least for some women, the denial of an in-state option for abortion services," Conley concluded.
Nicole Safar, public policy director for Planned Parenthood Advocates of Wisconsin, said many people don't realize how limited abortion access is in the state.
She said many people think it is a procedure that can be performed by any physician or they may think all of Planned Parenthood's 23 clinics perform the procedure, when just three do.
"At Planned Parenthood, we care about providing women with safe access to the procedure in a non-judgmental environment," Safar said. "That's our job. That's what we're good at. Politicians are not. They should not be making decisions that endanger women."