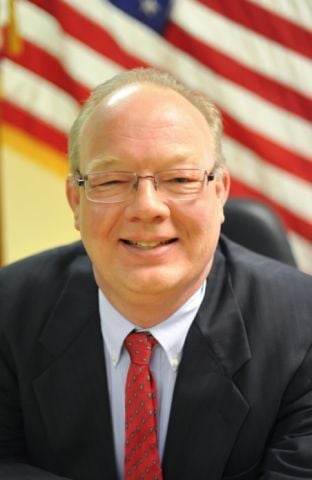 Last week, only Democrats showed up in the Wisconsin state Capitol's Senate parlor to show support for a bill that would legalize same-sex marriage in the Badger State.
At least one Republican aims to join the group of pro-gay marriage lawmakers. But first, he needs to get elected.
Dodgeville Mayor Todd Novak is launching a campaign as the first openly gay Republican candidate to run for the Wisconsin Legislature in history.
Novak, 48, was elected mayor in 2012 and has a day job as an editor and reporter for the Dodgeville Chronicle.
He says he plans to take a leave of absence from his job at the newspaper to begin campaigning full-time for the seat being vacated by Rep. Howard Marklein, R-Spring Green, who is running for the Senate seat from which Sen. Dale Schultz, R-Richland Center, is retiring. Three other Republicans and two Democrats have declared their candidacy for Marklein's seat.
Novak says he does not believe his sexuality will be a source of great controversy for the moderate voters in his district, which includes chunks of Richland, Iowa, Lafayette and Green Counties.
"When I ran for mayor I got 78 percent of the vote," he says. "What they want to talk to me about is their property taxes, public education ... (sexuality) is just not going to be an issue."
He also says he has the full backing of the party establishment. Indeed, at least one source close to the Republican Party of Wisconsin says Novak was recruited to run by Assembly Speaker Robin Vos, who last week dismissed efforts to legalize gay marriage as political grandstanding, suggesting that state voters were no more supportive of marriage equality than they were eight years ago when they voted to constitutionally ban same-sex nuptials.
"The Republican Party is a bigger tent than is often portrayed," Novak says. "I am a Republican. I've been a Republican all my life."
Although Novak may very well be the first out LGBT Republican legislative candidate, he notes that former U.S. Rep. Steve Gunderson, a Republican who represented the same area of southwestern Wisconsin from 1981 to 1997, was openly gay during his last run for Congress in 1994. Gunderson was famously outed on the floor of the House of Representatives that year by an anti-gay colleague, Rep. Bob Dornan, R-Calif., making him the first openly gay Republican member of Congress in history.
Although he personally supports same-sex marriage, Novak says he would prefer the practice be authorized by the people of each individual state, rather than through a federal court decision.
"I'm a huge states' rights advocate," he explains.
On most other issues Novak appears to be in line with mainstream Republican ideology. For example, he sides with most Republicans on abortion, the other major social issue, calling himself "pro-life."
But like other Republican candidates in the southwestern Wisconsin district, which increasingly leans Democratic, Novak emphasizes his independence.
Although he says he supports the concept of Act 10, the legislation that stripped most public workers of collective bargaining rights, he says he does not like the way in which it was introduced.
He also expresses skepticism of the recent expansion of vouchers for private schools, saying he has to study the issue more.
Novak and his partner, Chris Nuzum, a Dodgeville funeral director, have been together for 17 years and are raising a teenage son together. However, they did not sign up for the state domestic partner registry.
"We didn't do it because we have everything legally set up," he says, referring to sharing of property. "We gained no benefit from it."
He says he does not know whether the couple would seek to marry if same-sex marriage is legalized.