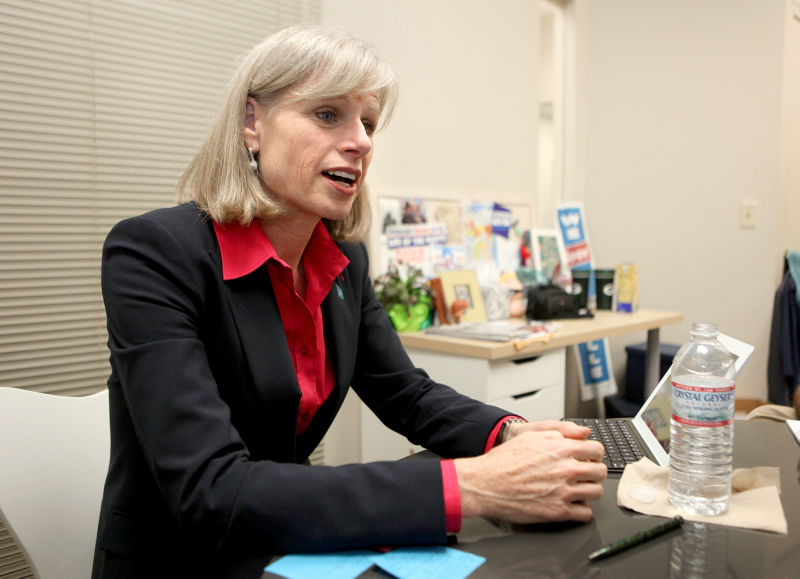 Mary Burke, the frontrunner for the Democratic nomination for governor, responded Thursday to jabs from some progressive activists over the business practices of her family's company, Trek Bicycle.
In an interview with the Cap Times, Burke discussed why Trek, which her father founded in Waterloo, Wis., moved much of its manufacturing operations to China, where wages are typically much lower.
"Trek is a global company," she said. "It sells around the world and it manufactures around the world. It's a very competitive industry."
And Burke emphasized the size of Trek's operation here in Wisconsin.
"Trek does what it can to manufacture bikes here," she said. "It is the largest manufacturer of bicycles in the United States, it employs more people than any other bicycle company in the United States, so there's nearly 1,000 employees right here in Wisconsin and over the last 20 years the payroll has nearly doubled. So I think Trek works very hard to keep employment in Wisconsin."
Asked whether she had ever participated in decisions to shift factories abroad, she responded that such decisions were not part of her job. Instead, she said, she was responsible for increasing sales of bikes in Europe. The dramatic increase in bike sales in Europe resulted in more jobs in Wisconsin, she said.
"I think it would be great if we had more manufacturing jobs here," she said when asked if outsourcing has harmed the American economy. She added that U.S. trade policies were partially to blame for the loss of manufacturing in recent decades.
Although Burke's spokesman interjected to emphasize that Burke, as governor, would not have much say over international trade agreements, Burke said she would use the position of governor to push for trade policies that benefit the Badger State.
"I would certainly impress upon our federal officials the impact our trade policies have on our Wisconsin economy," she said. "My impression is it is not an even playing field (between the U.S. and its trading partners). It's not just cost of labor, it's environmental regulations, it's workplace safety, it's a lot of things."
She also suggested American consumers could do their part to support domestic industry.
"If there was a greater emphasis by consumers to buy American goods, I think that would also make sure that American manufacturers' products were able to garner a higher price that would reflect the increased cost," she said.
Burke herself traded in the Toyota Prius that she drove during her run for school board last year and now drives a Ford Escape.
Trade in general and outsourcing specifically has been a sensitive subject that has divided the Democratic Party over the past 20 years. While the party base, which is closely tied to unions, is largely against trade agreements such as NAFTA, which make it easier for companies to set up shop overseas, the more business-oriented wing of the party has argued that such deals promote economic expansion that benefits the nation in the long-run.
When competing for the Democratic nomination for president in 2008, both Hillary Clinton and Barack Obama voiced skepticism of free trade agreements and even suggested amending NAFTA, only to shelve those plans after the election.
In recent years Republicans have been nearly united in support of free trade deals, and their standard-bearer last year, Mitt Romney, was no stranger to off-shoring jobs.
However, Republicans seem happy to let that position slide in an attempt to attack Burke. "Mary Burke: Wisconsin Jobs Outsourcer Extraordinaire," proclaims the Republican Governors Association on its website.
Editor's note: This article previously incorrectly referred to Mary Burke's spokesman as her campaign manager.
Be the first to know
Get local news delivered to your inbox!