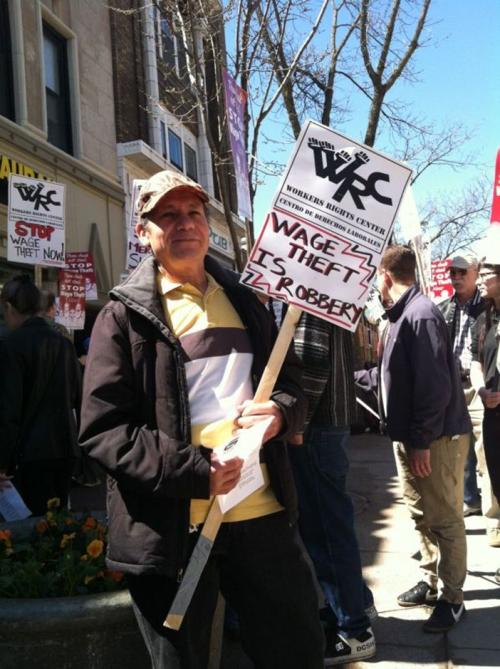 No customers entered the Takara Japanese Restaurant on State Street Friday while roughly 30 activists demonstrated on the sidewalk, chanting "Madison, don't be choosy, say no to wage theft sushi!"
Plenty of diners entered the restaurant before the picket formed and a number briskly darted out of the building after paying their bills.
"We're going to continue sending a message to the Takaras of the world, who think they can get away with exploiting immigrant workers," shouted Patrick Hickey, director of the Workers Rights Center, to the activists organized to support the cause. 
The man who sparked the protest, Salvador Luna, a former Takara dishwasher who a state investigator determined was owed $12,000 in unpaid wages, thanked the crowd for supporting his fight.
Luna, a Spanish-speaker, discussed his grievances through an interpreter with the Cap Times.
He initially sought help from the Workers Rights Center in Madison because he was concerned about the long hours he was working as a dishwasher. He said he was typically coming into work at 11:30 a.m. and not leaving until 11 p.m.
"I like to work and I like my job," he said. "But I was working so I went to the Workers Rights Center to fight this situation because I felt tired."
"I was afraid at first because I needed to work. I have to pay rent," he responded when asked if he feared retaliation for reaching out to the WRC.
Luna said he left Mexico six years ago, stopping in Chicago and later Madison, because of the lack of job opportunities. He said he has children in Mexico whose educational expenses he supports with his wages here.
"The money that I was earning with them was little, but that little bit helped pay for studies in Mexico for my kids," he explained. "They (Takara owners) are good people because they had me there, only that the wages were very little."
On Thursday, David Mandell, an attorney for Takara, said that the restaurant had been unable to obtain Social Security numbers for Luna and his partner, Yolanda Capetillo, who has also filed a complaint against the company. As a result, taxes were not being deducted from their paychecks and Mandell claimed the workers' take-home pay exceeded minimum wage.
Luna said he was unaware of any demands for social security numbers from management.
"They gave me a sheet and my son helped me fill it out and that's it," he said.
He declined to comment on his immigration status.
Hickey said that shortly before the protest, Mandell contacted the WRC and signaled an interest in resolving the dispute quickly, a development that Hickey attributed to the rally, which restaurant owners claimed to be unaware of as recently as Thursday.
Personnel at the restaurant declined to comment, referring questions to Mandell, who could not be reached for comment Friday afternoon.
Among the attendees were members of various labor unions along with other community figures, such as Rabbi Bonnie Margulis from the Wisconsin Faith Voices for Justice and Dane County Sup. Heidi Wegleitner.