In the week preceding Gov. Scott Walker's 2012 recall election, amid a flurry of attack ads from all sides, one commercial treated Wisconsin television viewers to 30 seconds of supposedly home-spun Wisconsin wisdom.
"I didn't vote for Scott Walker," said a man leaning over a dock, fishing. "But I'm against the recall."
"Recall isn't the Wisconsin way," said another guy.
It concluded: "End the recall madness. Vote for Scott Walker."
The ad was sponsored by the Coalition for American Values, a mysterious Virginia-based group whose rather primitive website offered interested parties little more than a series of patriotic-themed photos — a solider greeting his son, a girl holding a flag — and an address for mailing donations. There were no names of those responsible for running the organization listed on the site.
Since the ads explicitly advocated for the election of a candidate, the group was required to report the spending to the state Government Accountability Board. But the report submitted by the Coalition for American Values didn't offer any insight into where its money was coming from. The only donor it listed was itself.
It wasn't until a year-and-a-half after the election that the source of the group's money was finally revealed by the Center for Media and Democracy, a liberal watchdog group based in Madison. By looking at tax documents for various political groups, the CMD discovered that the Center to Protect Patient Rights (CPPR), one of the many political nonprofits linked to billionaire brothers Charles and David Koch, had been the group's sole donor.
The Center for Media and Democracy filed a complaint with the accountability board, accusing the Coalition for American Values of failing to disclose its donors, as all "express advocacy" groups are required to do. The complaint has precedent — late last year, CPPR paid a $1 million fine in California for campaign finance violations.
While it will be heralded as a victory for transparency if the Coalition for American Values is reprimanded for its activities, it's easy for such groups to avoid legal snafus and still spend unlimited amounts of money influencing voters.
Many of the most important political groups in Wisconsin are not required to report any of the money they spend on political ads. Why? Because the ads they run are technically classified as "issue ads," meaning they avoid using specific words, such as "vote for" or "vote against." Instead, they often bash or praise a candidate without specifically telling voters what to do at the polls.
It is this distinction between "express advocacy" and "issue advocacy" that a judge reportedly cited last week in rejecting the subpoenas that prosecutors sought for conservative groups in an ongoing John Doe investigation into illegal coordination between the Scott Walker campaign and independent political groups during the 2012 recall campaign. According to anonymous sources cited by the Milwaukee Journal Sentinel, Appeals Judge Gregory Peterson said there was no probable cause of illegal coordination since the groups cited in the case were not engaging in "express advocacy."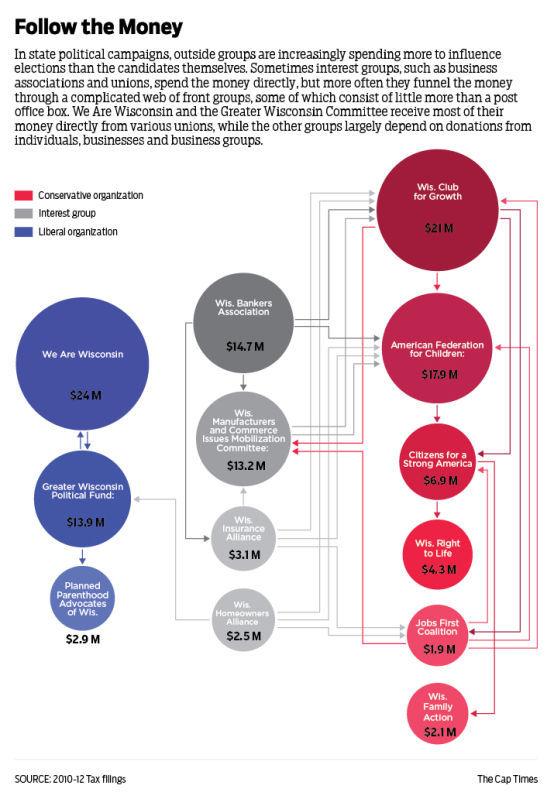 Essentially, the distinction allows these groups to do much of what political campaigns dream of doing: Raising and spending unlimited money without having to tell people where it is coming from.
Indeed, finding out who is funding these groups is difficult, if not virtually impossible. The only method for discovery is the IRS 990 form that all nonprofits are required to file annually. Although nonprofits are not required to list their contributors, they do have to list any large contributions they made to other groups.
Those willing to pore over documents for hours, if not days, might get a glimpse of where some of the money is coming from. Here's what the Cap Times found out about some of the biggest players in Wisconsin politics.
Wisconsin Manufacturers & Commerce and
Wisconsin Club for Growth
In addition to a cadre of lobbyists, most of whom are plucked from the staffs of Republican legislative leaders, Wisconsin Manufacturers & Commerce has an affiliate organization, the WMC Issues Mobilization Council, which regularly dumps millions of dollars into "issue ads" attacking Democrats and boosting Republicans.
Last summer, more than a year before the 2014 governor's election, the group produced ads thanking Walker for improving Wisconsin's business climate and creating jobs. That one ad blitz, which cost an estimated $1 million, amounted to more than half of the $1.8 million that Democratic gubernatorial candidate Mary Burke reported raising during the first four months of her campaign.
While most of the money for WMC's main organization comes from dues that member businesses pay, the money for its political arm comes exclusively from voluntary contributions, either from member businesses, individuals or outside organizations. Any contributions coming directly from companies or individuals is nearly impossible to track, however, since that information is not public.
What is clear from the tax records of other large political organizations in the state, however, is that one of WMC's largest donors is the Wisconsin Club for Growth, the state affiliate of the national anti-tax group founded by New York City money managers in the 1980s.
In 2012 alone, the Club gave nearly $3 million to the WMC Issues Mobilization Council, about 45 percent of the $6.7 million that the group raised that year. Another big donor is the Wisconsin Bankers Association, which WMC executive director Kurt Bauer ran before taking his current position. The bankers group contributed $213,000 over the two years prior to the 2012 recall election.
"The vast majority of our donations come from WMC members, and that was true in 2012 as well," Bauer wrote in an email in response to questions. "The Club stood out in 2012 in terms of overall dollar amounts, but they were still just one donor of many. We have many donors, and some give more than others."
Sometimes the money moves in the opposite direction. In 2011, WMC gave nearly $1 million to the Club.
In recent years, some state-based business groups that have previously donated to WMC are giving to Wisconsin Club for Growth instead. For instance, the Wisconsin Homeowners Alliance, the political arm of the Wisconsin Realtors Association, has given no money to WMC in recent years, but directed more than $1.1 million to the Club for Growth between 2010 and 2012. Similarly, the Wisconsin Insurance Alliance gave more than $400,000 to the Club in those three years, but only $5,000 to WMC.
As a result, the Club's revenue ballooned from just more than $1 million in 2010 to over $12 million in 2011. In 2012, its revenue dropped to $8 million, still greater than WMC's total of $6.7 million.
Both groups finance ads to boost Republican candidates or funnel the money to other conservative groups. Both have contributed substantially to the American Federation for Children, a Washington D.C.-based group that campaigns for private school vouchers.
Although both groups claim to be devoted to promoting free-market or business-friendly economic policy, they have both strayed from that focus to help elect conservative candidates.
For instance, in 2011, the Club donated $4.6 million — more than a third of its budget — to Citizens for a Strong America, a group that received no other donations that year, had no paid employees and listed a post office box in Columbus, Wis., as its address.
Citizens for a Strong America then directed a large portion of that money to socially conservative organizations. Most notably, it gave $916,000 to Wisconsin Family Action, a group that stridently opposes gay marriage and abortion, and $347,582 to the anti-abortion Wisconsin Right to Life. Those contributions accounted for more than 90 percent of Family Action's revenue that year and roughly 14 percent of the revenue for Wisconsin Right to Life.
The director of the state Club for Growth, Eric O'Keefe, who has complained to the Wall Street Journal editorial board about the targeting of his organization by an ongoing John Doe investigation, did not respond to requests for comment.
Greater Wisconsin Committee
Before the U.S. Supreme Court's landmark Citizens United vs. Federal Election Commission decision, which allowed corporations and unions to campaign independently for candidates, Greater Wisconsin Committee was pitted against WMC and other conservative groups in the issue ad game. In the post-Citizens United era, GWC runs express advocacy ads that explicitly support Democrats or oppose Republicans.
As a result, GWC, run by a single employee with a post office box for an address, is required to disclose any money that it spends on ads to the Government Accountability Board. The money received by its spending arm, the Greater Wisconsin Independent Political Expenditure Fund, is disclosed as well. Almost all of the contributions come either directly from a handful of large unions, such as the American Federation of State, County and Municipal Employees (AFSCME) and the Wisconsin Education Association Council (WEAC), or through a union front group, We Are Wisconsin, founded during the first round of recall elections to raise money from state and national unions.
However, there appears to be some significant contributions that GWC manages to avoid disclosing. For instance, the $100,000 it received in 2012 from the Wisconsin Homeowners Alliance. While that donation was listed on WHA's tax documents, it was nowhere to be found on GWC's campaign finance documents.
Why? Likely because WHA reported the donation was for "issues advocacy." Therefore, GWC does not have to report the contribution.
GWC executive director Rich Judge declined to comment specifically on the WHA donation, but said that his group discloses all contributions it is legally obligated to disclose.
The American Federation for Children
Backed largely by the billionaire DeVos family of Michigan, AFC is the one major conservative group in Wisconsin that engages in express advocacy for candidates. Although its Wisconsin chapter typically supports Republicans, it spent a significant sum of money in solidly Democratic districts to promote Democratic primary candidates who support private school vouchers.
Little is known about where the money AFC spends on Wisconsin elections comes from.
Although the group reported receiving $40,000 last year from the Metropolitan Milwaukee Association of Commerce, AFC reports getting the rest of the money from its national organization, which is not required to disclose its finances to the state.
"Out-of-state groups are only required to report income they receive from sources within Wisconsin," explained GAB spokesman Reid Magney last year. "Money they receive from sources outside Wisconsin does not need to be reported to the state of Wisconsin."
Other Wisconsin groups give substantially to AFC, however. Its donors in recent years have included WMC ($185,000), Wisconsin Club for Growth ($250,000), the Wisconsin Bankers Association ($10,000), the Wisconsin Insurance Alliance ($10,000) and the Wisconsin Homeowners Alliance ($30,000).
One of its most significant donors in Wisconsin was a group based in Brookfield called the Jobs First Coalition, which gave AFC $245,000 in 2011. Not much is known about the coalition, which is run by Bob Reddin, a Brookfield alderman, according to the group's 990 form.
In response to requests for comment and its latest 990 form, somebody from the group responded via the group's email account without identifying him or herself. The person agreed to send the 990 form via mail, as required by law, but did not respond to any further questions.
It is clear that the coalition's money comes largely from the same sources that are funding the other big conservative groups in the state. Nearly half of the $927,000 it raised in 2011 came from the Club for Growth, which gave it $425,000. In 2011-2012 it also received $150,000 from the Homeowners Alliance and in 2010 it received $25,000 from the Wisconsin Insurance Alliance.
Americans for Prosperity
It is difficult to trace money directed to Americans for Prosperity, the national conservative behemoth founded by the Koch brothers a decade ago. Although the group boasted a budget of $125 million in 2012, considering the wealth of its backers, it did not need to solicit much money from other organizations.
Whereas most major political organizations in the state, which are registered under the IRS 501©(4) section, are allowed to engage in political communications and even openly support candidates, AFP is registered as a tax-deductible charitable organization, meaning it is barred from "directly or indirectly participating in, or intervening in, any political campaign on behalf of (or in opposition to) any candidate for elective public office."
Thus, all of AFP's activities are conducted under the guise of "voter education activities." Much of AFP's funding is directed toward events, such as rallies and conventions. But many millions also financed TV ads clearly intended to boost Republican candidates, including Mitt Romney and Scott Walker.
In 2011 and 2012, AFP teamed up with the MacIver Institute, a conservative think-tank, on an ad campaign promoting Walker's policies. The Wisconsin Democracy Campaign, an election watchdog group, estimated that the ads cost $3.7 million. AFP President Tim Philips told CNN that his group spent $10 million in 2011 and 2012 promoting Walker's policies.
While AFP's funders are hard to identify, records indicate that MacIver receives a substantial portion of its budget from the Lynde & Harry Bradley Foundation, a conservative foundation based in Milwaukee that doles out tens of millions of dollars annually to right-leaning think tanks and advocacy groups.
In response to the AFP-MacIver ad campaign, the Wisconsin Democracy Campaign filed a complaint with the IRS, arguing the groups had violated their charitable status.
"These groups are gaming the tax code to play electoral politics while masquerading as charitable organizations," WDC director Mike McCabe said in a March 2012, statement. The IRS responded that it would consider the matter, but has not said anything further.
Proposed solutions
So far, no state has implemented meaningful regulations that require issue advocacy groups to disclose their donors.
In Wisconsin, the attempts to do so have been stymied by both political parties and political groups across the spectrum. For instance, in the wake of the Citizens United decision in 2010, the GAB put in place a rule that would have required disclosure from any group that runs an ad or mailing within 60 days of an election that is subject to "no reasonable interpretation other than as an appeal to vote for or against a specific candidate."
The Club for Growth and One Wisconsin Now, a small, union-backed group that does not run TV ads but engages in online communications, sued to block implementation. The sides reached a settlement and GAB has not since enforced the rule.
In addition, when Democrats were in control of the Legislature in 2010, a bill that would have required disclosure of issue ad groups passed the Senate but was not taken up by the Assembly.
"The leadership in the Assembly and a couple Assembly Democrats didn't want to bring it up," recalls Sen. Jon Erpenbach, D-Middleton, one of the bill's sponsors, who says that some in his party believed they could benefit from the secretive groups.
Mike Wittenwyler, an attorney who represents the Club for Growth and other political groups, says such a law would be unconstitutional. Specifically, it would run counter to a landmark 1976 Supreme Court ruling that recognized a fundamental difference between ads that expressly advocate for candidates by using specific words, such as "vote for" or "vote against," and ads that avoid such terms.
That does not mean, he says, that the state can't regulate issue ads. What it could do, he suggests, is set up a framework that mimics existing regulations for federal elections. Currently, the federal government requires that all ads that mention a candidate within 60 days before an election disclose the spending.
"If the state adopted a statute like that, it depends on what it looks like, but (it might pass constitutional muster)," he says.
While such a system would force groups like WMC and the Club for Growth to immediately disclose how much they have spent on TV ads and other communication, it might not force them to disclose their donors. As is the case in federal elections, many big groups report that none of the money they received was intended to specifically fund ads, and therefore does not have to be disclosed.
Others have suggested that raising contribution limits for candidates will take some of the money out of the independent sphere. It was that reasoning that led a bill to double the amount that state candidates could accept from contributors to pass the Assembly overwhelmingly last year, although it is now stalled in the Senate.
"If we have artificially low limits, money is going to flow into the independent expenditures, which is not good for anybody," said state Sen. Glenn Grothman, R-West Bend.
Erpenbach and other disclosure advocates dismiss that reasoning out of hand. First, the amount of money one can give to a candidate still pales in comparison to the six or seven figure sums that corporations and wealthy individuals can give to independent groups. Second, why would donors give to candidates and have their donations disclosed when they can give secretly to independent groups?
Said Erpenbach:"The people who give to Americans for Prosperity don't want their names out there."