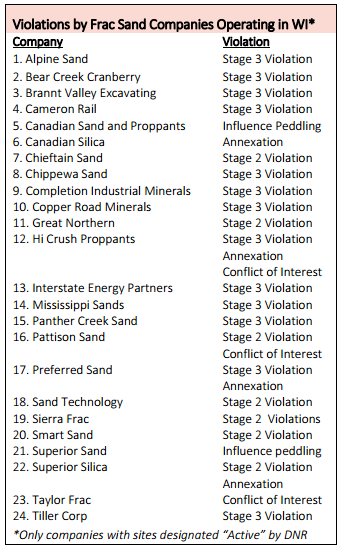 The report examined data from the DNR and media reports and was conducted by a Minnesota-based non-profit working toward sustainable agriculture and stewardship of farmland.
The report says that frac sand industry representatives in both Wisconsin and Minnesota call violations and abuses of public trust isolated incidents by "bad apples" or new, inexperienced companies.
"However, the data paints a picture of an industry in which violations are the norm, not the exception, and insider dealing, conflicts of interest, and influence peddling are common," the report says.
The frac sand industry has proliferated in Wisconsin in recent years as hydraulic fracturing, or "fracking," has grown around the country. The technique creates cracks in rock below the earth's surface and uses water, frac sand and chemicals to expand the cracks and extract natural gas and oil.
The majority of frac sand used nationwide comes from Wisconsin, since it has abundant resources of the silica sand, or quartz, used for fracking. The number of facilities, active and inactive, has increased from about 10 in 2010 to 135 in 2014, according to the report.
The boom has created wide concern about environmental impact, regulations and violations.
The DNR has three stages of violations. Stage 1 consists of a notice to a company identifying the problem and telling them to change its practices. Stage 2 occurs when the site is still in violation without corrective action and the DNR sends another letter and arranges a conference. Stage 3 comes into play when the company still does not remedy the problem, in which case it is fined, given a citation and/or referred to the Wisconsin Department of Justice for a settlement.
Of the 47 companies operating active frac sand sites, 20 had committed a stage 2 violation, and 13 of those proceeded to a stage 3 violation, meaning they continued to violate regulations even after a notice and enforcement conference with the DNR. Those companies were fined, issued a citation or taken to court.
Yet many have said the fines and consequences do little to deter the violations.
The report only examined stage 2 and 3 violations, since stage 1 violations are not kept track of centrally. The report also says some violations likely go unreported.
Beyond DNR violations, the report also examines manipulation of local governments, influence peddling and conflicts of interest.
City governments sometimes annex a proposed mine site, subjecting the company to a city's regulations rather than county or township regulations on aspects like hours of operation or noise.
"Influence peddling," meanwhile, involves frac sand companies hiring local officials after a mine is approved.
The report lists five instances of this practice, including Chippewa Falls Mayor Dan Hedrington taking a job with Canadian Sand and Proppants while it was applying for permits in the city and a Buffalo County zoning administrator leaving his job to work for Superior Sand Systems right after the company received its conditional use permit.
The report also lists six instances of perceived conflicts of interest\ where local officials have personal interests in frac sand mining.
In all, the report concludes 24 of the 47 frac sand companies operating in Wisconsin have "committed serious ethical breaches or violations of DNR regulations."
In October, the board chair directed the DNR to review the petition and report back with recommendations, according to Wisconsin Public Radio, either at its Dec. 10 meeting or next year.