Turtles often hiss and snap at the humans tightening the screws on the metal braces holding together cracked shells. To avoid getting nipped, handlers gently but unceremoniously shove smaller turtles' heads back into their shell using strips of gauze. In the case of 2-foot-long snapping turtles, they swap out gauze for a toilet plunger to the face.
When it comes to the flapping, scratching protests of red-tailed hawks, handlers slip hoods or towels over their heads, since the loss of visual stimuli helps keep the birds calm. Sometimes, grabbing a hawk by its legs is enough to make it go inert. As University of Wisconsin veterinary resident Cameron Ratliff explained while giving a hawk physical therapy, that immobility is a fear response.
"You got me. I give up. Don't hurt me," he said, describing the headspace of the stupefied bird getting its wings stretched.
In a way, cuts and scratches are a good thing: The center's goal is to keep wild things wild.
"When you work with dogs and cats, there's a reward for the person. You get to pet them and play with them. They show you affection," said Brooke Lewis, the center's wildlife rehabilitation supervisor. "With wildlife, you are not trying to interact with them. You do not want them to like you."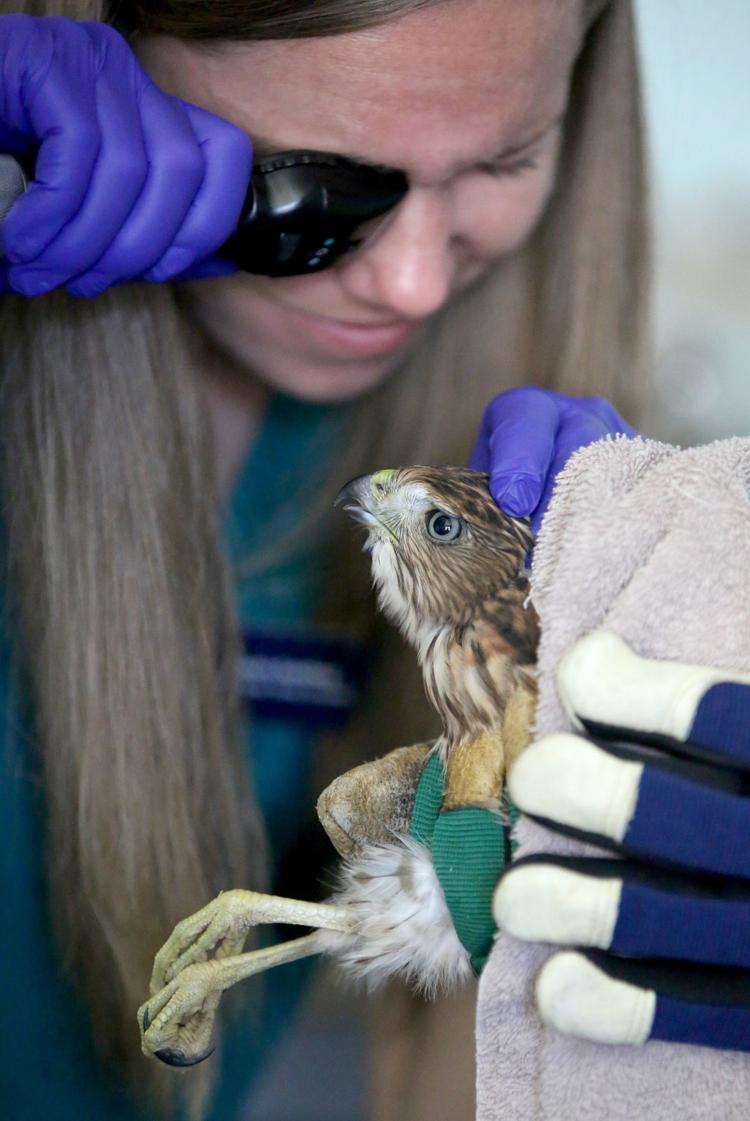 The DCHS Wildlife Center is part of a small but passionate network of wildlife rehabilitators in Wisconsin. They are people who have dedicated their lives to working with injured animals, on demanding schedules and with little or no pay, in the hopes of sending as many critters as they can back to their habitat with a reasonable chance of survival.
Some state-licensed rehabilitators work at facilities like the Wildlife Center, while others work out of their homes. All are united by a love of animals, even if those animals don't love them back.
Wildlife rehabilitation shines a light on trends that are shaping Wisconsin's ecology — the spread of diseases, the ebb and flow of wildlife populations, and most prominently, the profound impact that humans have on the landscape. Madison and its surrounding communities are growing and encroaching on wildlife habitats, and the vast majority of wildlife injuries that rehabilitators see are caused by humans.
"Wildlife rehabilitators have a rooting-for-the-underdogs mentality," Lewis said. "Wildlife, they're looked at as a nuisance or trouble. But we can appreciate them for their role in our world. And we can also appreciate the stresses (on) them from the role humans play in their world."
A medical menagerie
The Wildlife Center is tucked around the side of the Humane Society's headquarters on Voges Road, on a small wooded property just north of McFarland. It's a sprawling campus of critters: In addition to a red barn full of juvenile songbirds and mammals and an exam room in an adjacent building, the center features dozens of outdoor enclosures. Some are occupied by ducks waddling in and around tanks of water. Others contain scampering woodchucks, snoozing opossums, or owls that silently huddle on a corner perch.
The center, one of many dedicated rehabilitation facilities around the state, rarely has a slow day. In summer, its staff claims to handle an average of about 19 admissions daily, and an average of 33 phone calls from people who have found an animal that might need help. The center handled 3,878 patients in 2018, a 25 percent increase from the year before.
Eastern cottontail rabbits, common snapping turtles and gray squirrels are the most common patients, together representing about 35 percent of all intakes last year. Of those patients, the most common cause of injury is a collision with a motor vehicle. Also common are bird strikes against buildings and attacks by dogs or cats. A large proportion of intakes are baby animals whose parents are dead or missing.
Rehabilitation is seasonal, and the majority of cases come in during spring and summer. Turtles with fractured shells flood the center in those warmer months. The reptiles tend to wander during their breeding and egg-laying season, getting hit by cars in the process. In winter, bats are more common — they'll hibernate inside of a house, waking up prematurely due to the warmth.
The center saw 158 species come through its doors in the past year, under all kinds of circumstances. Tundra swans are found dehydrated and lethargic on frozen lakes. Bats get hurt flapping around a Menards storage warehouse. Owls get tangled up in fishing lines.
The diversity of species and injuries enchanted Erin Lemley, the wildlife rehabilitation coordinator at the center, when she first began volunteering there in 2010. She said she got hooked by "the ability to learn something new about animals every day, and to see a new situation every day."
She quit a well-paying job to pursue a veterinary technical degree. Now, she's one of six full-time staff members, in addition to the dozens of volunteers, interns and seasonal workers who help keep the center running.
The center's day-to-day operations include checking in on patients, dispensing antibiotics and pain medications, conducting X-rays and blood work, cage cleaning, preparing patients for release, and handling calls and intakes. On Wednesdays, UW veterinary residents visit the center to consult on trickier cases and perform surgeries.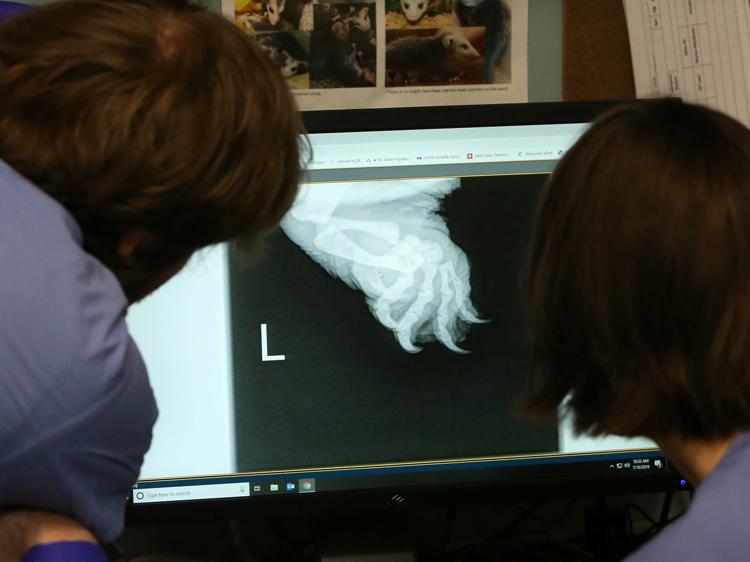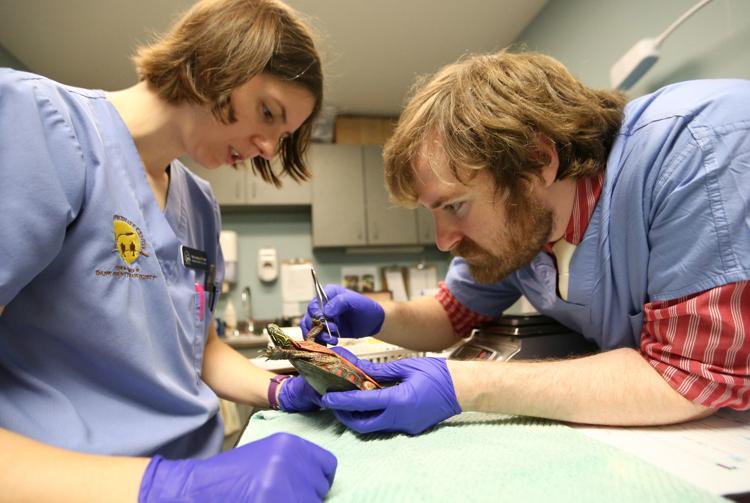 Working the phone lines is a critical part of the centers' operations. By talking callers through their situation — whether they just hit a rabbit with their car, or if they found a baby squirrel in their yard —  staff and volunteers can figure out if rehabilitation is needed in the first place.
"Camera phones have been the greatest invention for us," Lemley said. "We can see exactly what they're seeing. And a lot of time we can tell right from there, does that animal need help or not?"
Staff and volunteers can walk callers through the process of reuniting a baby squirrel with its mom (put the baby back in the nest if possible, or nestle it within some cloth or a "reuniting box" and leave it nearby), or reassure callers that a fawn they've spotted curled up in some underbrush is just fine on its own. In cases where an animal does need help, they walk the caller through containing the animal in a basket or a box and bringing it in.
Ratliff, the UW veterinary resident who does weekly rounds at the Wildlife Center, said that it's clear that lots of people feel compelled to do right by wild animals.
"We have no shortage of people who want to do their part. They're tired of their daily grit and grind. And then they see an animal on the side of the road, then they're on the phone to see what to do," he said.
Well-meaning people also have the capacity to do harm, Lemley said.
"It's not like their hearts aren't in the right place," she said. "They see something and think, 'Oh, I can do that.' And then they don't call us until things are going wrong."
Lemley has seen cases of people feeding baby birds milk — "that thing that famously birds don't make," she noted. She's heard of turtles that need to be euthanized after overzealous amateurs try to fix cracked shells with a hot glue gun, inadvertently damaging internal organs.
Certainly, rehabilitation can sometimes be "like arts and crafts," she conceded, using a Dremel to shape a snippet of wire mesh to go on the underbelly of a spiny softshell turtle. That doesn't mean it's easy.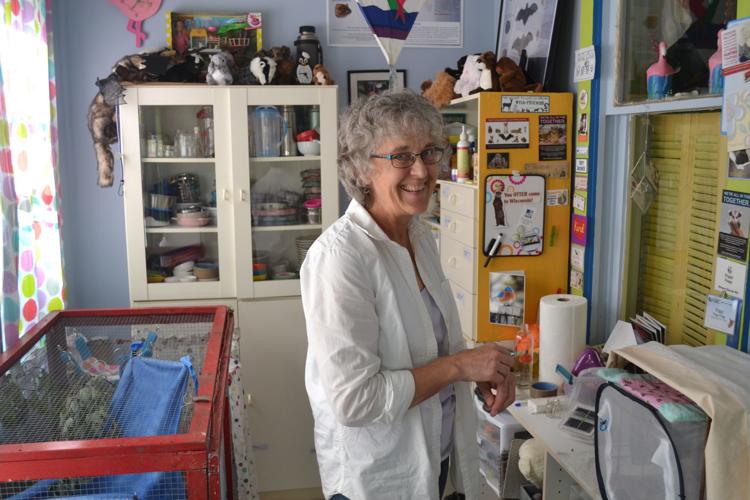 House call of the wild
The Wildlife Center turns away a lot of animals. Since they're not a 24-hour facility, they can't admit baby mammals requiring round-the-clock feedings. That's where independent rehabilitators like Peggy Popp come in.
It's not clear when Popp's day starts, precisely. The baby mammal specialist wakes up in two-to-four-hour intervals throughout the night to feed formula and mealworms to baby bats that she keeps on the back porch of her Mount Horeb farm style house.
"I learned this from a Marine. He said, 'There's one thing you need to make sure you get: One solid, three-hour stretch so you get all your R.E.M. cycles. And then you can go indefinitely,'" she explained cheerfully.
In the morning, she's off to her job at an engineering firm, often with patients in tow in a small incubator to keep the feedings up. She said she's never talked to her supervisors about the fact that she brings baby animals to work.
"There's a 'Don't Ask, Don't Tell' kind of thing," she said.
The rest of her time is dedicated to taking care of the minks, weasels, woodchucks, flying squirrels and rabbits in her home — feeding them, cleaning, keeping records, and talking with people who call her about animals in need. She also likes to sit back and observe her patients — one of her favorite pastimes, she said, is to take out a baby weasel onto her back porch, and watch it zip around "and do its weasel thing" while she sips coffee in the morning.
Popp has been a licensed rehabilitator since 1987, although she said she's been unofficially in the field since childhood, when she would take orphaned baby squirrels with her to school. Today, she's one of the many rehabilitators around the country who do the work on their own time, out of their home.
Popp doesn't get paid, aside from a few donations and community grants here and there. She pays out of pocket for things like food, feeding syringes and rubber nipples, and on enrichment structures like the chutes and tunnels that the babies play in. She recently worked with some volunteers to build large wood-and-mesh enclosures in her backyard. There, juvenile animals will be able to learn to hunt, deal with inclement weather, and acclimate to the sights and sounds of the outdoors.
Popp thinks of public outreach as a perk of the job. She's made a Facebook page called "Scenes from the Wildlife Baby Room" that's attracted a few hundred followers. She posts photos of minks and weasels darting around their enclosures, along with tidbits of information about the critters under her care.
"The majority of this is, it's on our own time and it's on our own dime,"  she said. "Most people appreciate that, but not everybody. They're like, 'I'm gonna contact your boss and tell them about how terrible it is that you wouldn't come out here to capture this fox we saw running across the road!' And I'm like, 'Good luck.'"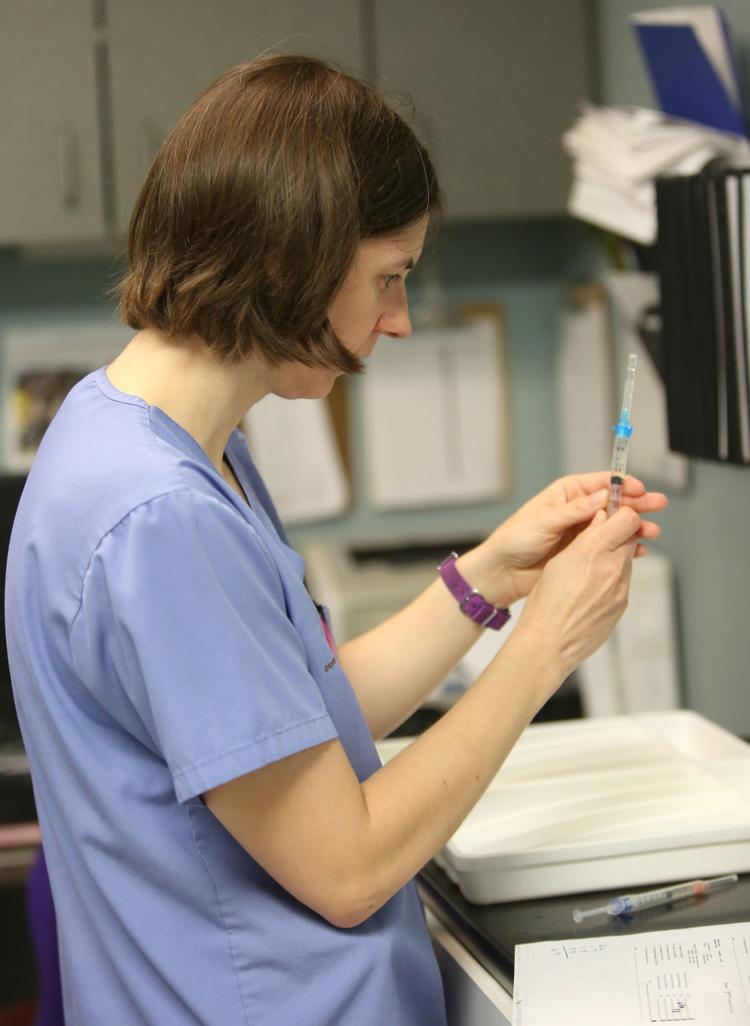 Lots of work for little or no pay is common in wildlife rehabilitation, even for those working full-time at dedicated facilities. Lemley said she makes about $12 per hour at the Wildlife Center, which relies exclusively on donations for revenue.
"I could make more working at a gas station. We do the best with what we can with what we have," she said.
Lewis, the Wildlife Center's rehabilitation supervisor, also serves on the state's Wildlife Rehabilitation Advisory Board, a committee that advises the Wisconsin Department of Natural Resources on policy matters. A big agenda item for Lewis is figuring out new ways to help pay for rehabilitation, particularly as caseloads soar for independent caretakers and shelters alike. Options could include letting people make donations on their tax forms, or by registering for wildlife-themed license plates.
Popp said she's happy to do rehabilitation regardless of any money, just to be around animals.
"I just love the babies. I do this for me as much as anything else," she said.
For Lemley, there are larger concerns that also drive her work.
"We are building and expanding into animal habitats, without too much thought about what that's doing for the animals," she said. "It's part of our responsibility, as people who are affecting the lives of these animals, to give something back."
Changing landscape
David Drake, a professor of forest and wildlife ecology at UW-Madison and a UW Extension specialist, said that there's a lot that's still unknown about how wildlife interacts with urbanized landscapes. He's partnering with the Lincoln Park Zoo in Chicago on a nationwide research called the Urban Wildlife Information Network to help change that, examining the relationship between animals and things like zoning and population density. He has already set up a small network of trail cameras to monitor animal activity across Madison for the network.
What's indisputable is that growing cities like Madison have a profound impact on wildlife. Not all of it has necessarily been negative, either. Some species benefit from the way humans "fragment the landscape," Drake said.
"When you fragment the landscape, you're creating an edge where two or more vegetation types come together — where a wooded landscape meets a grassy landscape," he said. Species like deer, skunks and geese thrive in those environments.
As is evident from wildlife rehabilitation, urbanization is also harming animals. More roads mean more vehicle collisions, and higher buildings mean more window strikes.
While she hasn't analyzed the center's numbers, Lemley said suspects that climate change is also taking a toll. She said the center took in injured ground squirrels following last year's flooding, for example, and that extreme weather from last winter was hard on opossums.
Drake doesn't weigh in on the question of what people owe wild animals, since it's complex and highly subjective. The question is further complicated by the conflicts that arise between wildlife and humans, like when geese interrupt flight paths, or coyotes attack dogs.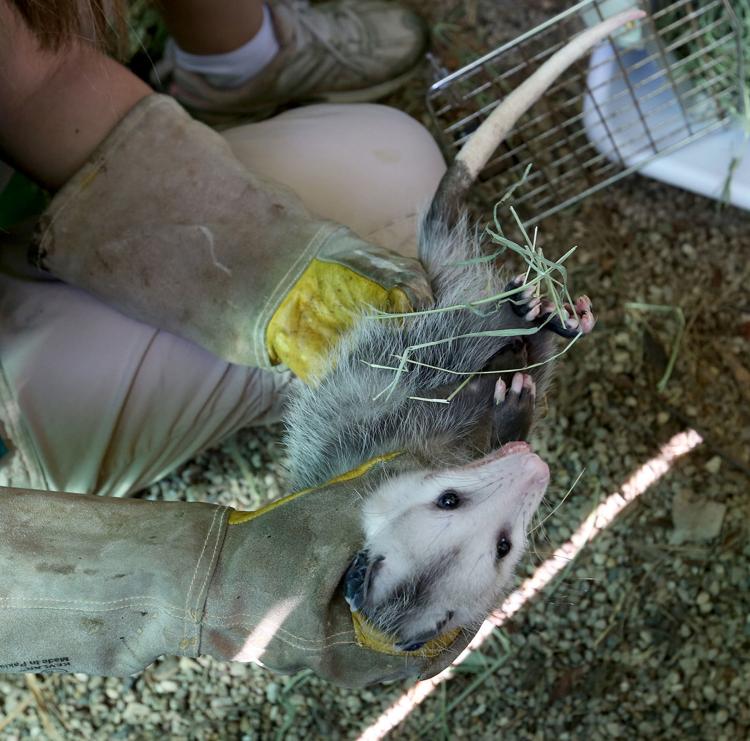 However, he said that there's clearly a large population of people who value having wildlife in their environment, and in helping animals out.
"Generally, the human condition is, we're an empathetic bunch. We want to protect animals, and take care of animals," he said.
Rehabilitators say they feel a moral obligation to help any animal in need, and focus on making a difference in the life of an individual creature. But Lewis acknowledged that rehabilitation can have a complex relationship with ecology. The center has a history of using ecology to inform its practices — since its founding, it has declined to care for invasive species. However, some cases create dilemmas.
"Occasionally, we get people who rescue a baby bunny from a hawk," she said. "And in those cases we're like, 'Oh, that's kind of a bummer for the hawk.'"
She added that it's not clear whether the center's work makes a statistical dent in overall populations. "We understand that by rehabilitating one bird, or one squirrel, or even 400 squirrels that we have in a year, that's not a big impact," she said.
What could make a dent, though, is the data that the center collects. It shares its records with WILD-ONe, a national database run by the Wildlife Center of Virginia. The repository has been used by ecological and zoological researchers on numerous projects, including research on eagle populations and on the impact domestic cats have on wildlife.
"Hopefully, our data is not just helping us making decisions about our patients," Lemley said. "Hopefully, it's also helping other people around the country be able to make better policy decisions about wildlife."
Letting them go
As with most medical fields, death is a prominent part of wildlife rehabilitation. While the center doesn't release statistics, Lemley said euthanasia is one of the most important parts of her job.
"If somebody brings in a heron that was hit by a car, and both its legs are broken, I can take away its pain," she said. "And that's important too, even if it's not really what I want."
Other times, the decision to euthanize is based on whether a patient would be able to live a good life, even if it can be saved. When a mourning dove gets a claw amputated, rehabilitators have to weigh whether the bird will be able to perch comfortably, and whether the amputation could lead to chronic problems with the remaining leg.
The center donates animal cadavers to the UW School of Veterinary Medicine, or to the university's Zoological Museum: "Our ideal is that most of our patients, even if we can't save them, will be able to help somebody else out in the future," Lemley said.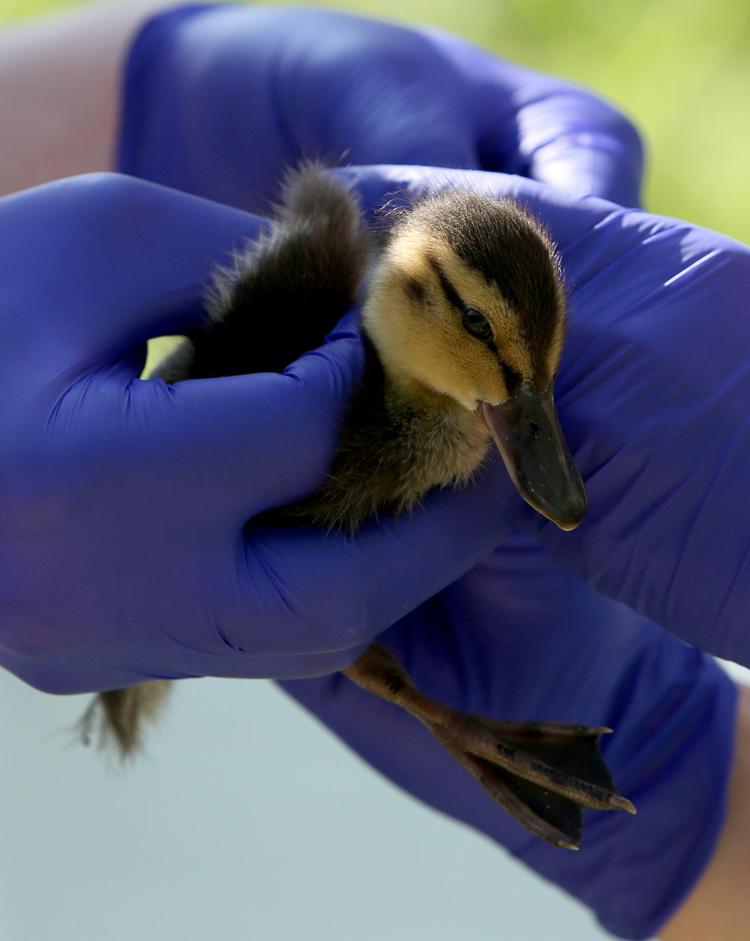 The release of patients who survive is a major undertaking itself. Rehabilitators figure out an appropriate site for release, typically near the location where the patient was found, and get permission from the property owner to let the animal go. For aquatic animals, they have to find a spot by a waterway. For all patients, they wait for accommodating weather.
While Lemley doesn't typically go on release trips anymore, she said that they're very special to witness. They're also riddled with uncertainty — there's usually no way to know what becomes of her patients.
"Are our (migratory birds) making it all the way down to South America for the winter, and then making it all the way back? We don't know," she said.
Popp also wonders about the long-term outcomes of her patients. She said she's installed trail cams near points of release in an effort to try to catch glimpses of her babies.
 So far, she said she's spotted some weasels near a release site. Another time, she released three minks, leaving behind an animal carrier that she would occasionally fill with frozen rats.
The rats, Popp said, kept getting taken throughout that winter. There's no way to know for sure who ate the rats, but Popp thinks she has a pretty good idea.