A downtown space that just six months ago held a dilapidated and unusable parking structure is now a fantastical, 10,000-square-foot children's play area filled with places to climb, nestle in and explore. The Wonderground, the latest addition to the Madison Children's Museum, made its public debut Saturday, drawing swarms of children trailed by enthusiastic parents. It's the museum's biggest expansion since moving to its current location at 100 N. Hamilton in 2010.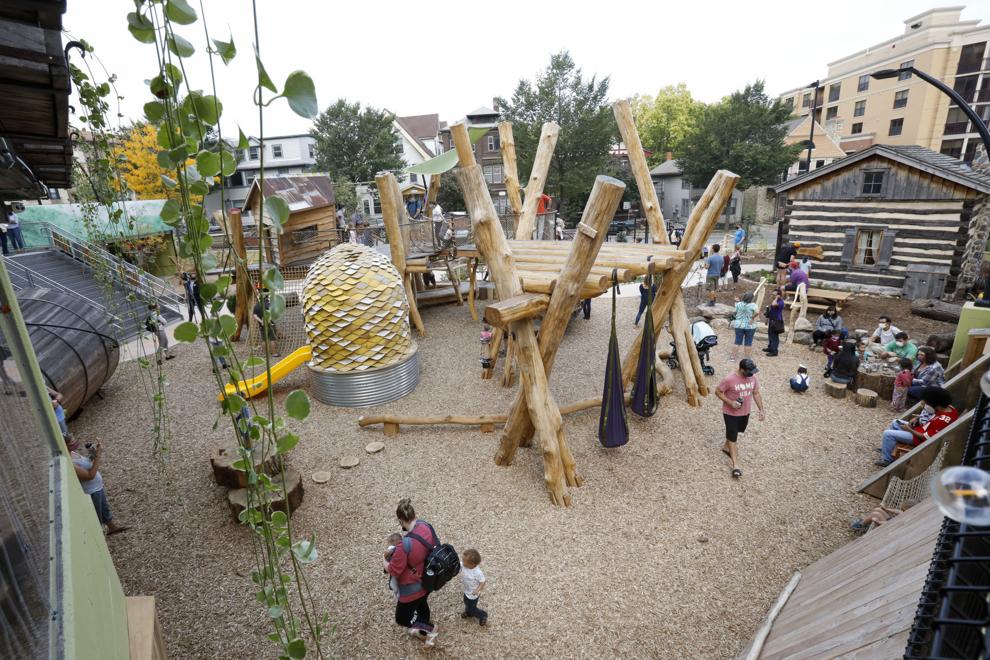 On the play area's central feature, a 23-foot tall structure called The Thicket, the most ambitious young visitors Saturday climbed a lattice of interwoven tree branches to ascend to a house and platform reminiscent of a pirate ship. Nearby, smaller children gathered around a large stump scattered with metal dishes and tiny pots, filling them with wood chips in a new take on the standard tea party. Others took turns playing quietly on the small patch of green turf beneath a teepee-like structure made of sticks.
Sally Puntney watched as her 2-year-old daughter Alice staked out a spot in the stick structure just minutes after arriving. "Alice is having a ton of fun. Everything is so new," said Puntney, whose family came down from Sister Bay to visit relatives and decided this was the day they'd finally visit the museum.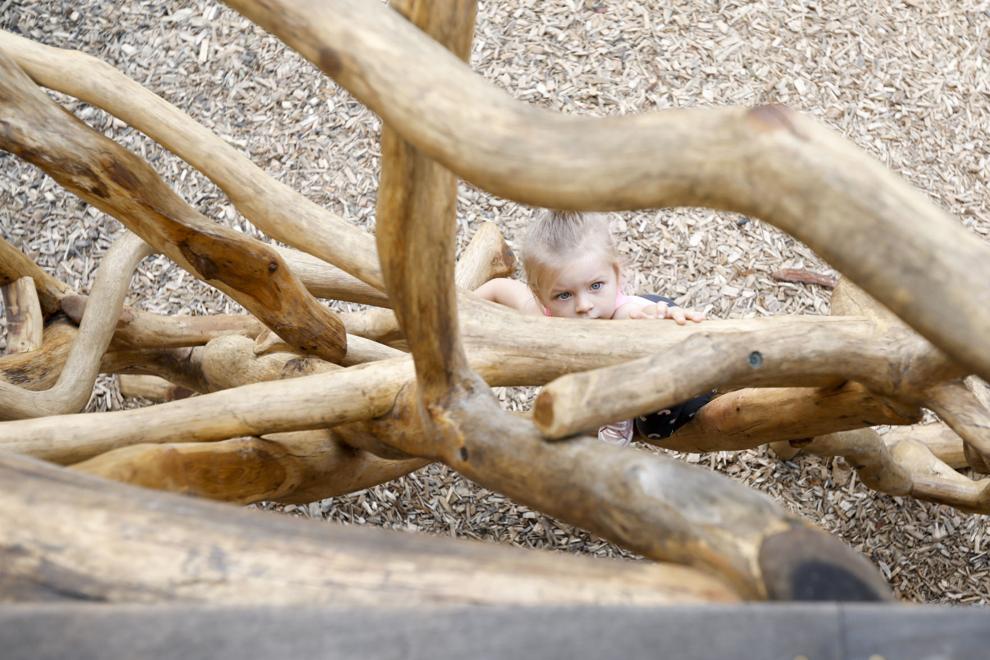 "It's so much more than a playground," said Deb Gilpin, president and CEO of the museum, watching from an upper deck as children explored below. It's designed to allow children to take risks where the stakes are low — say, jumping from an upper platform instead of using the ladder, landing on a bed of wood chips a foot deep. Such environments, Gilpin said, teach children to make their own decisions and feel compassion for others who are taking risks.
While most play equipment is made from plastic and metal, museum staff worked with around 100 contractors and artisans from across the region to design the structures with repurposed natural and manufactured materials, part of an effort to reduce the project's environmental impact. The trunks supporting The Thicket come from seldom-used black locust trees, while the yellow tiles covering the Beehive structure were cut from old fire hoses. The metal designs welded across the playhouse's windows are made from repurposed parts, and the roof is covered in license plates and steel from an old barn.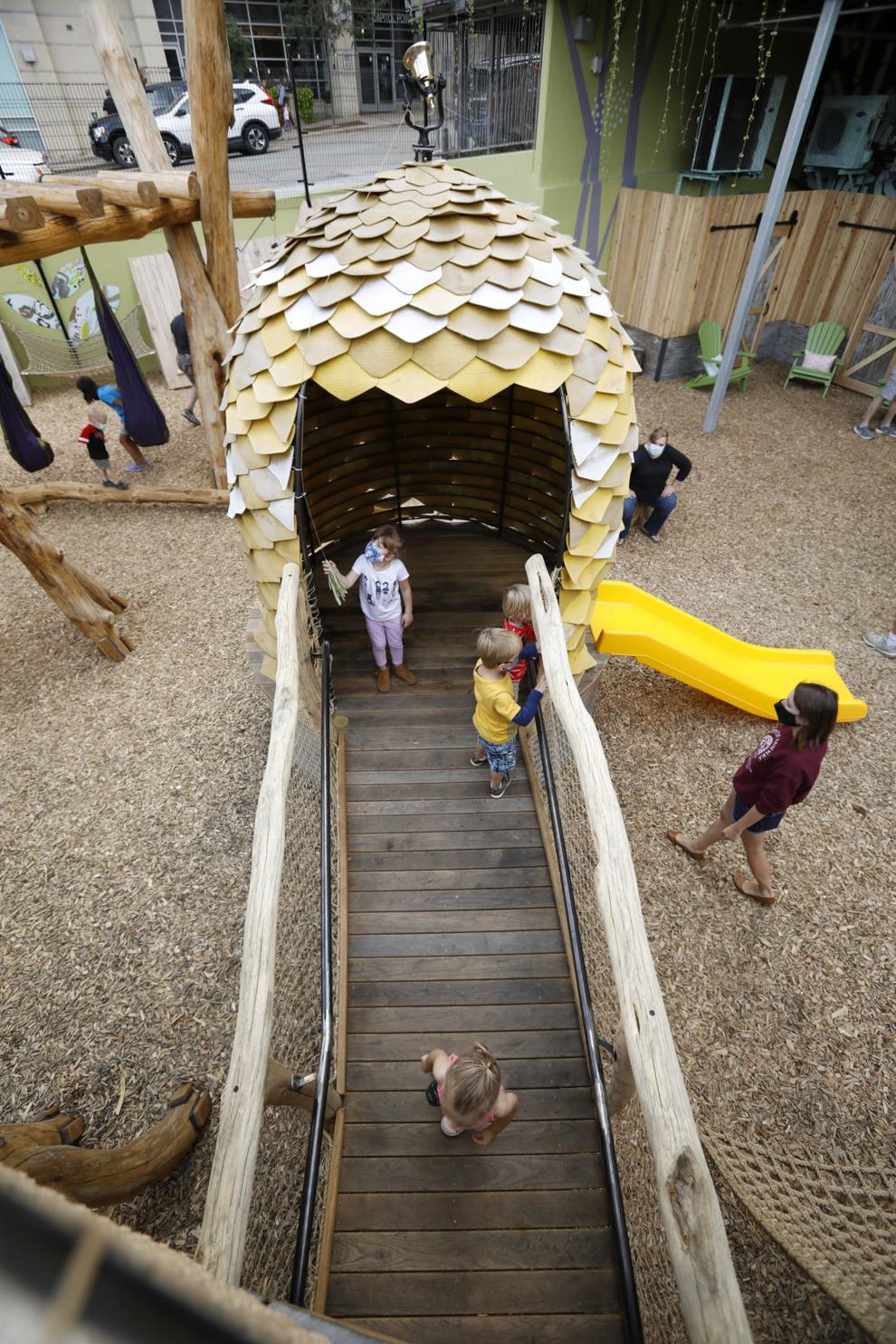 Until April, the site at the corner of E. Dayton and N. Hamilton held a two-level parking lot that the museum acquired 10 years ago with the purchase of the museum's current building. At that time, they were told that the structure would only last another five years. "It was dangerous," Gilpin said, and for the last couple of years, staff wouldn't even walk across the lot. The museum's historic 1830s log cabin, a visitor favorite that is now part of the Wonderground, had been off limits for more than two years due to concerns about the parking lot's integrity.
Staff and visitors saw that space as a waste of the museum's prime downtown real estate. Leaders proposed to demolish the structure and build a new wing of the museum topped with a new outdoor play area. But when the COVID pandemic hit, they scrapped the costly plan for a new wing and expedited construction of the outdoor component.
"It really was just about, How do we get it done in a year, so kids can be outside during COVID?"
The museum broke ground on the project in April and reopened to visitors in June after being closed for more than a year. Adding the other wing is "not out of the picture," Gilpin said, but it's not coming anytime soon. 
"It's a lot of money. So until we don't love this anymore …," Gilpin said, gesturing to the outdoor yard, that's not in the near future."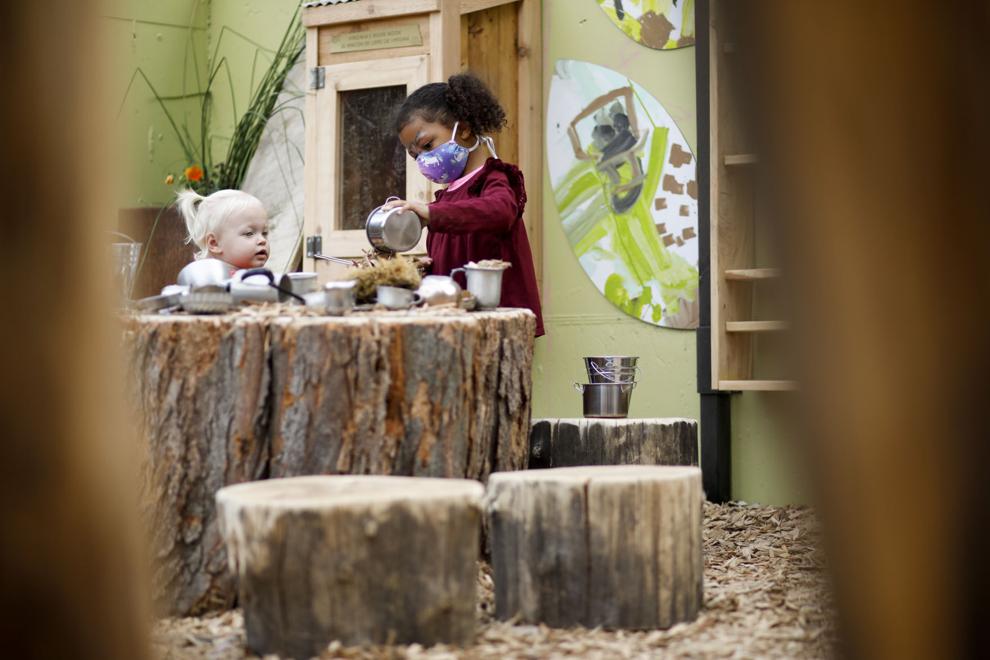 In the week leading up to the public opening, the museum let groups of children test the equipment. "It's just been really wonderful to watch it come to life," said Kia Karlen, the museum's director of education, explaining that the museum had grown quieter as COVID cases among children rose in September and as children headed back to school.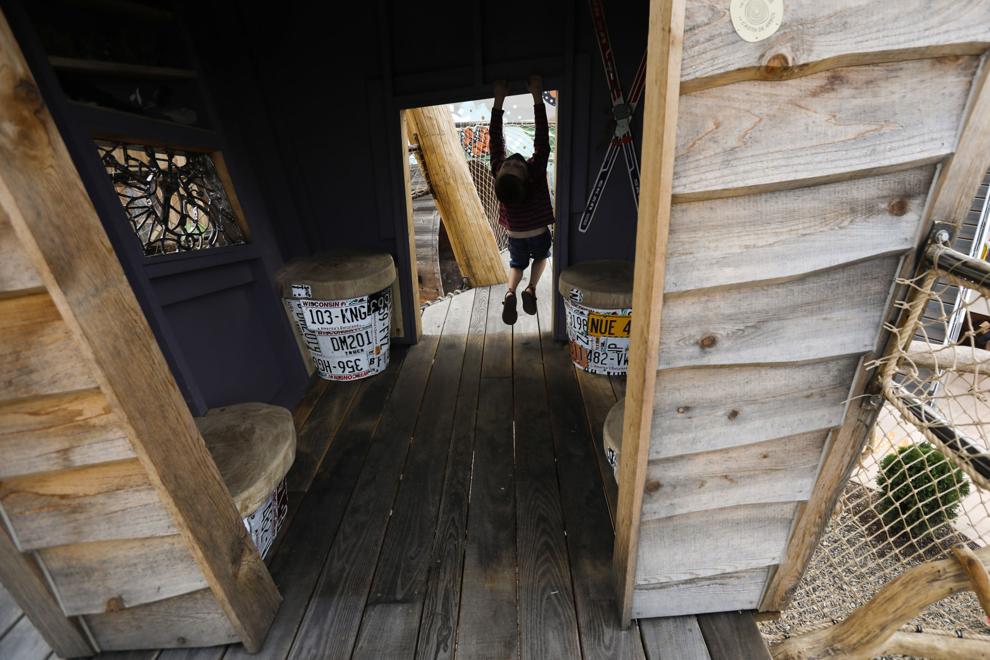 "Kids have been so isolated for the last year and a half with virtual school and staying in and limiting their social contacts," Karlen said. "This is a great chance for kids to catch up with their social-emotional learning, learn how to take turns, learn how to negotiate with other kids, test out their climbing skills and self-regulation to decide how high they want to go."
Kevin Willmott lives on E. Johnson Street and regularly visits the museum with his wife and their two kids. He used to look out from the museum's upper floors and imagine alternatives to that unused parking lot. "I was always kind of dreaming that they would make something out of this space," Willmott said as his 15-month-old toddled around the tea party stump. 
"Every space in an area like this, the hub of the capital, should be utilized ... It's a game changer for us."
The Wonderground will be open year-round during museum hours (Thursday-Sunday, 9-4 p.m.) with museum admission. To encourage children to play outside no matter the weather, the museum will have rain jackets, winter coats, snowshoes and cross-country skis on hand, Gilpin said. And it's even teaming up with MadNorSki, the Madison Nordic ski club, to host a snow festival, complete with artificial snow.
The museum will also host admission-free events at the Wonderground on the evenings of Oct. 22, when the Wisconsin Science Festival presents Science on the Square, and Nov. 12., for the Gallery Night organized by MMoCA.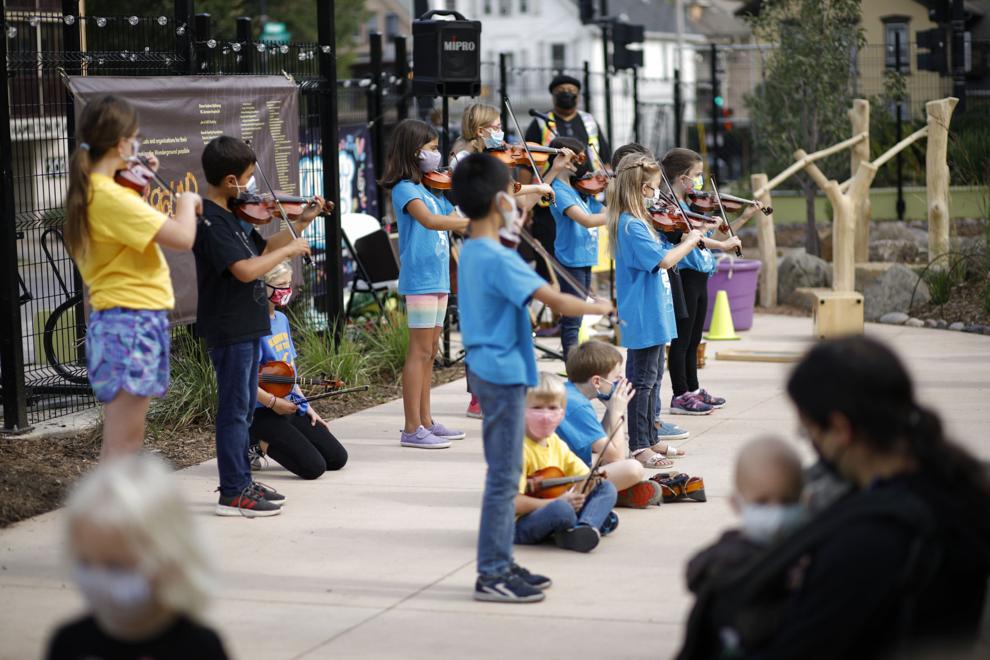 The grand opening celebration runs Saturday and Sunday from 9 a.m. to 4 p.m., featuring performances by youth arts groups Suzuki Strings of Madison, Wild Rumpus Circus and DrumPower ("We wanted to have children open the space," Karlen said), plus adult ensembles including Forward! Marching Band. 
Additional activities include workshops taught by Madison Ballet and Susie Ganch, the artist who used recycled water bottles to create the mural-like sculpture installed over The Down Under, the Wonderground's covered lower-level space.
Share your opinion on this topic by sending a letter to the editor to tctvoice@madison.com. Include your full name, hometown and phone number. Your name and town will be published. The phone number is for verification purposes only. Please keep your letter to 250 words or less.