The new Disney+ show "Encore!" is a reality show in which the casts of high school musicals reunite 10, 20, even 40 years later to once again try and put on a show.
So it's fitting that the show's genesis was a reunion itself, between two University of Wisconsin-Madison graduates.
Jason Cohen is executive producer and Richard Schwartz is one of the producers of  "Encore!," which premiered Tuesday as part of Disney's high-profile rollout of its new streaming service. A second episode, following the 2007 graduates of a Texas high school as they restage "Beauty & The Beast," premiered on Friday.
The show, which also features "Frozen" star Kristen Bell as host and executive producer, might be described as a mix of Michael Apted's "63 Up" and Christopher Guest's "Waiting For Guffman." The high school graduates — the vast majority of whom ended their performing arts careers the day they graduated — have just five days to rehearse the musical together.
Cohen and Schwartz both worked in student radio while they were at the UW in the early 1990s, but otherwise didn't really cross paths. After graduation, Schwartz worked for John Roach Productions producing commercials and talk shows out of Chicago, then moved to Los Angeles to produce television and films.
Cohen, meanwhile, became a filmmaker with an interest in restorative justice programs. His short film "Facing Fear," about the perpetrator and the victim of a hate crime reconciling, was nominated for an Academy Award, and last year he directed and produced a CNN series, "The Redemption Project with Van Jones."
Cohen and Schwartz reconnected through mutual friend and fellow graduate, Allard Cantor, who now works as a talent manager in Hollywood. In the spring of 2014, the three went to Texas to watch the Wisconsin Badgers play Kentucky in the Final Four. The Badgers lost, but Cohen and Schwartz starting batting around ideas for projects they could work on together.
"It was a fun trip but a disappointing one, but also a fruitful one," Schwartz said. "Over those 24 hours in Arlington, Texas, Jason and I started talking about concepts."
Neither man had been involved in musical theater themselves, although Cohen did do a few musicals in summer camp as a kid. But they saw the idea behind "Encore!" as one that was much broader than just musical theater.
"For me this show is largely about looking at who we are, who we are now and who we were then," Cohen said. "For me, it's not really that far off from a lot of the work I've done with restorative justice and 'Facing Fear.' Obviously much of it is lighter in tone, and a big part of the show is humor and comedy. But ultimately the show is the stories of these people looking at their lives. The actual production is sort of the bonus."
The act of being back with their old classmates and working on a musical again was cathartic for a lot of the graduates, and led to a deeper and more authentic reconnection than many expected, Schwartz said.
"I think a lot of people would like to have this," he said. "At a high school reunion, you go to a bar or banquet hall for two or three hours and have surface conversations. This, you really strip it all away, especially when you're back in the same place that you were, doing the same thing that you were doing. It really becomes a time machine in a way."
Rather than follow one alumni class over 12 episodes, Cohen was determined to take the show to a different place every week. The production team put out a call for applicants and received thousands of submissions. They looked to have a balance between different parts of the country, age groups and musicals.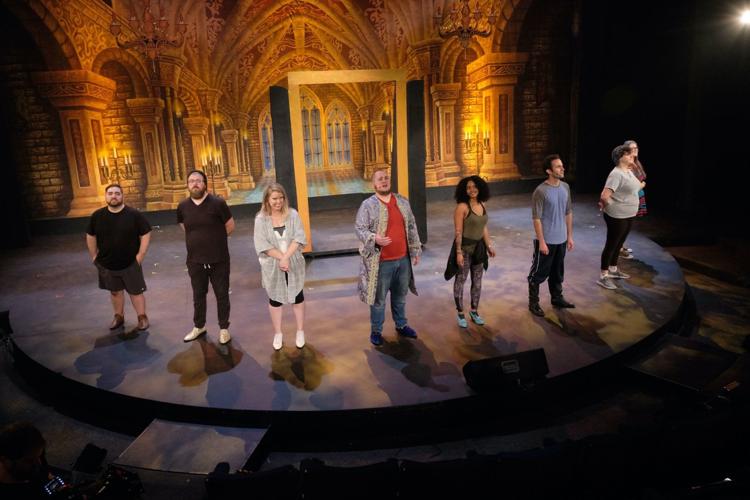 "We didn't want to make the same show every week, and we knew that one way to orchestrate that was to go to a different part of the country, go to a different demographic," Cohen said. "The alumni who graduate in 2009 have very different concerns, issues and problems than the alumni who graduated in 1975."
"It has a very unifying component to it as a time when people are feeling a bit divided," Schwartz said. "The high school experience is one that everyone can relate to. As much as it's about musicals and the arts, it's about growing up, taking inventory, and celebrating the relationships in your life."
So, while some episodes take place in Houston, Los Angeles and Louisville, one episode takes place in the small town of Fish Creek up in Door County, a homecoming of sorts for the UW grads.
"It was fun to take over a small town like that," Cohen said. "We shot in some bigger urban areas, and to go into a really small town like that was really interesting. It was great for Richie and I to do a Wisconsin episode."
Disney+ will roll out the rest of the 12-episode season, one episode per week, on Friday nights. Both Cohen and Schwartz have plenty of other projects they're working on, but would love to do an encore of "Encore!"
"We would love to do more," Cohen said. "We had a blast working every day."