After closing its doors last June, the Oscar Mayer plant on Madison's north side is getting ready to once again be a center of business, offering office, industrial and mixed-use space for rent.
But turning the massive plant into suitable office and industrial space for multiple tenants is no small task. Officials hope a grant announced Wednesday will help Oscar Mayer plant become tenant-ready.
At a press conference, Lt. Gov. Rebecca Kleefisch and Madison Mayor Paul Soglin announced a $500,000 Idle Sites Redevelopment Grant Program from the Wisconsin Economic Development Corporation. The developers then laid out their vision for the site, which they say could host tenants in just a few months and could be 70 percent occupied in a year or two.
When Oscar Mayer closed, "there were countless residents who were just plain disappointed," Kleefisch said.
"Today, the phoenix rises from the ashes of disappointment, because development is going to be here in the form of dozens of companies and up to 500 new employees," she said.
The Oscar Meyer plant operated on the city's north side for almost 100 years, employing 4,000 people at its peak. It's boundaries are Commercial Avenue, Packers Avenue, Aberg Avenue and the Canadian Pacific Railroad tracks.
The plant stopped production in June of 2017 and is now owned by Reich Brothers Holdings, LLC, and Rabin Worldwide, which together form the development partnership 910 Mayer LLC, a reference to the site's address.
After revamping the existing office and industrial buildings, the development team plans to construct a mixed-use development on the southern end of the site.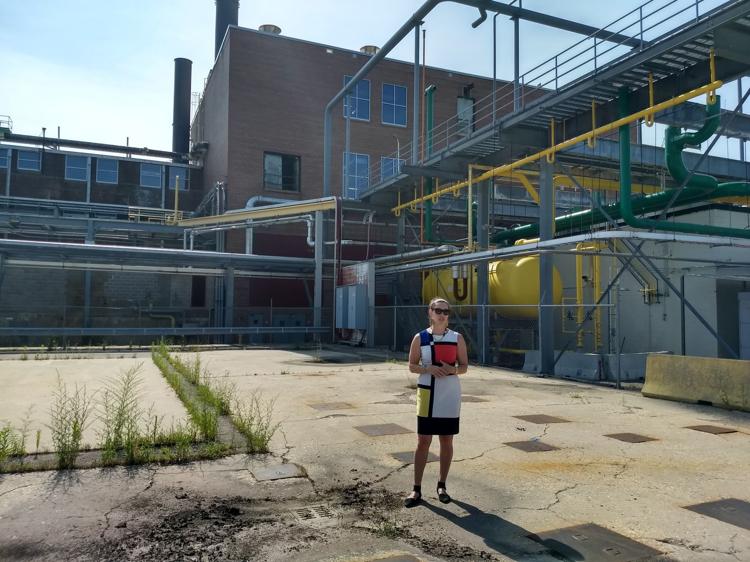 As a former one-tenant operation with many dated buildings, there's a lot of infrastructure work to be done at the plant, which the grant aims to address.
Orlee Rabin of Rabin called the existing infrastructure "a pile of spaghetti we're trying to untangle." Some complications: there was only one electricity meter for the whole campus and some buildings don't have bathrooms because employees utilized locker rooms instead. Spaces need to be separated so they can be used by multiple tenants.
"A lot was done to meet the needs at the moment … (There are) electric and gas lines all over the place. You simply cannot do new construction over those kinds of lines," Soglin said. He said it would be a "considerable cost" just to prepare the site for construction.
That's where the grant steps in, covering $500,000 of an expected $1.8 million cost to re-do the gas and electrical infrastructure. Work on the water, fire suppression, sewer and HVAC systems is also needed.
The Idle Sites Redevelopment Grant Program provides "abandoned and underutilized manufacture sites" with funds for demolition, environmental remediation, rehabilitation or infrastructure improvements. The city previously received Idle Sites grants for the Royster-Clark development on Cottage Grove Road and the Garver Feed Mill development.
The infrastructure at Oscar Mayer won't be fully completed until next summer, and the entire redevelopment -- estimated at $18 million -- won't be finished until 2025, but tenants could be coming onsite into the existing office and industrial buildings in the next few months, the developer said. In fact, there's already a tenant in the space -- Total Administrative Services Corp -- who didn't want to wait until construction was finished, said Nate Ellis, project manager for the development.
Ellis said the site will end up with approximately 450,000 square feet of industrial space, and 280,000 of office space, although he hope to add more. Construction on infrastructure will start in the next few weeks, he said.
Ellis said he hopes to lease between 60 and 70 percent of the existing approximate 700,000 square feet of space in a year. Possible tenants include data centers, online fulfillment centers, tech users or public warehousers in the existing cold storage buildings, he said.
Once that's completed, the developer will look to the southern end of the site, where they have tentative plans for a mixed-use development.
Specific plans about any potential mixed-use development -- possibly including restaurant and retail space -- will be formed with input from the city's Oscar Mayer Strategic Assessment Committee, created in 2017 to help guide future land use decisions, zoning and transit considerations on the site.
Ald. Larry Palm, who sits on the committee and represents the district, said the committee will give the developer and future tenants a degree of certainty throughout the development process, or " some assurance that the efforts they plan to do come to fruition."
"I think that's really important in a city that's not always known for certainty, that we can provide some ahead of time for the developers and for the businesses," Palm said.
The mixed-use development could include retail, entertainment like a movie theater, apartments, a brew pub or office space. Ellis said he's heard north siders would like a "hipster, cool place to hang out."
"Where do the people go that are on this side of town? They've got to drive downtown or somewhere on the west side," he said.
One existing building, the power house, has a "retro" feel and Ellis could see it being used as as distillery or brewery.
Another existing building on the corner of Commercial Avenue and Packers Avenue, known as Building 20, could be ready for tenants in the next few months, and would support the mixed-use area of the space, Ellis said, comparing the look of the building to Sardine restaurant. He said maker-spaces have already expressed interest in the building.
"We want to bring someone in here who's going to reinvigorate the community. This is kind of our most prominent corner, so we really want to bring a dynamic use into this building," said Daniel Rabin of Rabin.