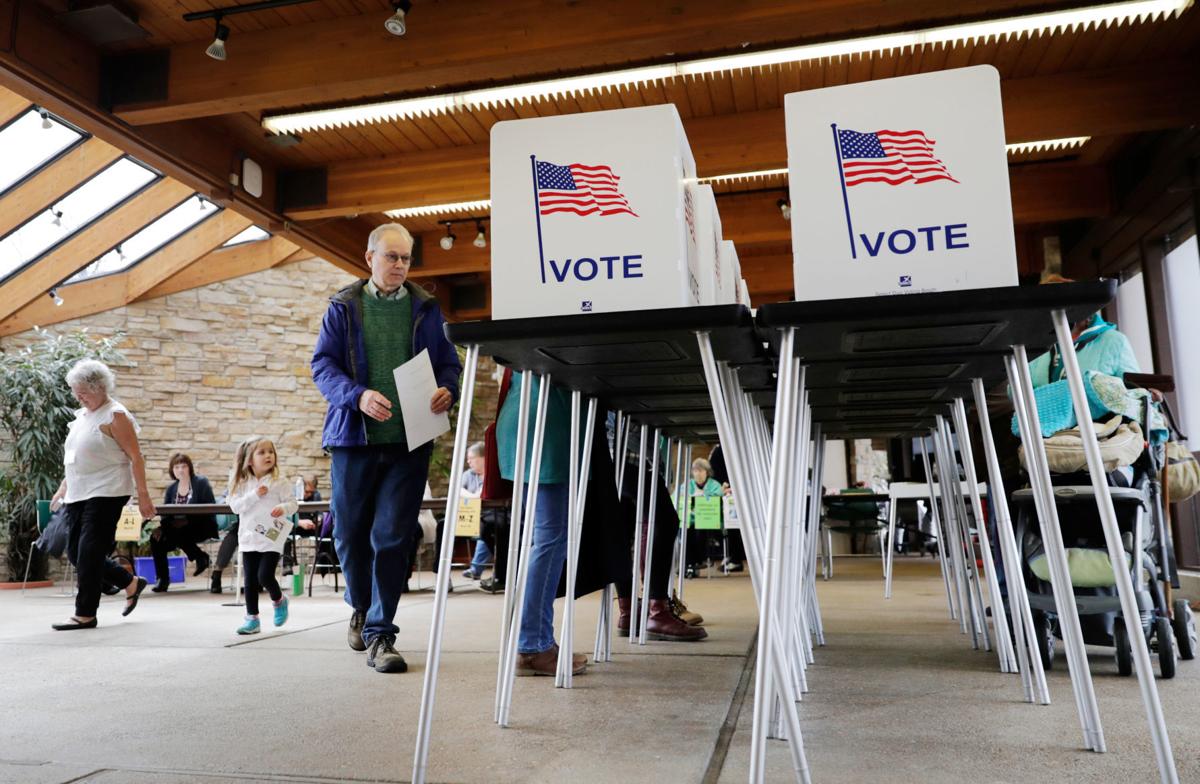 For Jenni Gile, going to her eastside Madison polling place on Tuesday was a disappointment. Even though she voted at the same polling place for at least four years, she was informed she was removed from the voter list.  
"If I had moved, I get it," she said in an email to the Cap Times. "But that's not the case."
She's not alone. Across Wisconsin, voters have been complaining that they either couldn't vote, or had to retrieve records to prove their residency and reregister. 
In Gile's case, she said she didn't register because an unhelpful poll worker didn't tell her how to go about it. 
According to the state Elections Commission, part of the problem stems from an effort to update voter status through the Electronic Registration Information Center (ERIC), which pools the efforts of several states to identify voters who may have changed their address, moved out of state or died. To identify people whose voting status needs to be verified, the group draws data from Social Security, state departments of motor vehicles and the Postal Service.
In November, ERIC identified 343,000 Wisconsin voters — 51,000 in Dane County — whose registrations were in question, and the state sent postcards to all of them with instructions on how to register. But that message didn't get to people like Gile, who said she never received the card, though Elections Commission spokesman Reid Magney said it was sent.
"Apparently some people either got the postcard and didn't respond to it," said Magney, "or maybe they didn't get the postcard."
He said well over 20,000 people who got the postcards went to the MyVote.wi.gov website and reregistered. Many of the cards came back as undeliverable, indicating that many of them actually moved.
But some may have been tripped up, for instance, if they registered a new car under the address of a friend or family member who didn't live with them. The discrepancy in the addresses could have prompted the DMV to flag them.
"I don't know that that's the only reason, but that's one of the things that we're finding," Magney said.
Gile said she didn't register a car to a different address. And she is mystified that her husband, who lives at the same address, wasn't similarly removed from the voter list. 
Elections Commission administrator Michael Haas issued a statement saying some of the reasons voters were left off the voter rolls are unrelated to the maintenance of the voter lists. He's asking voters who experienced problems to call or email the commission so each case can be resolved.
Haas said the commission hadn't received any reports of anyone who was unable to reregister at the polls and vote on Tuesday. Some voters, he said, were correctly required to register because they had either moved or had not responded to a mailing after failing to vote for four years. 
People can call the commission at 1-866-868-3947 or 608-261-2028 or email the commission at elections@wi.gov.
Magney said elections officials are looking into the problem and hoping to refine the criteria that ERIC uses to identify voters who may have moved in 2019, when the state will make a comprehensive review of voter rolls.
But that potentially will leave some voters who didn't vote in the low-turnout spring primary to find out in the spring election, the fall primary and the fall general election — which all generally have higher turnouts — that they've been booted from the rolls.
One measure the state is taking is a mass mailing to eligible nonregistered voters in the state with instructions on how to register.
"Our goal is to ensure there are no problems at the Spring Election on April 3 or the August Partisan Primary or the General Election in November," Haas said. 
This story was updated to reflect the statement issued by Michael Haas. 
Share your opinion on this topic by sending a letter to the editor to tctvoice@madison.com. Include your full name, hometown and phone number. Your name and town will be published. The phone number is for verification purposes only. Please keep your letter to 250 words or less.