Veda, a Madison technology company that uses artificial intelligence to automate processes and reduce overhead costs for health insurance companies, announced this week that it has secured an additional $45 million in investments.
The Series B funding round, which closed Tuesday, was led by Oak HC/FT, a venture capital firm that invests in health care and financial technology. 
Veda was founded in 2015 by astronomer Bob Lindner and "political entrepreneur" Meghan Gaffney. Working on public policy in Washington, D.C., at the time the Affordable Care Act was passed, Gaffney was surrounded by talk of the high costs of the U.S. health care system. What wasn't being talked about, she said, was the way administrative procedures drive up those costs.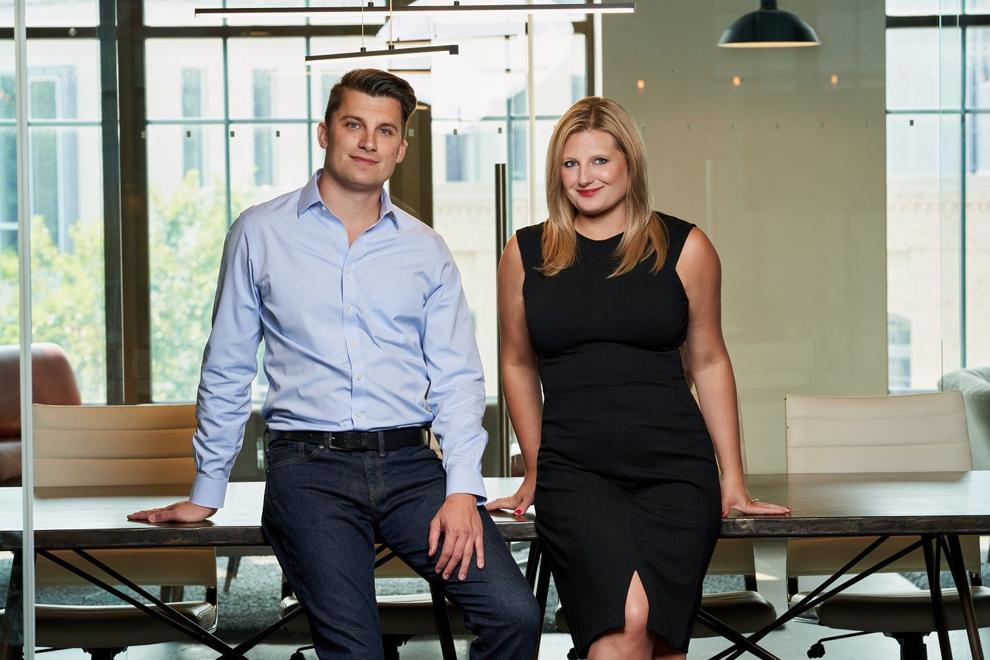 "People weren't looking at the opportunities to bend the cost curve around administrative costs, to say, 'Hey, can we save money on the back office work to move those resources to getting people healthy and keeping them well?'" Gaffney said.
Meanwhile, as a graduate research assistant at Rutgers University and later as a postdoctoral researcher at the University of Wisconsin-Madison, Lindner was devising new ways to use machine learning to combine data from a number of complex telescopes. He spent years designing ways to automatically find and fix errors in large, ever-changing data sets. The goal? Understand how galaxies form. 
When Lindner met Gaffney, the two discovered that they might be able to use those techniques to streamline office work in the health care industry. In this case, instead of uncovering the mysteries of the universe, they'd use these tools to solve a more mundane mystery: Exactly which health care providers are in-network for which insurers?
For a customer, seeing an out-of-network doctor can mean paying far more than anticipated. But with doctors regularly retiring or signing new contracts, even insurers struggle to keep their records up to date, making it hard for customers to get the information they need. 
For example, Gaffney said, it can take up to six weeks from the time a new orthopedic surgeon joins a network for that information to reach the various places a patient might look to schedule a procedure. Such lags can also mean that a doctor listed online as "accepting new patients" might have a full patient load by the time a patient calls to make an appointment. 
Through Veda's subscription-based artificial intelligence platform, insurers can submit updated doctor directories as often as they like, and the system automatically updates all patient-facing records accordingly, within 24 hours. 
"In astronomy, the data was about galaxies at different distances to see how they grew up," Lindner said. "Here, we're talking about doctors and where they work and where they're moving, but the principles of automation with fast-moving, messy data were actually very similar."
For one early customer of the service, Gaffney said, Veda took their directory from 43% accurate — so inaccurate that the company was facing government fines — to more than 90% accurate. Now, she said, the company uses the automated process to make more than 30,000 changes to its data every month and save more than a million dollars in administrative costs. 
"If you make (the process) go faster and you check the quality in the process, you can really provide patients with a better experience and, at the same time, allow the health plans to save money on administration so they can put those dollars to work to take care of people," Gaffney said.
The company plans to put some of the new funds toward research and development, looking for ways its current tools could be used to address other industry problems. And it wants to invest further in its marketing, sales and customer support teams, so that potential customers understand how automation could benefit them and how to get the help they need to make a switch.
Andrew Adams, managing partner and co-founder at Oak HC/FT, said in a press release that Veda's technology will "fundamentally change how the health care system operates" and reduce "costs that have existed for decades."
"We're thrilled to partner with the Veda team in their effort to modernize the largest sector of the U.S. economy at such a critical time," Adams said.
But Gaffney thinks it wasn't just the company's technology that made it stand out to investors. She thinks being a Midwest-based company with a woman co-founder and a diverse team might have helped, too.
"We think we've got this great formula for success that might change what a big, venture-backed company that's successful could look like."
Share your opinion on this topic by sending a letter to the editor to tctvoice@madison.com. Include your full name, hometown and phone number. Your name and town will be published. The phone number is for verification purposes only. Please keep your letter to 250 words or less.