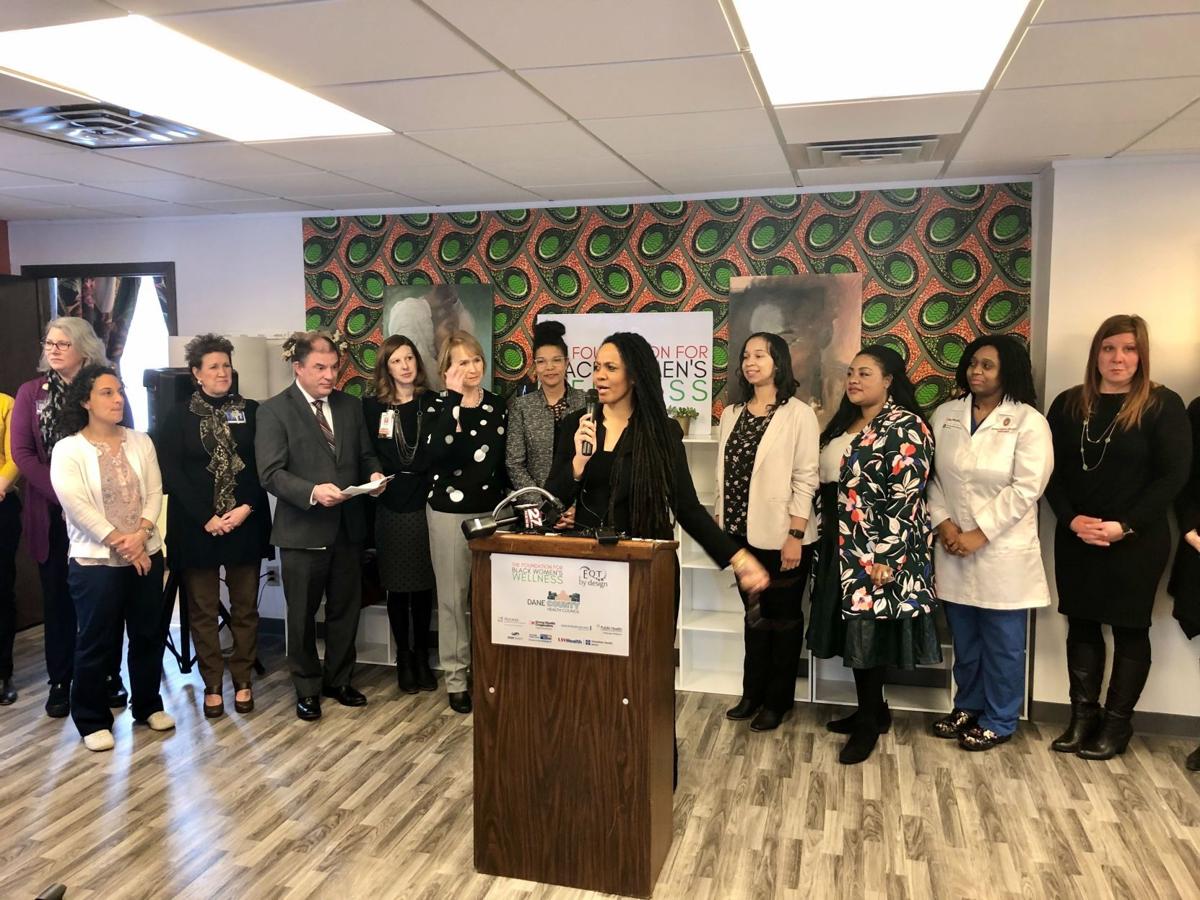 A pair of projects aiming to boost Dane County's middle class are now $1.5 million closer to reality after winning a national competition last week.
It's the second year in a row that two University of Wisconsin-Madison teams proposing creative ways to raise the net income of 10,000 Dane County families by 10% walked away winners in the Alliance for the American Dream Challenge.
Both winning Dane County teams plan to use technology platforms to help residents access or understand social and financial services available to them. One aims to help Black babies survive and thrive by getting Black mothers the social services they need during and after pregnancy. It won the $1 million grand prize. The other will help workers make informed choices about potential jobs or training by revealing how the opportunity might change the public and private benefits they qualify for. It won $500,000. All funding is conditional on satisfying grant requirements. 
The competition, now in its second year, funds projects that aim to build the middle class by increasing income or reducing cost of living. It's sponsored by Schmidt Futures, a self-described "venture facility for public benefit" funded by Wendy and Eric Schmidt, a former CEO of Google. UW teams have taken home the top prize each year.
Fifty-five UW teams competed in UW's "DreamUp Challenge", and three moved on to compete nationally, while parallel competitions took place at The Ohio State University, University of Utah, and Arizona State University. The final two Wisconsin teams were scheduled to compete for a last time in New York City in June, but the pandemic delayed the process and moved it online, with teams instead making their pitches via video conference. 
ConnectRx aims to improve birth outcomes for Black mothers by creating a software that would let health care providers track patients' nonmedical needs, such as housing or food assistance, and connect them with social service providers who can help. 
Babies born to Black mothers in Dane County are twice as likely to be born at low birthweight as babies born to white mothers, putting them at higher risk of health complications or death. A 2018 engagement effort led by The Foundation for Black Women's Wellness found that Black men and women in Dane County attributed birth disparities in large part to stubborn racial and economic inequities. 
"We know that the root causes of our maternal and child health disparities are actually because of chronic toxic stress over the life course," said Robin Lankton, director of population health at UW Health, one of the partners on the project. 
But while the health care system recognizes how these social determinants affect health, medical and social service systems tend not to communicate. ConnectRx aims to change that by letting doctors and nurses prescribe an appointment with an advocate or case manager to address a nonmedical problem, much as they would prescribe medicine for a medical problem.
Gabe Doyle, the director of community impact with a focus on health for the United Way of Dane County is eager to put the money to work to make his hometown, which ranks among the worst places to raise a Black family, healthier. 
"We are thrilled to spend a million dollars to improve birth outcomes for Black women and their babies right here in Dane County," he said. 
Lisa Peyton Caire, CEO and president of The Foundation for Black Women's Wellness, one of the project's key partners, said the funding provides an opportunity to address problems that the COVID-19 pandemic has only magnified. 
"We've struggled and stumbled too long as a community to solve our unacceptably disparate health and birth outcomes," she said, pointing to economic insecurity and a "disjointed and hard to navigate system of community resources" as the biggest underlying causes of health inequity.
More than 10 organizations, including United Way, Public Health Madison & Dane County, health software company Epic Systems, all Madison hospitals and the Madison Metropolitan School District teamed up in what Lankton called an "unprecedented partnership." 
"It's really a community-based solution to promote health," she said. 
Opportunity Calculator will develop a mobile platform that helps workers calculate how a new opportunity, such as taking on additional work hours or moving into a better-paying job could change their income and eligibility for benefits such as health insurance, food assistance, housing and childcare.
The project partners include the City of Madison, Workforce Development Board of South Central Wisconsin, United Way of Dane County, Latino Academy of Workforce Development, Employment and Training Association, and the Urban League of Greater Madison.
Carole Trone, director of strategic collaborations at United Way of Dane County and a member of the Opportunity Calculator team, said the employment specialists on her team had watched for years as clients struggled to foresee the consequences of a change in income. 
Just increasing one's hourly pay by a few dollars could mean losing child care assistance worth $600 per month, she said, not to mention food assistance or Medicaid eligibility. Trone's team asked workers about this phenomenon, often called the "benefits cliff." 
"Overwhelmingly, they said, 'The problem is that we don't know when it will hit us, we don't know what the financial impact will be, and it's difficult to to get that information on our own,'" she said, noting that many had heard horror stories from friends or family who'd seen a small increase in wages turn catastrophic.
In some cases, the perks of the new opportunity might more than make up the difference, she said, but for those seeking to move into the middle class, the language of "employer-provided benefits" and "total compensation packages" could seem like a foreign language. 
"I think if we're fortunate enough to have a middle-class level position with these benefits, we know how they work and we know how to tap into them," Trone said, but those moving up from low-wage jobs may not.
By replacing that guesswork with calculations, Trone said the app will also help employers and grow the workforce. Some employers her team spoke to had seen employees resign after being moved into better jobs, but didn't necessarily know why.
"The idea is that you're moving into the middle class. The idea is not that you're hanging on to these public benefits," Trone said, noting that employers sometimes realized their employees hadn't been able to calculate the advantages of an employer-provided benefit. 
Over the next six months, the team will be refining the design, hiring a software developer and fine-tuning the app based on worker feedback. 
"Our goal is to create a tool that is very user-friendly, it is very worker-friendly, that it is not just something that is for policy wonks or specialists in this field," she said.
Share your opinion on this topic by sending a letter to the editor to tctvoice@madison.com. Include your full name, hometown and phone number. Your name and town will be published. The phone number is for verification purposes only. Please keep your letter to 250 words or less.
Be the first to know
Get local news delivered to your inbox!