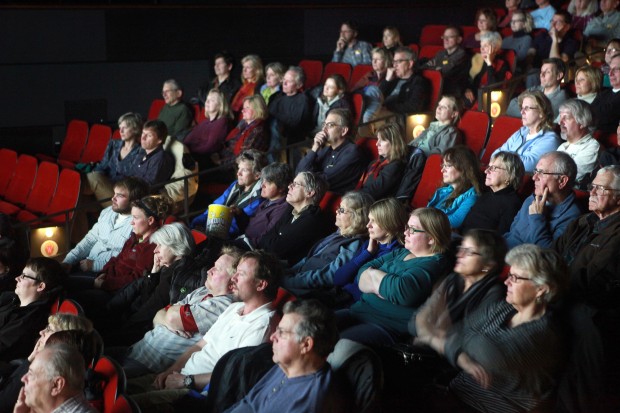 Madison loves its movies, and had lots of ways to celebrate that love this year. Before the closing credits run on 2013, here's a look back at what happened in 2013 on the Madison movie scene.
The Wisconsin Film Festival, the annual spring event, grew from five to eight days in 2013, taking over screens at both Sundance Cinemas and several on-campus venues. The festival sold more than 26,000 tickets and had numerous sellouts.
Of particular interest to Madison moviegoers was the local premiere of "56 Up," the documentary series that follows several British people every seven years of their lives. One of those people is UW professor Nick Hitchon, who attended one of the screenings. He said seeing his life played out on the big screen is difficult for a private person, but he recognizes the value of the series.
"It's not an absolutely accurate picture of me," Hitchon said. "But it is a picture of somebody."
Another movie of interest to Madison audiences was "Citizen Koch," a documentary about the influence of big money on elections following the Citizens United decision. In particular, it looked at how well-financed, third-party groups backed Gov. Scott Walker's plan to strip public sector unions of most of their collective bargaining rights.
The film festival screenings went well, but filmmakers Tia Lessin and Carl Deal learned a couple of days after the festival that public television was pulling its financial support for the film. Lessin and Deal felt that PBS was worried about upsetting billionaires Charles and David Koch. In the end, they took to Kickstarter and raised $170,000 to complete the film.
"Citizen Koch" was one of several films released in 2013 that featured the 2011 Capitol protests. Another, "Forward," was a ground-level look at the protesters and the mounting grassroots campaign against Walker.
Film critic Roger Ebert, who passed away in April, was a good friend to the festival, appearing twice to present films there. In honor of him, the UW-Cinematheque devoted its summer series to Ebert, showing some of his favorite films.
At the commercial theaters, the big news was a major renovation to Point Cinemas, which added a new lobby, expanded concessions stand, and most strikingly, the Take Five Cocktail Lounge. Point seems to be trying to compete directly with Sundance Cinemas, where patrons can already take alcoholic drinks into the theater.
Nationally, the big trend in movies was the shift from 35mm film to digital, requiring theaters to purchase expensive digital projectors in order to be able to screen movies. The cost has hit mom-and-pop drive-ins across America especially hard, but luckily for Wisconsin movie lovers, our nearby drive-ins planned ahead.
Be the first to know
Get local news delivered to your inbox!