Criticizing military jets is a Madison tradition over six decades old.
In the Nov. 8, 1954, edition of The Capital Times, a reader wrote a letter to the editor complaining about the noise made by F-89 interceptors flying out of Truax Field on the city's north side. They wondered why "those needle-nosed, noisy jets must disturb and awaken people at all hours of the night."
Within days, irate responses to the anonymous writer flooded the paper.
"So, my east-side friend, be glad as I am when a jet zooms overhead in the cold night sky that there's a man here to fly it and that it's flyable!" wrote one reader. "Remember that even a lone jet aloft on a wintery night could divert a bomb from your bedroom!"
"You must have life easy or you wouldn't be worrying about a plane," wrote another.
In 2018, the tenor of conversation around jets in Madison can be strikingly similar — only now, instead of "needle-nosed" World War II-era interceptors, the conversation has shifted to a new plane: the F-35A Lightning II.
That news has received cheers from business groups, politicians and residents who tout Truax's economic footprint and the guard's national security mission. But it has also been met with some skepticism and opposition. A group of Madison residents condemn the F-35 as a federal boondoggle and a machine of war. Others express worry over the jet's noise levels, safety and other environmental impacts.
The result is a dispute over what to make of the controversial and costly plane, and what its arrival could mean for Madison and its military base.
That dispute came to a head at a February neighborhood meeting on the jets at the East Madison Community Center. At times, the meeting echoed the exchanges from over 60 years ago.
"When they test the (F-16) engines, I know it at my house on Paterson, because my windows shake," said one skeptic, Steven Klafka.
"You're all welcoming nuclear weapons to Madison unless you step up and voice your opposition," Ed Blume added.
Said Dennis Smith, a military veteran in favor of the jets: "Someone was saying the noise was causing them so much trouble that they couldn't sleep. Well, I'll tell you what, I feel and sleep a lot better knowing that (the jets are) there."
Later, he added: "I was rather bitter about it — that I would go and put my life on the line, when we have some mealy people who are complaining about the fact that we have noise."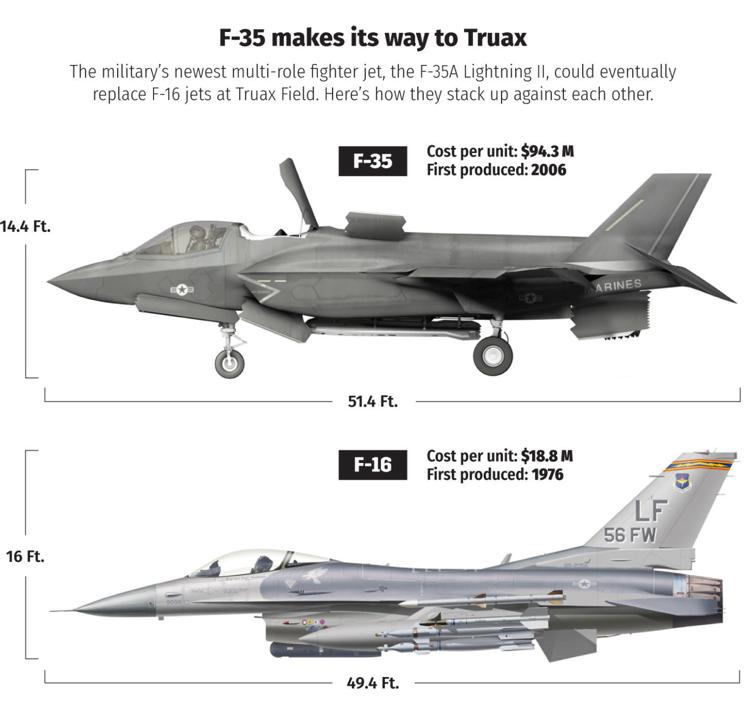 Hardware update
In the 1950s, the Air Force called Truax Field home. Today, it's the 115th Fighter Wing of the Wisconsin Air National Guard.
The wing, which leases the land from the county, serves the state, deploying resources in times of crisis and emergency.
It also serves as a line of aerial defense in the Midwest, and can launch fighters as part of an offensive strike force.
To execute its mission, the wing has a squadron of F-16 fighter jets dating back to 1987. The jets are a familiar sight and sound for those who live anywhere near the north and east sides of Madison. They regularly depart from Truax to do training missions in air space at Volk Field in Juneau County, about 80 miles to the northwest. All told, the jets average over 300 "movements" — Federal Aviation Administration lingo for takeoffs and landings — per month.
Ryan Gaffaney is a 38-year-old F-16 pilot based at the field who also goes by the code name Stalker (think Maverick and Goose from "Top Gun"). He said that training missions are a vital part of fighter wing operations.
"It's a lot like training for sports," he said. "I equate it to football. You have your offense, you have your defense. The training is ... you have to do blocking and tackling."
Within the next 10 years, the base's F-16 jets will likely be decommissioned, officials say — possibly replaced by the F-35 jets.
The F-35 is a sleek obsidian plane, 51 feet long with a 35-foot wingspan, manufactured by the aerospace firm Lockheed Martin. The jet has a single powerful engine, a unique shape and materials composition that make it tough to pick up on enemy radars, and an advanced sensor array that Lockheed Martin says helps make the plane a "quantum leap in air dominance capability."
The jet also is defined by its prolonged and expensive development. The F-35 program is a decade behind schedule. The jets are not yet approved as combat-ready, and the cost of their acquisition has surpassed $400 billion at the Defense Department — which according to some observers makes it the most expensive weapons project ever.
Dan Grazier, a national security expert with the nonprofit Project on Government Oversight, said that the program is delinquent and costly due to its "Frankenstein" nature. The plane was envisioned as a "Swiss Army knife" fighter plane for the Air Force, the Marine Corps and Navy, said Grazier, making it a demanding vehicle to engineer.
"It started off as one service, and other services piled on to it. And that's the source of a lot of the problems with the F-35," said Grazier. "When you try making an aircraft do too many things, you end up having to make compromises."
The F-35s will call Truax Field home, assuming the Secretary of the Air Force signs off on the decision. The National Guard Bureau must first release an environmental impact statement on how the jets would affect Truax and the surrounding region. The bureau expects to publish that report in 2019.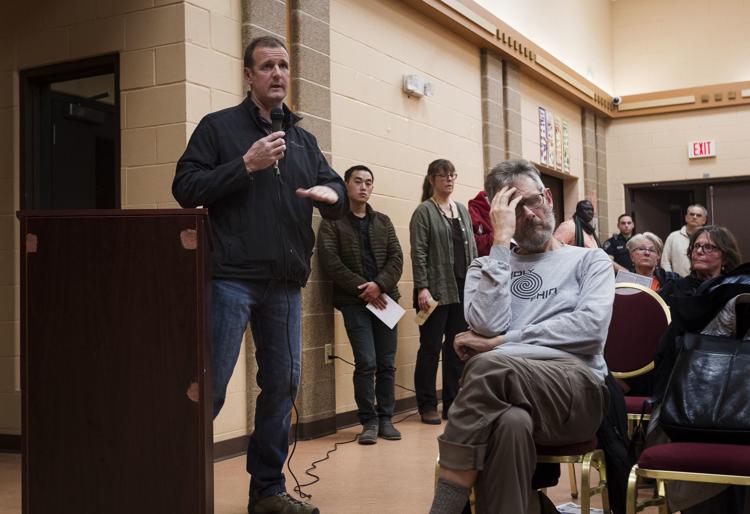 'Together Truax'
For about six hours on March 8, about 350 people milled through a ballroom of the Crowne Plaza Hotel for an open house informational session on the F-35 jet basing. 115th Fighter Wing officers stood stationed at booths to answer questions and give information on the planes, the basing process, and the ongoing environmental impact study.
Many members of the public wore "Together Truax" stickers on their shirts and jackets, indicating their support of the 115th Fighter Wing and the F-35s.
"It helps the economy. It helps the airport," said Dave Mudlaff, a Dane County Regional Airport employee who attended to learn about the basing and show support.
"A lot of people out here, they don't like the noise, they don't like whatever. What they don't realize is the economic impact," said Marv Siegert, a founding member of the pro-Truax group Badger Air Community Council.
Economic impact has been a primary talking point for the Greater Madison Chamber of Commerce, the primary group responsible for the "Together Truax" slogan and public relations campaign. The chamber cites a 2015 report by the Wisconsin Economic Development Corporation that found that the 115th Fighter Wing has a $99.2 million impact on the local economy every year. The report said the wing provides 815 part-time jobs and 478 full-time jobs in Wisconsin, with positions ranging from pilots to engineers to medical staff.
The chamber's argument isn't that F-35s will expand that impact significantly. Rather, it's that the F-35s will preserve it.
"We believe that the baseline numbers, just continuing what we're doing now for the foreseeable future, is so impactful that it should stand on its own," said Zach Brandon, the chamber's president.
Without the F-35s, said Brandon, the base could potentially face closure or layoffs.
Kevin Philpot, the vice wing commander of the 115th Fighter Wing, said that's possible, though he also stressed no one knows for sure that would happen.
"It's conceivable the base could close. It's conceivable the base could get newer F-16s," he said.
Brandon thinks the economic argument for F-35s is a winning one. He cited a list of over 1,700 signatures in support of the Together Truax campaign that the chamber has collected.
"Despite what they might read in a story, or despite what others might say ... for every 25 people that you might hear saying, 'We don't want you,' there are a thousand saying that we do," said Brandon.
The "We don't want you" crowd was at the open house, too. Outside the hotel, 11 protesters stood alongside East Washington Avenue, brandishing anti-jet signs as rush hour traffic flowed by.
Harry Richardson, a leader of the grassroots group "No F-35 Fighter Jets in Madison," said he doesn't find the economic argument compelling.
"I think (base closure) is an empty threat," said Richardson. "They tell everybody that your base will close if you don't get it."
For some of the protesters, opposition to the F-35 is a matter of principle. They take issue with the F-35's price tag, arguing that the money spent could instead be used for housing, food benefits, education or infrastructure. They say the jet is an immoral weapon that will be used to kill innocent people abroad.
"I don't think it's just a neighborhood issue. It's a moral issue that the entire country needs to grapple with," said Tom Boswell, who was among the protesters.
The group's actions harkens back to another long-time Madison tradition: Peace activism that targets Truax. It dates back to 1965, when 11 people were arrested for blocking the air field's gates in protest of the Vietnam War. More recently, police cited 24 people for doing the same thing after the U.S. attack on Iraq in 2003.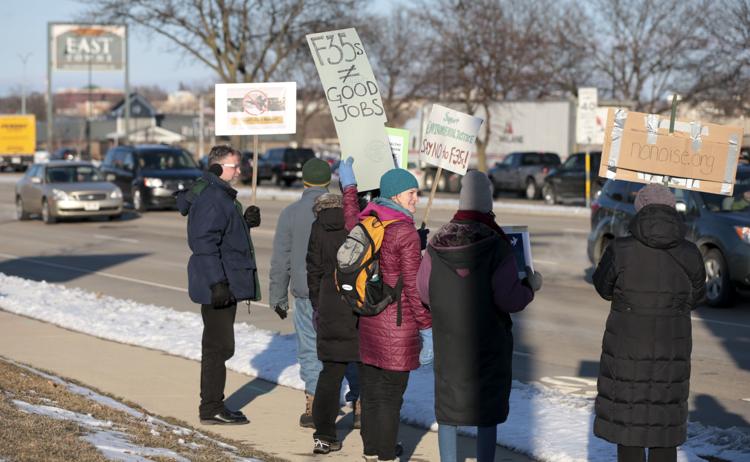 Making noise
Opponents have more immediate concerns as well. The issue that seems to dominate the conversation is noise pollution.
Touyeng Xiong grew up in the Truax neighborhood southeast of the airfield. As a child, he thought the F-16 jets were cool.
"After a while, though, it's not so cool to see them," he said. "It's really annoying."
He recalls a time more recently when he was in college and trying to do homework, and a series of F-16s flew over head.
"The sound was so deafening," he said. "I ended up yelling a bit...I remember getting really angry, there wasn't anything I could do to get away from the noise."
Xiong said that beyond the planes being a nuisance, he's worried that they'll affect people's health, particularly children growing up in the neighborhood. He is not alone.
"I have to cover my ears, actually," said Michael Johns, an Atwood neighborhood resident at the February neighborhood meeting, discussing F-16 flyovers. "And I see little kids freaking out — like, 'What is going on?'"
Some public officials have also expressed concern over noise — for example, City Council President Marsha Rummel, who organized the neighborhood meeting.
"I think it's loud for me," she said. "And then (there are) people who don't have as much choice to go anywhere. People who are stuck in a nursing home, or a hospital or a daycare center."
The Wisconsin Air National Guard countered in an emailed statement that "there have been no officially commissioned noise studies of the F-16 vs. the F-35 as it relates to Madison." The guard did, however, dispute that the F-35s would be four times louder than F-16s.
Complaints over noise are often scoffed at by Truax supporters.
"I think the opposition is somewhat silly," said Mudlaff, one of the Truax supporters at the open house. "To me, traffic is more annoying than the noise involved in the airport."
He said that he thinks the F-16 flyovers are neat — when his family hears one flying overhead, he said, they run outside to check it out.
Bill White, the former chair of the Dane County Regional Airport Commission, said that he used to be critical of airport noise himself. However, he said he got over it.
"Noise goes away, all things considered. You wait maybe five, six seconds and it's pretty much gone," he said.
There is some research backing up medical concerns about airport noise levels. Mathias Basner is a sleep researcher at the University of Pennsylvania and an expert on the effects of airport noise on health. He said that there's a robust body of research showing higher risks of cardiovascular disease among those who are exposed to airport noise over long periods of time.
Basner also added that life by an airport is a relatively small risk factor for disease compared to, say, the linkage between smoking and lung cancer.
"The health risks should not be downplayed. But they also should not be exaggerated. That can induce fear in people," he said.
Fear itself, he said, is a stressor as much as airport noise can be.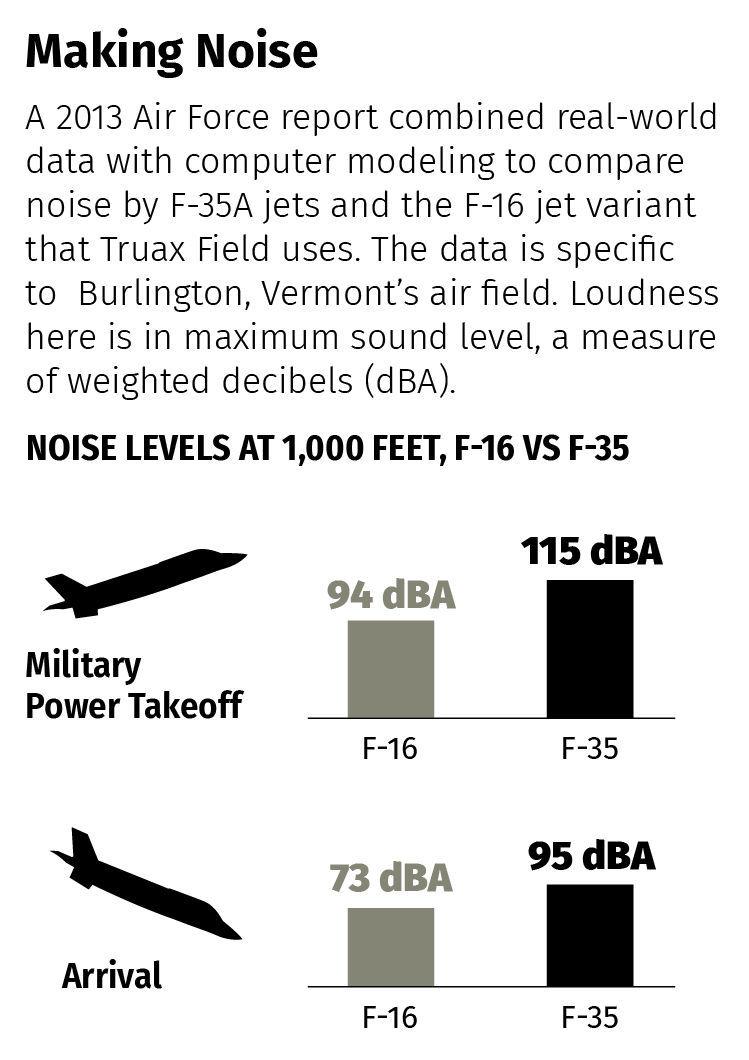 'What's a neighborhood going to do?'
Noise is not the only concern. Some residents have called attention to mishaps and accidents associated with military planes flying out of Truax. Most recently, an F-16 crashed into a vacant home in Adams County in 2011.
Opponents also raise concerns over the safety risks posed by munitions at the base, and express fear that nuclear warheads could come to Madison.
Air National Guard spokespeople wrote in an emailed statement that they could not disclose what kinds of arms the base has.
"We can say that there is no requirement for the F-35 to carry nuclear weapons, therefore the possibility of having them at Truax is extremely remote," wrote guard representatives.
Jeffrey Wiegand, the former commander of the 115th Fighter Wing who now advocates for the base with the Badger Air Community Council, suggested that risks posed by munitions or mishaps are small.
"It's extremely safe. Otherwise they wouldn't be permitted at a public airport," he said.
Other F-35 skeptics voiced concerns over the environment. Maria Powell, president of the Midwest Environmental Justice Organization, worries about the Truax base's impact on the nearby Starkweather Creek. Truax has had eight sites identified by state regulators as needing remediation under federal law from things like fuel spills, and leaks of chemicals like PCBs.
In 2012, the Wisconsin Department of Natural Resources declared that no further remediation at those sites were needed. Powell — a former researcher with the University of Wisconsin-Madison Nanoscale Science and Engineering Center — is skeptical of that assessment. She believes that there hasn't been sufficient testing for contaminants at the site, like for chemicals from solvents.
Now she's worried that patterns of chemical contamination at the base will continue with the arrival of new solvents, fuel and other materials with the F-35.
"The bottom line is the operations and maintenance of these fighter jets involve a lot of toxic chemicals. People in the environment aren't being adequately protected," she said.
But the statement also asserts that hazardous materials and waste may be less of a problem, since "the F-35A was designed to reduce the quantities and types of hazardous materials needed for maintenance of the aircraft."
Powell said that the people largely to be affected by environmental, noise and safety risks are disproportionately low-income and non-white populations living near the airport. She acknowledged that for many of them, plane noise may be a secondary issue.
"If you go talk to people over there, they might tell you it's not a big deal. They just get used to it," she said. "But low-income people have to get used to many things, many of them which aren't healthy."
Tom Moen, the executive director of the East Madison Community Center, said that most people he sees are focused on "feeding their family, rent payments, stuff like that" instead of aircraft noise. He said that the airplane noise is "mind-numbing."
"But it's a part of life," he said. "What's a neighborhood going to do if there's planes coming in?"
The consensus seems to be that at this point, as far as the F-35 basing goes, there's not much to be done.
Local public officials, including alders and county supervisors, have been asked by the National Guard Bureau for input on the F-35 deployment. Members of the public have also been encouraged to ask submit questions and comments. However, whether to approve the basing is squarely up to the Air Force.
Brandon said he plans on keeping up the Together Truax campaign, but acknowledged that the matter was now out of the chamber's hands. He said that "unless the (environmental impact statement) returns something that surprises all of us," he suspects it's far more likely than not that the F-35s are indeed coming to Madison.
Powell said she hopes people submit questions and concerns to force the military to address the issues they worry about. She also hopes to force local officials to confront the environmental issues she studies.
That said, she thinks that the environmental impact study is a "token" process.
"Most of us think the decisions have already been made," she said.
Boswell, one of the F-35 protesters, said he hopes that F-35 opponents will be able to at least spark some public conversation.
"We have an opportunity to call public attention to it. Hopefully raise some issues of where our tax dollars are going, and where they should be going," he said.
Meanwhile, Gaffaney — the F-16 pilot based at Truax — may be among the pilots behind the cockpit of the new F-35s. The self-described jet geek said that he's excited by the prospect.
"The F-16's a great aircraft. I'm not going to lie to you, it's fun — it's like your own little personal sports car," he said. "I'm sure the F-35 will be the same."
Gaffaney said that he wants what's best for Madison, and that he hopes Madison wants what's best for him and his colleagues.
"We are part of the community," he said. "We're here, and we want everybody to see what we can do."  
gnflsjdNGlk/XN CFV/lk nzXDVlj/
Be the first to know
Get local news delivered to your inbox!