The red and black road bike had been collecting dust in a garage in Jill Skeans' garage for months. Skeans, a teacher and parent, knew she needed to take it in for repairs, but she also knew there was no way — she was "so out of time, with so much stuff going on."
This was a job for the BikeMobile.
On a sweltering June morning, a white van — painted with bright blue lettering and a giant photo of a bike wheel by way of branding — pulled up to Skeans' Marquette neighborhood home. The owner and one-man repair team, Andy Quandt, hopped out, chatted with Skeans a bit, gave the two bikes in her garage a once-over, and then hoisted the red and black one into his van.
After clamping it onto his wall-mounted repair stand, he got to work — adjusting the brakes, wiping the frame down, making sure the shifters worked.
"The problem is getting the bike to the shop," Quandt explained. "So the way to solve it is to get the shop to go to the bike."
With Skeans' bike, Quandt ended up removing the derailleur, the mechanism that shifts the chain onto different sprockets when a rider changes gear. For a split second, he looked despondent— the derailleur needed replacing, but he had no replacement part readily available. Then, after a second, he reached over to one of the shelves mounted in the van and picked up a set-aside derailleur that had sitting there. He explained that it was a part he'd recently taken off of a friend's bike.
"I'd been planning to use it on my own bike," he said. "But it's exactly what we need here."
As luck would have it, the derailleur was a perfect fit.
The moment was a sterling example of one of Quandt's fundamental philosophy behind the BikeMobile: turn unused bikes, the ones collecting dust, and turn them into plain-old used bikes by repairing them with the working used parts he has available in the van. For Quandt, bike repair is all about those practical solutions.
"I just make it work," he said.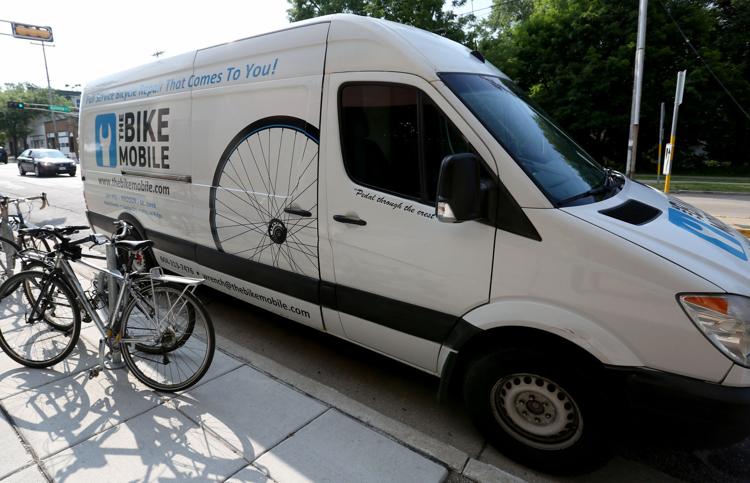 The BikeMobile, based out of Lake Mills, uses a pretty straightforward service model: Quandt goes to a client's home after they schedule an appointment on his website, or he'll go to a corporation's headquarters if a business has a wellness program. Then, he gets to work doing what he does best: Getting bikes back into working shape.
"I kinda go and just triage the bike quick, determine what it needs, then boom, put it in the van and begin working on it," he said.
Oftentimes, he said, he'll get into a zone in the back of his van, repairing bikes and listening to podcasts. (His favorites are RadioLab and This American Life.)
The BikeMobile has been decades in the making. Quandt first caught the bike-repair bug at around age 12, when he began hanging out around the bike shop in Lake Mills, where he grew up. He said he's not quite sure why he became so enamored with bike repair at a young age, loving it even more than biking itself.
"I don't know what it is about them as machines, or why they talk to us," he said. "Once you get bit by it, you're done."
Quandt kept it up in college — at one point, he said, he was working at a campus bike shop so much that it wasn't clear he would be able to graduate. After that, he took a string of corporate jobs, tried his hand at launching a business of his own — a wholesale distribution business in the Wisconsin Dells — and worked at his father's business, the Dollars and Sense coupon magazine.
Quandt had long thought about going into bike repair as a career move. The problem was, he said, that the Madison market was already saturated with repair shops, from Budget Bicycles to Machinery Row. That's when he decided to "think about things entrepreneurially."
Just this past March, on his 39th birthday, he had his "a-ha" moment. Within six weeks, Quandt had bought a van off of Craigslist, hired someone to paint it, and installed shelving, slatboard, and all the necessary equipment. The BikeMobile hit the road this spring, and Quandt was taking on his first clients in short order.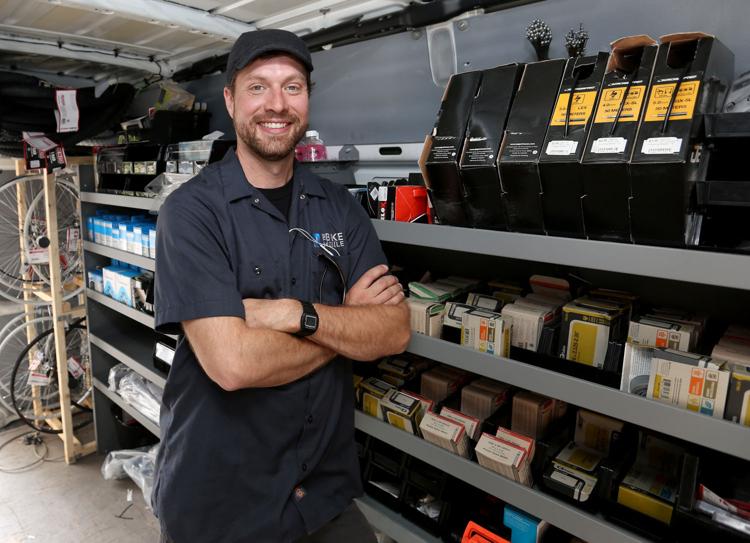 "Practical bikes for practically anyone"
The BikeMobile is in many ways defined by what it isn't. For one thing, while there are consumer items for sale in the van ranging from reflectors to bells, Quandt emphasized that his business isn't a pop-up bike shop.
What's more, it's not a business that targets hardcore cyclists. Quandt said he's taken the BikeMobile to work some races, doing repairs and servicing on the fly. However, it's not quite his cup of tea.
"I don't even relate to the racers," he said. "I felt like a fish out of water."
Quandt says the business is for the average consumer. If it were to have a motto, he said, it would be "Practical bikes for practically anyone." 
"I think people go buy disposable crap brand new so often, where you can go and for the same price buy something used that's of much higher quality that's going to hold its value," he said.
Quandt said that he personally has never owned anything but secondhand bikes his whole life.
So far, business has been good, said Quandt. He's been hitting the 15 to 20 clients per week needed to keep operations going — but beyond that, he's just happy that his idea has ended up actually working. He said his "a-ha moment" has become a "yahoo" moment, now that he's realized he can actually pull this thing off.
Quandt certainly faces some obstacles. For one thing, there's the seasonal element: Come winter, he'll have to find another source of revenue. He said that he's planning on buying some property in Lake Mills — the building that once housed the bike shop he grew up with, in fact — and is thinking about using the commercially zoned space to sell used goods.
In the meantime, he also has to figure out the future of the business. Right now, he's preoccupied with the daily grind of bike repair, but in the future, he does want to scale up the company. His dream, he said, is to one day have a fleet of vans across the country.
In the meantime, he said, it doesn't really matter — he is very, very content working solo in the back of his van.
Said Quandt: "I don't see myself doing anything besides this now."