Ron McCrea, an award-winning journalist and author who served as The Capital Times' city editor for a decade, died of cancer Saturday at Agrace Hospice in Fitchburg. He was 76.
"Ron was one of the smartest and most versatile journalists I knew," Cap Times editor emeritus Dave Zweifel said Sunday. "Not only was he an expert at his craft, he cared deeply about it, just as he cared deeply about everyone around him. He could write headlines like no one else. He was bright, clever and fun. His passing leaves an enormous hole in our lives."
He is survived by his wife, Elaine, and his stepson, Benjamin. Details on services will be announced soon.
McCrea came from a long line of newspapermen. Born in Saginaw, Michigan, his grandfather Archie E. McCrea was editor of the Muskegon Chronicle. His father, Malcom R. McCrea, was editorial page editor of the Saginaw News and associate editor of the Toledo Blade. His mother, Eleanor Nelson, was a teacher.
He has a bachelor's degree in political science from Albion College and a master's degree from the Fletcher School of Law and Diplomacy at Tufts University. He also did graduate study at the Medill School of Journalism at Northwestern University.
His first stint at The Capital Times as a wire editor and political reporter lasted from 1970 until 1977. In that year, the printers' union for the Wisconsin State Journal and The Capital Times went on strike against Madison Newspapers and Lee Enterprises, and the other newspaper unions, including those representing editors and reporters, joined them in solidarity.
McCrea was a strike leader and helped organize the competing "strike paper," the Press Connection, to put pressure on management by providing Madison a news alternative to the The Capital Times and Wisconsin State Journal. Run by striking members of the two papers, the Press Connection was a weekly and then a daily newspaper, often scooping its rivals. McCrea served as its editor for three years until it ceased publication in 1980.
"We were all in it together," McCrea told Madison365's Nicholas Garton (now a Cap Times metro reporter) last year. "So some class barriers got broken down in that. But it would have been better to win."
McCrea next took a job with the San Jose Mercury-News, returning to Madison in 1983 to serve as Gov. Tony Earl's press secretary. When Earl was defeated by Tommy Thompson in 1986, McCrea took a job as an editor with the Long Island edition of Newsday, where he edited great journalists like famed columnist Jimmy Breslin.
When Newsday shuttered its Long Island edition in 1995, Zweifel lured McCrea back to The Capital Times yet again, this time serving as city editor.
Phil Haslanger, who worked closely with McCrea as the paper's managing editor, said he admired his "facility with words, his perceptions of news value, his commitment to telling the news clearly and with courage.
"But I also was in awe of the many circles he moved in from the early days of the gay liberation movement in Madison to his work as Gov. Tony Earl's communications director to his immersion in the life and work of Frank Lloyd Wright," Haslanger said. "He had connections to the labor movement and to the vast classical music world in Madison. Less seen by the public were his extraordinary care and generosity for friends, strangers, young journalists and old comrades as well as for his beloved Elaine and step-son Benjamin."
McCrea was city editor until 2006, and then senior news editor until he retired in 2008, when The Capital Times transitioned from a six-day print newspaper to a digital-first publication.
"I do feel upbeat because I've been there when they've simply folded the paper and told people to go home," he said. "This is war by other means. Online is clearly the future of journalism."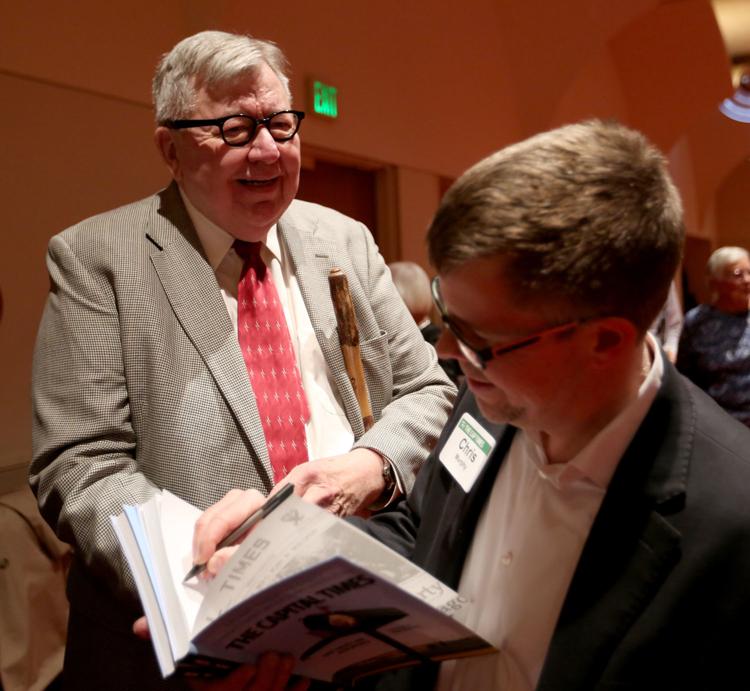 In retirement, McCrea became a nationally-known expert on architect Frank Lloyd Wright. He wrote the 2012 book "Building Taliesin: Frank Lloyd Wright's Home of Love and Loss" and when he died, was at work on a follow-up volume, "Monumental Women," about the women in Wright's life. McCrea spoke about Wright's life and work to numerous audiences, and was featured on several TV shows talking about Wright, including the E! Entertainment Network's "Mysteries and Scandals: Frank Lloyd Wright."
"Before I joined The Cap Times, I knew Ron best when I was a political reporter and he was the glib press secretary for Tony Earl, a role at which he excelled," Cap Times editor and publisher Paul Fanlund said Sunday. "In the decade since he left The Capital Times, he was a wonderful friend and booster, including by attending our Cap Times Idea Fest, which he and Elaine did this fall."
"Ron McCrea was a brilliant editor and, easily, the best headline writer ever at The Capital Times — perhaps on any newspaper anywhere," said Cap Times associate editor John Nichols. "His reporting and writing over the years highlighted the liberation stories of our community, our state and our nation, as well as a deep appreciation of Frank Lloyd Wright's artistry and vision.
"Ron had a great intellect, a sly sense of humor and a true understanding of William T. Evjue's promise that, 'If you give the people the truth and the freedom to discuss it, all will go well.'"
McCrea had battled various forms of cancer since 2007, when he had a successful liver transplant. In November, he sent an email to friends and family announcing that the cancer had returned, and that he had been given 10-12 months to live. He said he was at peace with the prognosis, and was declining to go through chemotherapy, hoping to cut back on tests and treatments and "make more time for living."
"That's the top of the news, friends," McCrea concluded in the email, a newsman to the end.