Catalytic converters thefts are on the rise again, and few neighborhoods have been left unscathed.
Madison has long been a hotspot for converter thefts, in part due to an abundance of street parking available throughout the city. In 2020, the city experienced 142 cases involving catalytic converter thefts. Some cases involved more than one converter being stolen. 
The Goodman Community Center lost the use of two of its vans for nearly a week after the catalytic converters were stolen off of them shortly before the Memorial Day weekend. The community center isn't sure when the theft occurred, but assumed that the converters were stolen while the vans were left parked in the St. Bernard Catholic Church parking lot. 
"We don't have a lot of options for parking. We don't have a garage or a place we can lock them up," said Amie Hoag, the center's assistant director of communications. "Although currently, we are looking into an alternative."
The Goodman Community Center isn't alone. Briarpatch Youth Services had a converter stolen from one of its vans in March, and it took nearly a month to replace due to an increased demand for catalytic converters.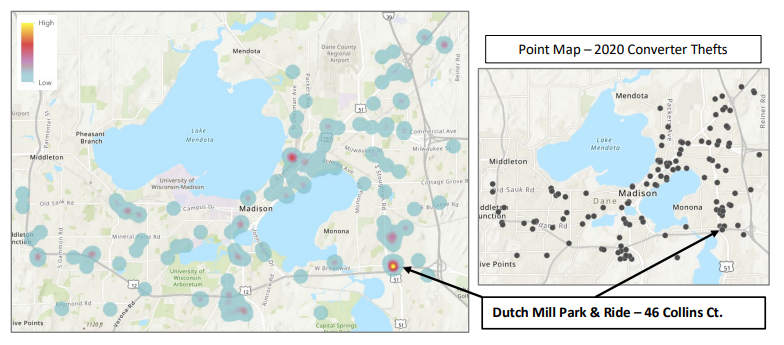 A catalytic converter is an exhaust emission control device that reduces the toxic gases and pollutants in a car's exhaust and are made with palladium and rhodium. The price of palladium currently sits at $2,837.87 an ounce as rhodium prices have risen to $21,350.00 an ounce, roughly 11 times the price of gold.
Toyota Priuses are often targeted because their converters contain more precious metals than what are installed in most vehicles, and therefore catch a higher price from recyclers. 
After the thief cuts away a converter, which can be sawed off in as little as two minutes, they can take them to a recycler and receive around $100 in exchange. The victim of the theft is left paying an estimated $1,000 to $3,000 for a replacement. 
All Metals Recycling in Madison purchases catalytic converters starting at $5 and going up to $150 depending on the state of the part. While the recycling center requires proof of ownership for some items such as beer kegs and shopping carts, they hold that they have no way of determining whether or not converters are stolen.
"Every once and a while you get a detective coming by asking about copper or catalytic converters, but I'm not a judge or a jury. That's not up to me," an All Metals Recycling staff person said, before abruptly hanging up the phone.
Other recycling centers, including Allied Resource Recovery in West Allis and Waukesha, list catalytic converters among aluminum and brass as materials they pay cash for on-site.
MPD estimates the economic impact of converter thefts on the community to be $213,000 in 2020 alone. 
Last year, a majority of thefts took place during the summer and winter months, with a high of 43 catalytic converters stolen in December. Additionally, 65 out of the 142 thefts in 2020 occurred in parking lots or ramps. Forty-six happened on the street or in an alley. 
MPD also reported that although cases are on the rise, very few suspects have been arrested for stealing converters in Madison. This is largely due to converters having no unique characteristics or serial numbers to identify them by.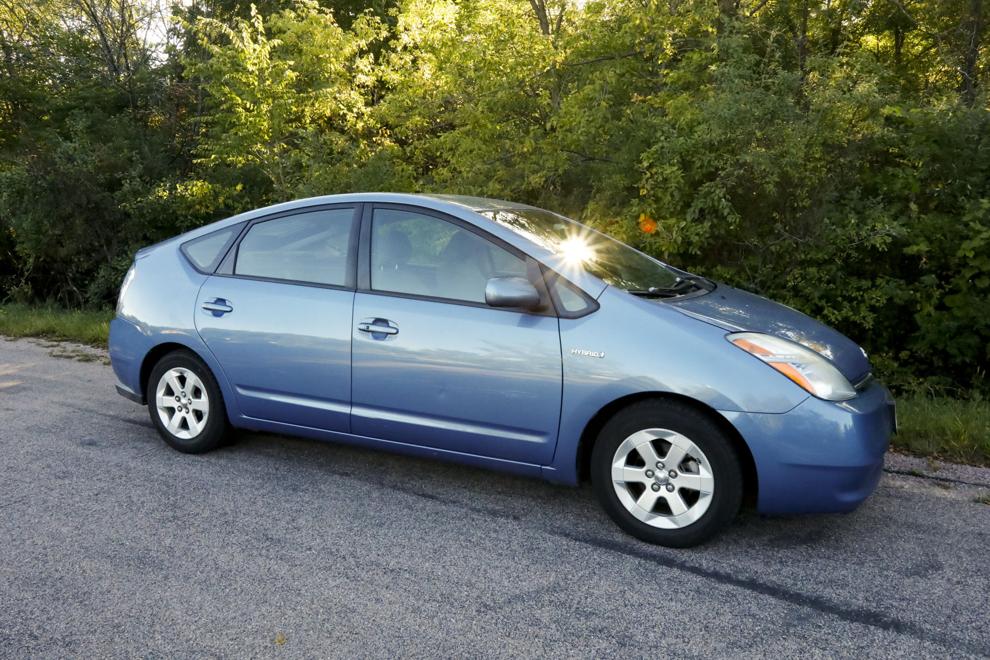 "Information suggests that we have both local offenders involved in these acts as well as subjects who travel to commit these crimes," said MPD Sgt. Patricia Drury. "Even if subjects are stopped by police and possess converters under suspicious circumstances, it is hard to charge them with anything because the police have to prove they have been stolen."
The National Insurance Crime Bureau recommends that vehicle owners install a catalytic converter anti-theft device, which can be purchased from manufacturers and dealerships. 
Share your opinion on this topic by sending a letter to the editor to tctvoice@madison.com. Include your full name, hometown and phone number. Your name and town will be published. The phone number is for verification purposes only. Please keep your letter to 250 words or less.