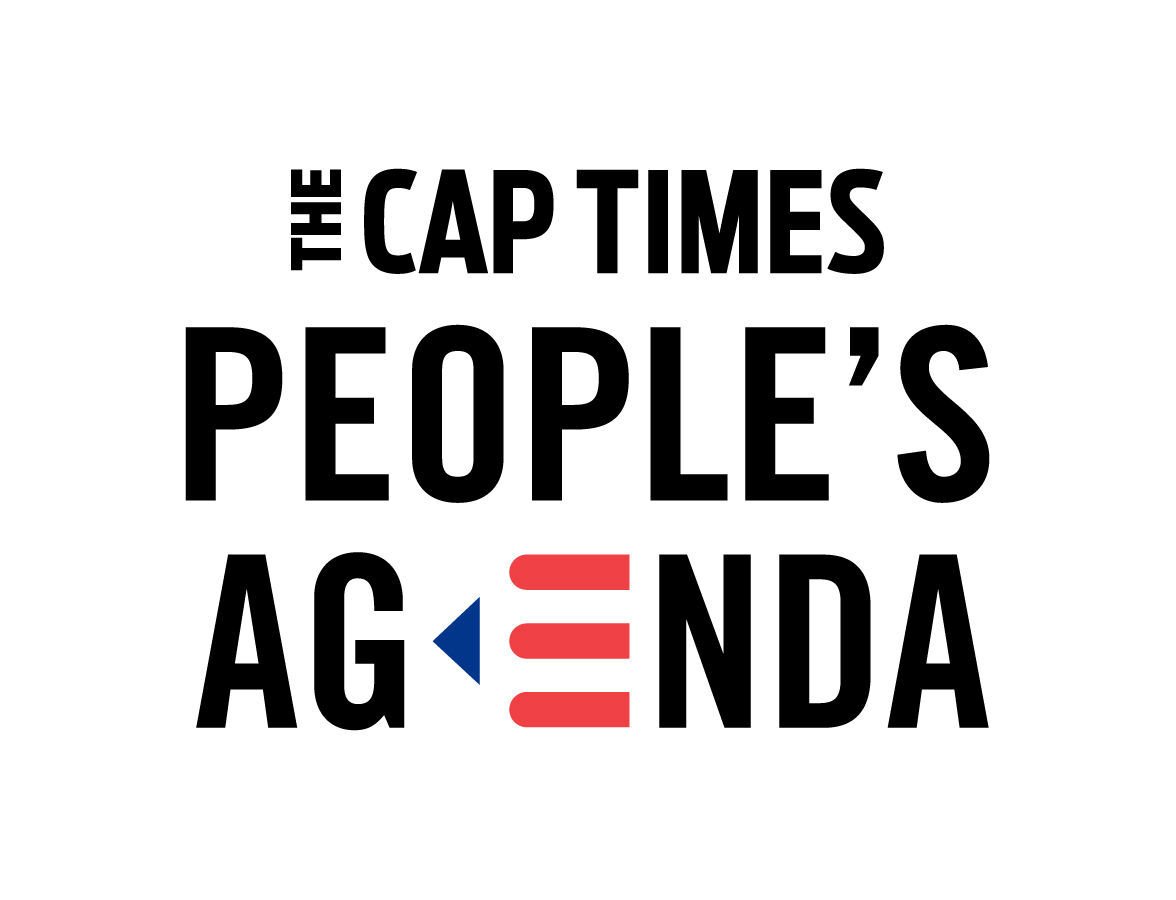 At the end of May, the Cap Times announced a new project, a People's Agenda to guide our coverage of public policy issues during this election season and beyond. We asked you to help us build that agenda by telling us what you want candidates to answer and what worries you most about your city or county.
We wanted to hear from a wide swath of Dane County, so we looked for new ways to get the word out about the project. Check out the "How we did this" section at the bottom for more on our outreach approach and the people who responded.
The responses we received have already shaped our coverage of this election season. Cap Times political reporter Briana Reilly reviewed responses throughout the process to identify common themes, which she used to form interview and debate questions for state legislative candidates.
Today, after receiving more than 100 responses, we are publishing a first draft of our People's Agenda. It includes, in order of frequency, the eight priorities that came up most often in the responses, along with some related questions for elected officials that we heard or distilled.
If you have not already participated in the project, there's still time. Fill out our short questionnaire here. We'd also like your help in guiding how we use this agenda. Please take a moment to tell us in the box below what questions you'd like reporters to answer or investigate based on these priorities.
THE CAP TIMES PEOPLE'S AGENDA
You want effective measures to correct the racial disparities that have long plagued Wisconsin. You asked questions like: 
What are your specific plans for addressing structural racism and racial inequality in areas such as education, health, incarceration and income?
How would you ensure all people in this state are cared for with dignity and respect regardless of the color of their skin and their immigration status? 
How can we effectively raise up the voices and power of minorities in our government systems?
How will we look out for marginalized populations during the pandemic, including undocumented people?
You want to reduce economic inequality, including through expanding safety nets and fostering opportunities for people to get ahead. You asked questions like:
As housing prices rise and income disparity grows, how will you contribute to making a more fair society?
The pandemic has taken a disproportionate toll on those who already had the least, while billionaires have seen their wealth grow. What changes to the tax code are you proposing to distribute this wealth to the needs of the community?
How will you support those individuals whose economic stability has been further undermined by COVID-19 and the ensuing unemployment?
What will you do to attract jobs and opportunity for people in poverty?
You want students of all backgrounds and races to find success in our public schools. You asked questions like:
What will you do to ensure that all students receive equitable funding for education?
How will you prevent vouchers and privatization from further defunding public schools?
How will you address Madison's racial disparities in education, which are among the worst in the nation?
How can Madison bring in more teachers of color?
 You want quick action on climate change. You asked questions like:
How will you convince citizens that climate change is real and needs to be addressed with effective policies?
What will you do to address water challenges facing Dane County, including flooding and PFAS contamination?
What steps can Wisconsin take to move to a green economy?
You want the government to help those whose livelihoods and health have been affected by the COVID-19 pandemic. You asked questions like:
How will you offer relief and opportunity to those most affected by COVID-19 and its economic fallout? 
What can Wisconsin do to stem the spread of COVID-19 and be better prepared for future surges as well as other future pandemics? 
How, if at all, has the pandemic changed your philosophy on what society needs as a social net? 
You want all candidates to have a fair shot when running for public office and expect those elected to work together. You asked questions like:
What will you do to make it possible for good candidates who don't want to spend their time raising money to run successfully for office?
What life experience has equipped you to work with people of different races, cultures, and/or political views?
How will you work together with people with differing viewpoints so issues can be solved?
How will you push for fairer voting districts and an end to gerrymandering in Wisconsin?
You want tools for holding police officers accountable, and non-police solutions for social problems. You asked questions like:
How will you work with community leaders and neighborhoods to overhaul and redesign our current policing system?
What resources will you provide to other social services so that the police department is not seen as the only or even first solution to issues of homelessness, drug use, mental illness, addiction, and other social problems?
What is the appropriate role of weapons like pepper spray, tear gas and riot gear at protests?
What changes in state and local government do you believe would hold police officers accountable to the public? 
You want all members of our community to have an affordable place to live. You asked questions like:
As Madison and Dane County grow, what type of housing expansion should be encouraged?
What should Dane County do to create more affordable housing, including in areas where residents can easily get to jobs, services, etc. through public transportation?
What should Madison do to counteract gentrification and prevent people from being priced out?
How we did this: 
In addition to putting announcements in our social media channels, weekly print edition and website, we distributed more than 1,500 bilingual flyers through food pantries and school food distribution programs. We translated the survey into Spanish so that we could receive responses in two languages. We contacted community organizations and leaders for advice on reaching the people they serve, and some of them publicized the project themselves. We discussed the project on the radio in English on WORT and in Spanish on La Movida, answering questions about the project and inviting listeners to participate. And we worked with the Cap Times partner, the Local Voices Network, to facilitate four virtual community conversations centered on the People's Agenda questions. 
We did not require respondents to provide demographic information, but more than 80% did. Here's what we know about the demographics of the respondents:
 69% self-identified as white. According to the U.S. Census 2019 Vintage Population Estimates Program, Madison is 78.4% white and Dane County is 84.9% white.
8.5% self-identified as Latinx/Hispanic. Madison is 6.9% Latinx/Hispanic and Dane County is 6.5% Latinx/Hispanic.
5.7% self-identified as Black/African American. Madison is 6.8% Black and Dane County is 5.5% Black.
1.8% self-identified as Asian or Asian American. Madison is 9% Asian or Asian American and Dane County is 6.3% Asian or Asian American.
None self-identified as Native American. Madison is 0.4% Native American and Dane County is 0.5% Native American.
Be the first to know
Get local news delivered to your inbox!