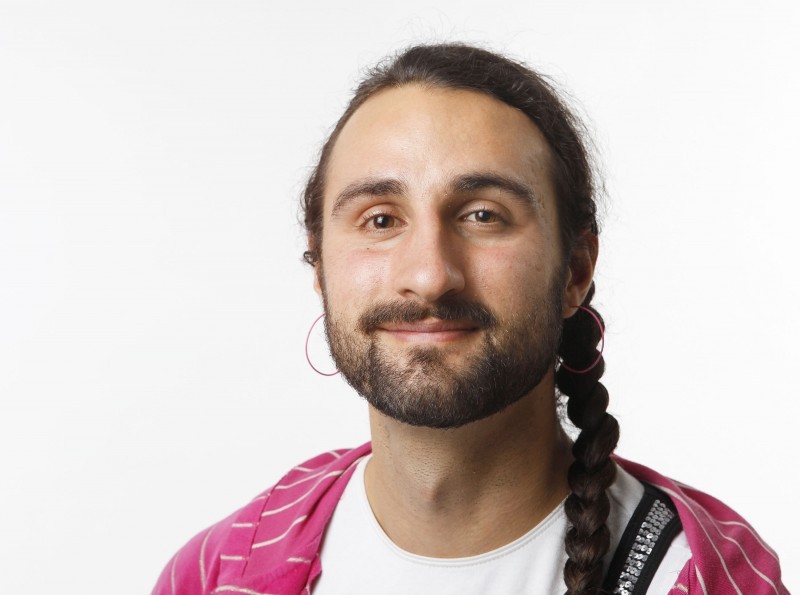 You may not be familiar with Groundwork Madison or Operation Welcome Home, local grass-roots groups working for racial justice, but you probably heard about the ruckus last spring when Take Back the Land Madison placed a family in a townhouse left vacant after a foreclosure. Z! Haukeness was one of the band of local activists who worked in support of the high-profile action, which dovetails with his efforts at Groundwork, a white, anti-racist collective; and Welcome Home, a community of homeless people and their allies. Haukeness, 29, is a native of tiny, homogenous Strum, Wis., who came to UW-Madison for its Afro-American Studies program and never returned home. It was an inspirational teacher who animated his interest in racial justice when Haukeness was younger, already piqued by the Rodney King riots and spurred later by the hideous murder of an African-American man in Texas by three white men.
CT: What kind of work do you do?
Z!: I do full-time volunteer organizing work and part-time paid work. Most of my paid work has been child care.
CT: How did someone who grew up in small-town Wisconsin become committed to working for racial justice?
Z!: I had a radical teacher in 7th grade who said: "All of you are racists and your parents are too." That really challenged me to think. The killing of James Byrd really hit me hard, and the Rodney King riots. Hip-hop music also was an influence. Early on I got the feeling that racism is at the root of a lot of problems facing the U.S.
CT: How did you get involved in social justice advocacy?
Z!: On the UW campus I was involved with an anti-racism group (now) called PREA, Promotion of Racial Equality and Awareness.
CT: You call yourself Z! – where did that name come from?
Z!: It comes from the transgender pronoun "z-e." I'm transgendered, and that's a gender-neutral pronoun, so I took out the "e" and added the exclamation point. I present pretty masculine but I'm gender queer, gender non-conforming.
CT: Is Z! your legal name?
CT: What is your legal name?
CT: Why is it important to do organizing work at the grass roots?
Z!: Groups at that level are able to work for self-determination with a lot less barriers than sometimes get into larger, bureaucratic institutions. We're able to bring a broad group of people into the work that can develop leadership and be able to speak from their experience and be their own advocates.
CT: How do you get money to operate?
Z!: Money comes from foundations, some city funding for some organizations we work with, and individual donations  — people giving $100 a month, $20 a month, $100 a year.
CT: Operation Welcome Home came to public attention with a press conference where a landlord was accused of being racist for asking for IDs, and Take Back the Land got a lot of attention with the squat action earlier this year. You've got a knack for the attention-getting maneuver. Does it work?
Z!: Yeah. Part of the strategy is to gain greater public awareness, and that's definitely what happened. People had to question their beliefs around housing — should housing be a human right? It helped get out the message that banks received bailouts while a lot of people are on the streets and homeowners are losing their housing.
CT: How do you respond to critics who say the squat was over-the-top or illegal?
Z!: We call it a housing liberation. There have been a lot of unjust laws, and we feel a moral obligation to challenge those laws. We want people to look back in 30 years and be amazed that it was legal to prevent people from being housed, just like segregation was once protected by law. Also, the banks and Fannie Mae and Freddie Mac got bailout dollars and the housing, so we see it as public housing.
CT: How do you know you've challenged people to really think about these issues?
Z!: When it was happening, people were saying teachers were bringing it up in school, students were talking amongst each other, and we heard people who were incarcerated saw it on TV and were cheering for us. We hear it's really charged the spirit of activism in Madison.
CT: I attended a Groundwork workshop that was well-organized and informative, but was preaching to the choir. Do you try to reach out to people not already signed on to the agenda?
Z!: We need to have people undergoing a deep transformation and people ready to undergo that transformation. We're always trying to reach a broader audience. Reaching people who know racism is bad, but haven't been engaged in activism.
CT: Groundwork seeks to challenge "white supremacy." That's a tough concept for even well-meaning people to accept.
Z!: It's a system of wealth, power and white privilege that is benefiting white people at the expense of people of color. We try to show that racism benefits the wealthy few.
Be the first to know
Get local news delivered to your inbox!