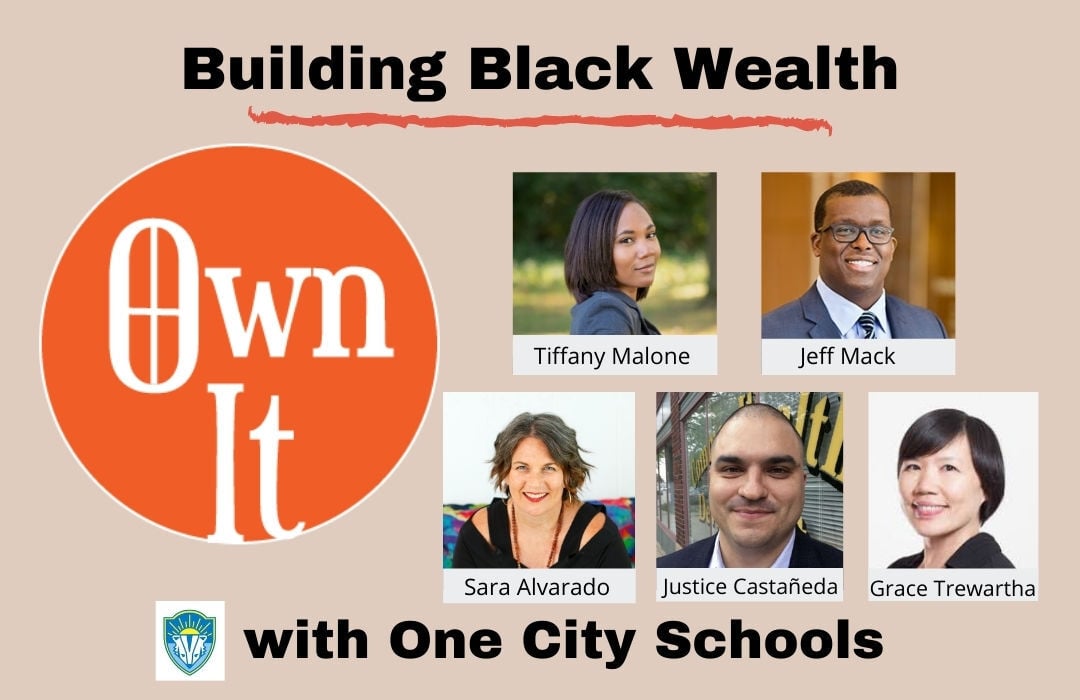 Independent charter One City Schools is collaborating with a mix of local financial and real estate leaders to address the climbing generational wealth and homeownership gap between Black and white families in Madison.
The newly-founded program, called OWN IT: Building Black Wealth, is free to families and staff at the independent charter. It offers a personal finance class led by local instructors and access to down payment funds of $15,000 per family beginning in 2022.
Disparities between Black and white homeownership in the U.S. reached its highest level in 50 years, despite the Fair Housing Act of 1968's prohibition of race discrimination in sales and housing rentals. OWN IT aims to illuminate the historical context of racialized policies and procedures while providing financial and community support.
"What most people don't understand is that there are policies and practices still in place today creating harmful barriers to homeownership for families of color," said Madison realtor and OWN IT Advisory Team Member Tiffany Malone in a press statement. "The OWN IT: Build Black Wealth program and fund is a holistic way for us to be more accountable to families of color when it comes to access to home ownership."
All families and staff will have access to the free educational program, where they will work with a bank to evaluate if they are in a position to buy. Afterwards, first-time home buyers who have not owned a home for the last three or more years may qualify to apply for down payment funds to go towards the purchase of a single family or two-unit home. The grant's funds are provided by financial contributions from community members, large corporations, and associates within the real estate industry.
The initiative's down payment funds won't have restrictions such as geography borders or income limits, something Sara Alvarado, co-creator of OWN IT and the Alvarado Real Estate Group, said differs from constraints applied to similar government-led funds. Government-supplied down payment funds can often be difficult to navigate, Alvarado said, with specific restrictions on how the funds should be used and who can even qualify.
But aside from a lack of fund restrictions, Alvarado says the program is unique in how it aims to contextualize financial education within the frame of racial justice. "It's really about learning how the system works, why it's working the way it is, and how the system has been rigged to some extent… because that's what's missing in a lot of education opportunities and it creates a narrative that blames people for being in the financial position they're in when it's not really the people, it's the system," Alvarado said.
The Federal Reserve's 2019 Survey of Consumer Finances found that the median homeowner has 40 times the household wealth of renters, signifying how homeownership is still a key avenue for many Americans to build wealth. A report from the Dane County Housing Initiative shows that while 48 percent of white households earn above the county median income, only 16.4 percent of Black families do. For white families making between 30 and 50 percent of the county median income, 37 percent own homes. For Black families in the same income group, the number is 4.4 percent. 
But Alvarado said that it's important to acknowledge that homeownership is just one piece of the broader mission to build generational wealth in communities of color and not the only avenue.
"It's one thing for an outside perspective to suggest something different and quite another to engage those on the inside to create change from within," Alvarado said. "For this to happen we need a variety of influencers at the table: Black and Brown communities, those in real estate and banking, neighborhood associations, local, state, and federal governments, and businesses, and schools like One City. We have such a long way to go." 
Share your opinion on this topic by sending a letter to the editor to tctvoice@madison.com. Include your full name, hometown and phone number. Your name and town will be published. The phone number is for verification purposes only. Please keep your letter to 250 words or less.