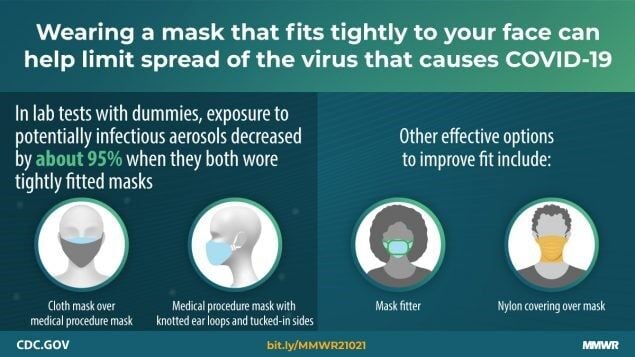 New guidance from the Centers for Disease Control and Prevention encourages Americans to make their masks work better by tightening their fit, including by using a simple, homemade tool designed at the University of Wisconsin-Madison.
The CDC study released Wednesday found that two methods of improving a mask's fit significantly increased effectiveness: wearing a cloth mask over a surgical mask or knotting the ear loops of a surgical mask and tucking in the sides. In a simulation, scientists found that when two people both used either of these stepped-up masks, their exposure was reduced by around 96%.
The announcement comes as new and more contagious variants of the novel coronavirus threaten the progress made by COVID-19 vaccination efforts. On Saturday, the second case of the more transmissible variant first found in the United Kingdom was detected in Wisconsin, leading experts to again emphasize measures to control the spread.
The CDC announcement also offers two additional options for better mask fit, using a "mask fitter" or a cut-off Nylon stocking over a mask, citing a results from a recent UW-Madison study. That study tested a device designed by the same UW-based team whose Badger Shield face shield design drew worldwide demand. The device can be made at home with inexpensive supplies in a matter of minutes.
From local experiments to national advice
The UW-Madison study was conducted by mechanical engineering professors Scott Sanders and David Rothamer, who usually study combustion engines and use laser illumination to find the leaks. Last April, they turned their expertise and tools toward solutions to the growing pandemic. 
Sanders and Rothamer's experiments revealed that various existing masks and face shields allow tiny particles to escape, both through the material and at the edges. If the wearer is infected with the novel coronavirus, that means the virus could travel from the wearer's mouth or nose and infect those around them.
Over the following months, they conducted numerous tests of various face coverings, placing the coverings on mannequins and using a foggy-looking substance made from salt and air to simulate the aerosolized particles in human breath.
In one experiment, they set 17 former CPR mannequins in a classroom to simulate students wearing various forms of protective equipment and pumped the aerosols through them. In another experiment, they pumped a larger volume of aerosols through a single mannequin's mouth and recorded video of the results. 
The video of the mannequin wearing the face shield shows fog escaping out the bottom, while the mannequin wearing a loose-fitting surgical face mask fogged from the top and sides. 
For a better seal, the two researchers used packing tape to attach the masks to the mannequins' heads, and the amount of leaking aerosols fell dramatically. 
Knowing that living humans wouldn't tape their masks to their faces, they asked Lennon Rodgers, director of UW-Madison's Grainger Engineering Design Innovation Lab, to help devise an alternative for tightening the fit of a standard surgical mask.
Rodgers and Sanders soon discovered online that there were a few products already on the market for this purpose, known as "mask fitters," but none met the goals for the product, Rodgers said, noting the relative expense of 3D printing.
"I was thinking this has to be dead simple. It has to be so cheap," he said, citing the success of the original Badger Shield design which used only three easy-to-find materials and was soon being produced at a massive scale by manufacturers around the world. 
"My thought was like if we wanted to make tons and tons of these, like millions, and make it very cheap, 3D printing is pretty much out the window."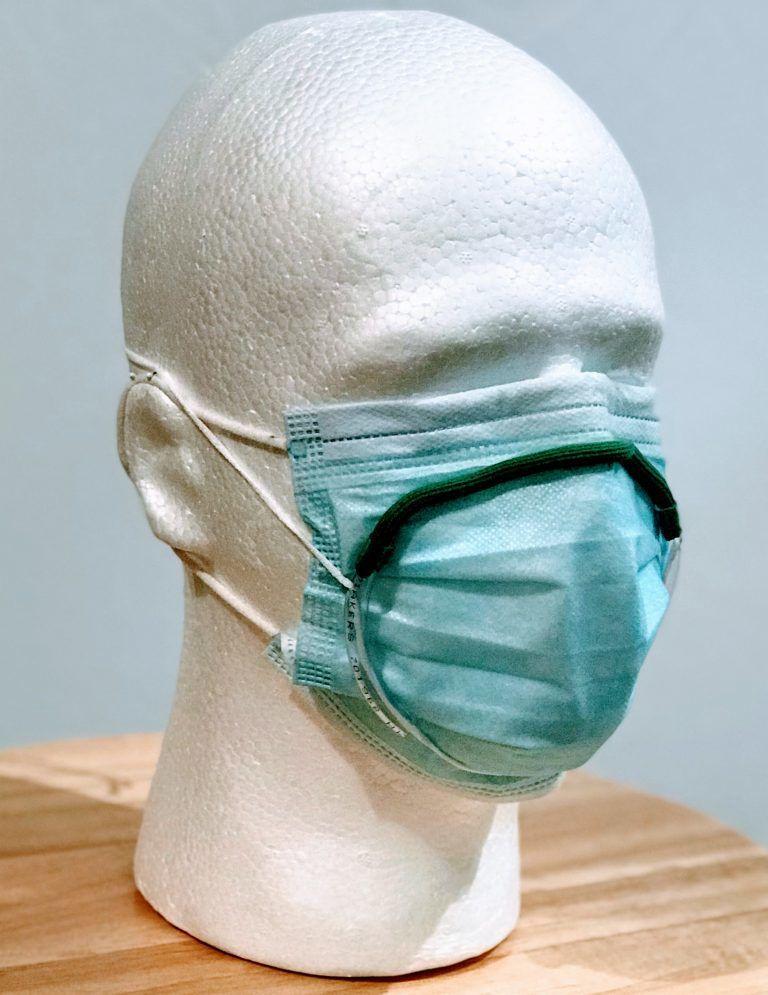 For their own design, dubbed the Badger Seal, they tested around a dozen possible materials before settling on foam wire (used in gardening to tie tomato plants, for example), clear tubing (used in aquariums) and elastic cord.
When Sanders and Rothamer tested the Badger Seal on the mannequins, they now needed lasers to detect the escaping aerosols that had previously been visible to the naked eye. The device increased the filtration efficiency of a standard surgical mask by three times and increased the efficiency of a cloth mask by four to eight times. Those efficiency gains led to even bigger changes in particle penetration. When worn over a three-layer disposable mask, the Badger Seal yielded particle penetration 15 to 18 times less than that of a cloth mask.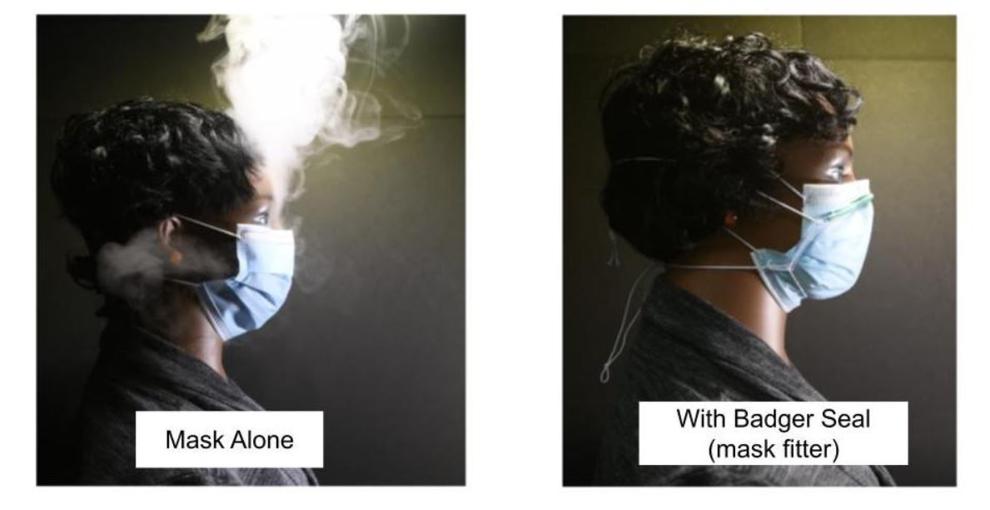 Still, the video cautions wearers not to overestimate the protection the design offers. "While the fitter seems to improve the seal of a face mask, it has not been tested for effectiveness in preventing illness," the video explains.
Like the team's other personal protective equipment designs, the Badger Seal designs are open-source, which means there's no patent. People can build their own using instructions and videos or they can fill out the UW Makerspace interest form. 
Each can be made in about five minutes with basic tools and materials that cost less than a dollar, and members of the UW-Madison campus community can make their own using materials at the DIY station in the Makerspace lobby. In the five months since its release, the video demonstrating how to make a Badger Seal has been viewed more than 8,000 times.
The university has already built about 10,000 Badger Seals in-house. Some have been distributed to faculty and custodians, but plenty are still on hand, Rodgers said.
Digital Publishing and Printing Services, the university's printing service, which pivoted back in April to make Badger Shields for UW Health, has been making Badger Seals for campus for months. And two members of east side Madison makerspace Sector67 have made around 10,000 more, shipping them around the world, Rodgers said.
Share your opinion on this topic by sending a letter to the editor to tctvoice@madison.com. Include your full name, hometown and phone number. Your name and town will be published. The phone number is for verification purposes only. Please keep your letter to 250 words or less.