Developers have broken ground on a project that will bring 169 units of workforce housing to Fitchburg and the Town of Madison. The target market for the project includes employees working for nearby businesses.
The Alexander Company and Bear Development are the developers of the $34.5 million project known as "Artisan Village."
The project is part of the Alexander Company's larger Novation Campus near US-12/18 at Rimrock Road. Fitchburg will eventually absorb the Town of Madison portion of the project.
The 62-acre Novation Campus aims to eventually contain over 1 million square feet of commercial space and is home to retail, apartments and employers like Exact Sciences and UnityPoint Health-Meriter.
Matt Meier, vice president of real estate at the Alexander Company, called the addition of workforce housing a "logical next step," as he said it allows the campus's many employees to have quality housing options within walking distance of their jobs.
"We have approximately 1,300 employees in our business park here now. We think part of the demand will be from those employees," he said.
That also plays into the developer's desire to limit sprawl. The Novation Campus site was originally home to obsolete buildings and a construction yard, Meier said.
"However it had a lot of infrastructure. It's centrally located. So we think that reutilizing underutilized properties that are already served by urban services, bus routes, utilities, roads, better utilizes public resources," Meier said.
The Artisan Village project will add six two- and three-story buildings around a central green space and public community "clubhouse" building. That community building will contain a fitness center, business center, kitchen and dining area, and outdoor living area with a fireplace, all to create a "nice central community gathering area," Meier said.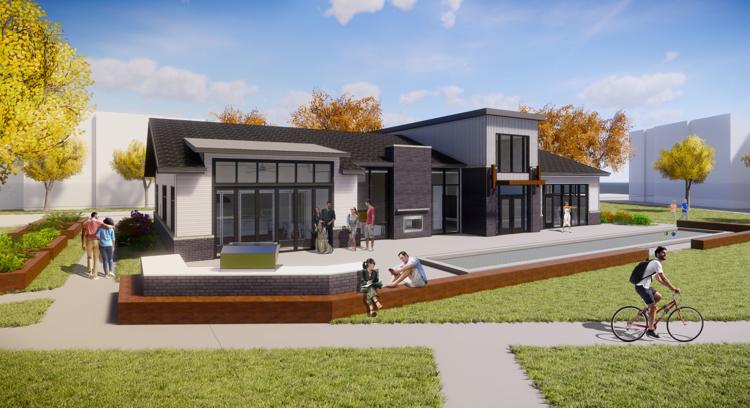 The project was a recipient of $1.2 million in tax credits from the Wisconsin Housing and Economic Development Authority. Units will be limited to those earning up to 50% and 70% of the Area Median Income.
In 2019, that would be someone making between $35,150 and $49,210 a year, a spokeswoman for the Alexander Company said. For a family of three, 50 to 70 percent of area median income would be between $45,200 and $63,280.
It's tough to build workforce housing without tax credits, Meier said.
"Madison's population is growing and construction costs are ever-increasing, so rental rates have really outpaced incomes for a lot of folks," Meier said. "The only way to build affordable workforce housing is with participation with WHEDA and the tax credits that are allowed under the federal tax code."
The project received 4% WHEDA credits, which are much less competitive than the 9% credits often utilized by Madison affordable housing projects. The 4% credits are easier to come by but don't deliver as much equity to projects. Meier noted the difficulty of making 4% credits work financially, but said the project also had help from other sources like Town of Madison TIF financing.
One-bedroom unit rents will range from $760 to $985, and two-bedroom unit rents will run between $915 and $1,210 a month.
Meier said Artisan Village will be "high quality but at a lower cost than typical market-rate product that's getting built"
The development will also offer live/work apartments. Those units "cater" to artists who want in-home studio space, but could also work for "a variety of home-based businesses," information from the developer said.
All 67 of the units on the town of Madison side of the site are zoned to allow in-home businesses, Meier said, though there are 8 units on the first floor with taller ceilings and extended, flexible living spaces that have a "little bit more of a commercial feeling."
The first phase of the project, which will include apartments and the clubhouse, is scheduled to be completed by the second quarter 2020, with the full project completed by the end of 2020.