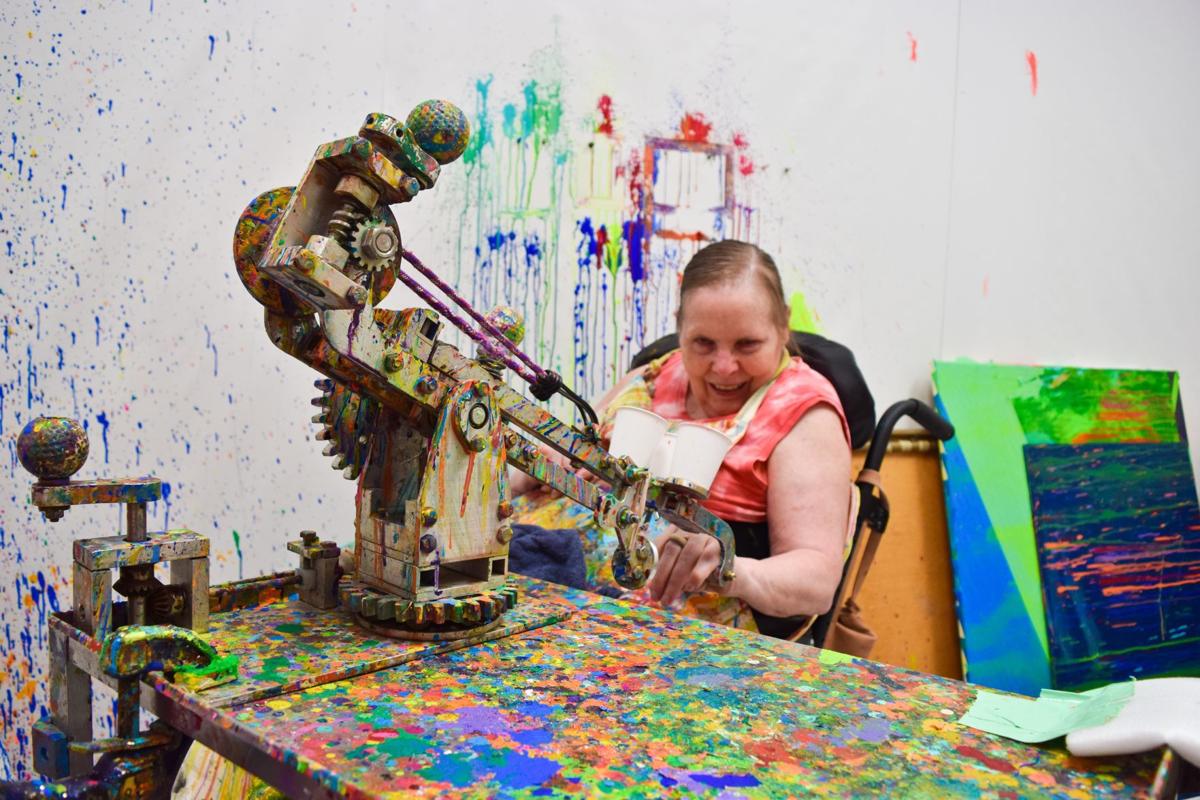 In a seven foot by seven foot wall-less office in a warehouse on Madison's east side, John Lash is up to something.
A former metal sculptor, the 47-year-old now spends his days surrounded by a sea of 3D printers and prototypes, designing and building customized tools to let individuals with disabilities do exactly what they want. 
"The government is willing to provide support so that you don't starve to death, and maybe enough support that you can sort of get a job — nothing really beyond that," Lash said of assistance for people with disabilities. The challenge of enhancing the person's quality of life often falls to caregivers and family to "figure out for themselves," he said, "and they don't always have the resources."
Let's say you use a wheelchair and have limited use of only one hand and you want to be a professional painter. That was the dream of Jeanne Grosse. She'd been using a rudimentary catapult to fling paint and was receiving career development help through Madison nonprofit ArtWorking, which assists artists and entrepreneurs with disabilities.
"In her mind, in her creative persona, she [had] the ability and potential," said ArtWorking Program Director Lance Owens. "She knows color super, super well" and "has a really, really clarified and distilled vision of what she wants to do and be." But without a better tool, her artistic potential was limited, he said.
Someone at ArtWorking knew Lash, who at the time was building kinetic metal sculptures, and they asked if he could design something more sophisticated. Lash agreed, and Grosse hired him with help from the Wisconsin Department of Vocational Rehabilitation, which allots funds to help people with disabilities enter the workforce or start businesses. 
Owens was immediately surprised by Lash's approach. It began with interviews in which Grosse, who has limited speaking ability, used her letter board to answer Lash's questions: "What do you want it to do? What can your current catapult not do that you would wish this thing could do? What do you like about the current catapult?" He also asked her support staff for input.
"It was a really exhaustive process, but it was really super person-centered," Owens said. "He innately understood ... how the object isn't as important as understanding the mind of the person using it."
Lash returned to Grosse with a metal catapult that let her choose how many cups of paint to attach as well as the force and angle with which to fling the paint. 
But he wasn't done. He asked Grosse to test the catapult and give him feedback so he could make adjustments. Then he left it with her for months, checking back and tweaking it again and again. "He did such incredible diligence with it," Owens recalled.
With the new device, Grosse became one of ArtWorking's most lucrative artists. Her vibrant painted clocks and spattered canvases sell "like hotcakes," sometimes faster than she can replenish the supply, Owens said. 
But Lash's creation offered Grosse more than income. 
Previously, she was "stuck in a different box," Owens said. "John's work essentially has allowed her to evolve out of that box into much cooler boxes where she's kind of one of the preeminent artists in the studio." 
Given the physical challenges, Owens said, it could be hard to "get to that spot of feeling good about yourself … feeling like you've arrived professionally." That kind of satisfaction is hard to come by even for those without disabilities, he said. "How many people do we all know who feel like they reached a dead end with employment?"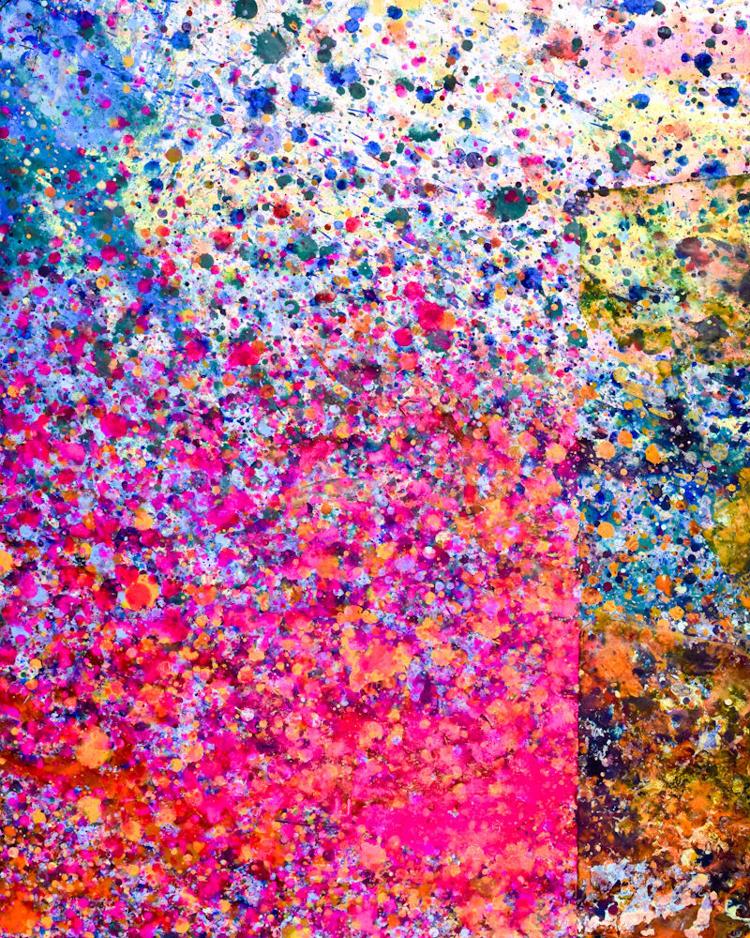 When Lash built that catapult, he was already contemplating a career change. More than a decade earlier, he'd been diagnosed with Kennedy's disease, a degenerative neuromuscular condition that could eventually land him in a wheelchair. In 2016, though the disease was still in its very early stages, it was causing him to tire quickly, making both the physical and creative aspects of his sculpture work difficult. 
He'd been intrigued by adaptive technology for decades. Back in the 90s, well before his own diagnosis, Lash had worked at Sheboygan's Camp Evergreen, which serves children and adults with disabilities. There he saw that those individuals often lacked the tools that could help them get the most out of their lives. As an adult, he'd built such tools —  including a threshold ramp and an adaptation for a wheelchair lift — for his father-in-law.
Building the catapult let him try out a new kind of work. "It was a blast," Lash said of his time on the project. "I was kind of toying with the idea … of maybe I should do more of this." 
But while he'd built the catapult from metal, he knew that wouldn't be a "financially sustainable" material for future projects. He'd need to learn techniques that used less expensive materials and weren't such a hassle if he messed up and needed to start over. He enrolled in the associate's degree program for mechanical design technology at Madison Area Technical College, where he learned to devise concepts, use modeling software and fabricate designs using 3D printers. 
Ron Olson, director of the Mechanical Design Technology program and one of Lash's instructors, recalled John's work in his engineering project management class, where students were asked to present a design problem and propose a solution. Students would vote on their favorite concepts and then join teams to create detailed plans for the top projects. Lash's proposal, a wheelchair that would shield the user from the elements, was among the top choices, attracting classmates to join his team. They even opted to flesh out that design in a class the following semester.
Olson was struck by Lash's "unique ability" to combine his own creativity with the technical skills he was learning in school and apply them to everyday situations. "I think the reason that he's successful doing that is just because of the person that John is," Olson said. Lash's empathy allows him to understand what a given person might need, and his technical skills let him bring the idea to life. 
"Not everyone can do that," Olson said.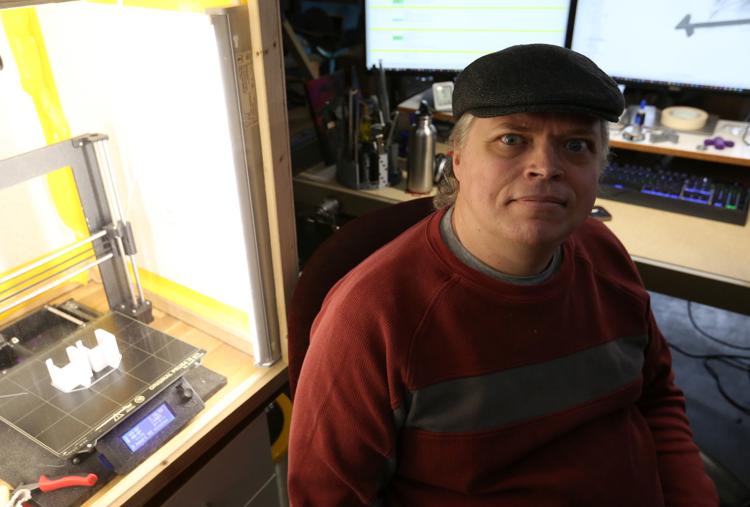 After graduating last May, Lash hoped to work for someone else who was already building adaptive technology in the area, but he could find no such company. So he sold off his metalworking equipment to finance his one-man endeavor, Mad DesignWorks, which launched in October.
He rents an "office" at Sector67, a nonprofit collaborative "hackerspace" on Madison's east side. For just $200 per month, he has his own space and access to a laser cutter, a fleet of 3D printers, and shops for machining, woodworking and welding. Without Sector67, he said, his business wouldn't be possible. "There would be no way I could afford to fit out a shop to do everything that I need to do and rent the space," Lash said. 
Due to family responsibilities, he's yet to devote himself to the business full-time, but he said he's plenty busy for now with the clients he has. Recently Grosse hired him to design something that would allow her to explore a new method: flow painting. Lash devised a tilt table that enables Grosse to shift paint across her canvas. 
In some cases, Lash's work is about designing processes as well as products. Currently he's working on a project for a blind ArtWorking artist who wanted a safe way to build the fire starters he sells without relying so much on help from others. Lash's current design calls for an elaborate machine that can not only safely hold the paper cup while the user dispenses hot wax, but also makes a sound to indicate that the cup has been placed correctly. 
"He came up with the coolest invention I think I've seen to date," said Shannel Trudeau-Yancey, a self-employment coordinator with Progressive Community Services, Inc., who estimates that she's helped more than 100 Wisconsinites with disabilities build their businesses. "It's really fun to watch, and it's good to have an engineering mind like that on the team because we're all scratching our heads."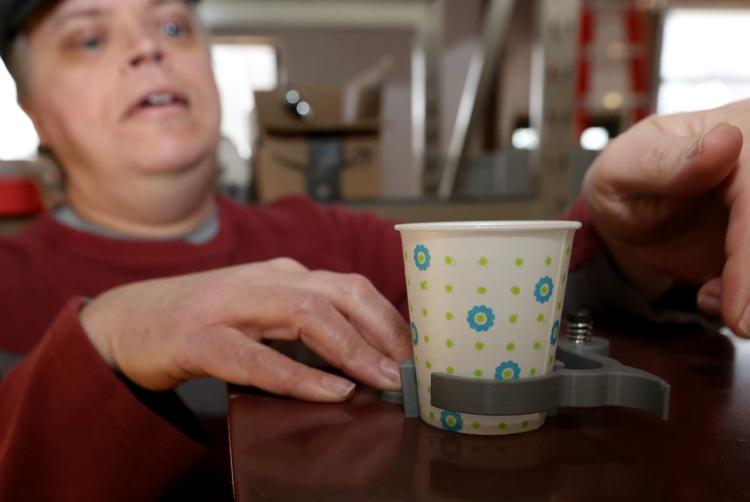 If he finds himself short of work, in the future, Lash said he may contact other local organizations serving people with disabilities to offer his services. While he could design and fabricate for people living far away, he'd prefer to keep it local so he can meet with clients at their homes, workplaces or wherever they're needing help. 
Logistically, that makes it easier to get the exact measurements he needs, but it's also about his client-centered philosophy: "I think it's a terrible thing to approach a client and say, 'I have observed your situation, I have figured out a solution for you. And here it is. Write me a check.' … You really have to work with them." 
Sometimes, he said, clients and their caregivers know just what they need. "It's practically designed already for you," Lash said, so he might just need to formalize that design and manufacture it. In other cases, they might not know what's possible, "and that's where you kind of facilitate a better understanding of what's out there and give them a lot of options and they can sort things out."
But given his success with the Department of Vocational Rehabilitation, he'd consider travelling around the state to consult in person with their clients elsewhere. 
And he's not limiting himself to utilitarian designs that help people to get around or make money. "If somebody wants to modify their video game controller, I'll be happy to work with them on that," Lash said. 
Meanwhile, ArtWorking's Owens hopes to put Lash's problem-solving skills to work for future ArtWorking clients "when their potential sort of seems like it's bottlenecked." He'd love to hire Lash to brainstorm solutions, even "if he doesn't draft a single plan or if he doesn't build a single object." 
Lash doesn't face much competition, said Trudeau-Yancey. Others can make workplaces more ergonomic or adaptive, she said, but "as far as really person-centered, sort of nitty gritty adaptive technology, I haven't seen anybody create anything the same way that John does. Not in Wisconsin anyway."
In the back of Lash's mind is the thought that he may need to keep adapting his own work as his disease progresses. He hopes that's all a way off — it seems to be moving very slowly. For now, it shapes his interactions with clients. It puts "my heart a little bit closer to this community knowing that one day I'll be in a wheelchair myself," Lash said. 
Owens, who speaks of Lash with a marked fondness, said he hopes Lash's "health will remain excellent for a good many years." But, he said, it's not the physical part of John's work that's so special, anyway. "Literally just paying him to sit in a chair and give his opinion is worth money," Owens said. "If he could do other no other thing than communicate, I think he'll have something to bring to a team."
Meanwhile, Lash's new career is already improving his own life. "I want my life to have a good quality about it, and one of my ways to feel good about myself … is to help other people enjoy their lives," Lash said. "This gives me a great opportunity to do so."
Share your opinion on this topic by sending a letter to the editor to tctvoice@madison.com. Include your full name, hometown and phone number. Your name and town will be published. The phone number is for verification purposes only. Please keep your letter to 250 words or less.
Be the first to know
Get local news delivered to your inbox!